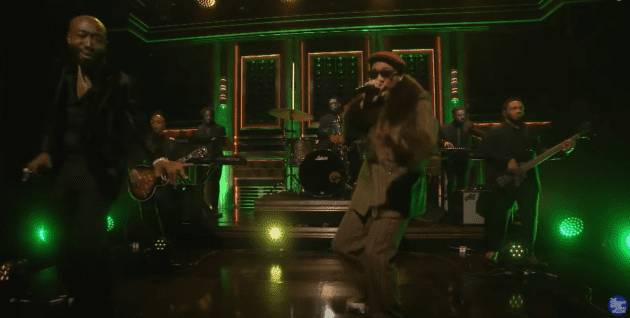 Let us pray.
Freddie Gibbs dappered up for his star-studded performance on The Tonight Show Starring Jimmy Fallon on Monday evening (Jan. 23).
Backed by The Roots, Gibbs kicked off his medley with "Blackest In The Room" in an all-black and two-piece suit. "Uh, this GOAT talk, bet they put my face on that mountain too/ Blackest in the room like I'm Sam Cooke at the Fontainebleau," raps Freddie.
Midway during the performance, he brought out Anderson .Paak for a lively rendition of "Feel No Pain".
"Shit heavy, but I carry it with ease / Juices and the berries, with a tail like Hakeem," sings .Paak while donning a tan fur-cuffed coat.
Both tracks are off Freddie Gibbs's latest album, $oul $old $eparately which also features Big Sean, Hit-Boy, Rick Ross, Pusha T, Scarface, Raekwon, ScHoolboy Q, and more.