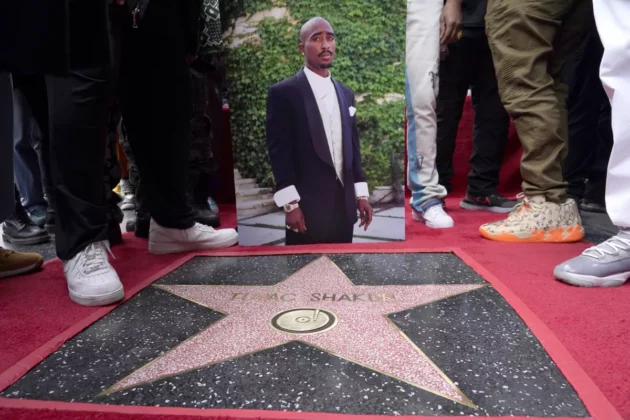 Even Hollywood trying to get a piece, baby.
Photo: Chris Pizzello
After nearly three years since his untimely demise, rap legend and actor Tupac Shakur posthumously received his star on the Hollywood Walk Of Fame.
On Wednesday (Jun. 8), family and friends of 2Pac gathered on Hollywood Boulevard and Vine Street in Hollywood, California for the ceremony. Tupac's sister, Sekyiwa "Set" Shakur, was present to accept the star on her brother's behalf.
"Before anyone recognized his name," said Sekyiwa during her speech. "He knew he had the dream to have his star up there on the Walk of Fame."
Film director Allen Hughes, who has worked with 'Pac numerous times during his career, also spoke on his recent Hulu documentary, Dear Mama. "I feel like the cinema, the film of it, has never met him where he's at. So that was my goal with [the series], is my goal eternally," said Hughes.
Following the ceremony, which was emceed by radio personality Big Boi, Shakur's cousin Jamala Lesane told the LA Times, "I'm feeling an over-elevated high, and I don't even get high. It's just memories, the energy of all of this here, it's just a great feeling."
Last month, Ludacris earned his star on the Hollywood Walk Of Fame. They now join their fellow honorees DJ Khaled, Missy Elliott, 50 Cent, Snoop Dogg, Ice Cube, Pharrell, Nipsey Hussle, LL Cool J, Queen Latifah, Diddy, Cypress Hill, Boyz II Men.