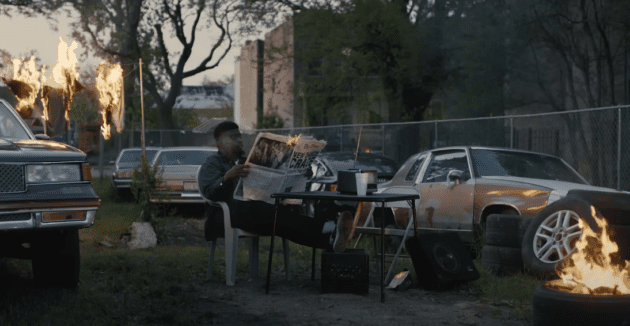 Keep rolling.
Mick Jenkins is back and lights up to the music with his "Smoke Break- Dance", the Chicago rapper's latest single featuring JIDm which arrives alongside a video.
Directed by Andre Muir, Mic Jenkins comes blazing with bars over a Stoic's hazy production as various scenes from the hood help bring his lyrics to life.
"I know they can see a motherfucker coming from a mile away / I ain't sending smoke signals, big smoke send signals either way, don't it?," he raps in a torched backyard. "Put a eighth in it, motherfucker got some weight on it and some wax in it," he continues before passing it to JID.
"Try to find a lil' peace but the mystery to me is unsolved / Take a breather, hit the reefer, smoke cough through the blunt fog / Got a stash full of big gas, I can tell you what they run for," raps the Atlanta MC whose face is bound in plastic.
"Smoke Break-Dance" is the first official music from Mick since his 2021 standout, Elephant In The Room.