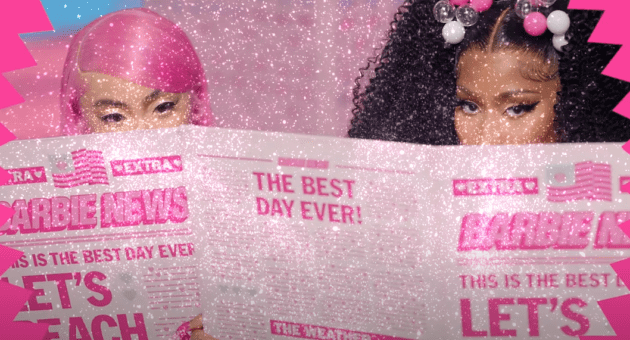 We're just living it.
Nicki Minaj and Ice Spice are truly living in a modern day "Barbie World" on their first collaboration. The song, which is premiered with its music video, appears on the Barbie motion picture soundtrack, Barbie The Album.
Over a flip of Europop band Aqua's 1997 hit "Barbie Girl", the Hanna Lux Davis-helmed visual centers the two rap superstars flaunting their doll-like lifestyle from their Barbie House to Beverly Hills.
"And I'm bad like the Barbie / I'm a doll but I still wanna party / Pink 'Vette like I'm ready to bend / I'm a ten, so I pull in a Ken," they two rap back-and-forth as they tower over Kens in a desert and wave run through the sky.
Barbie is a fantasy and comedy film inspired by the famous fashion dolls by Mattel and stars Margot Robbie, Ryan Gosling, Issa Rae, Dua Lipa, America Ferrera, Will Ferrell, and more.