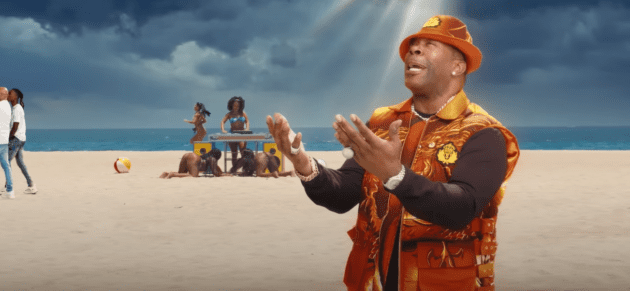 Grab your Gucci flip flops.
Busta Rhymes takes BIA to the beach on his new single, "Beach Ball".
On the summer-ready anthem, BIA kicks off the track by ringing off on her competition and getting nasty abroad. "Give me backshots, now it's back to D.R / Fly you out to P.R., can't put you in no Dior," she raps, while the Flipmode baller puts them in check.
"Shawty, yes, I see ya, who the fuck you thinking we are? / Think you 'bout to come up? See, them thoughts, you better ignore / Fuck you think you're foolin' tryna come off like a sweetheart?," raps Bus.
Alongside the release, the Michael Garcia-directed video scrolls along a beach featuring the two rappers, a swarm of bikini-clad eye-candy and appearances from Rick Ross and DJ Khaled.
"Beach Ball" is Busta's first official release since last year's The Fuse Is Lit EP. He's since collaborated with Swizz Beatz, Lion Babe, and appeared on Coi Leray's "Players" remix. BIA can be found on DDG's new "I'm Geekin" remix alongside NLE Choppa.