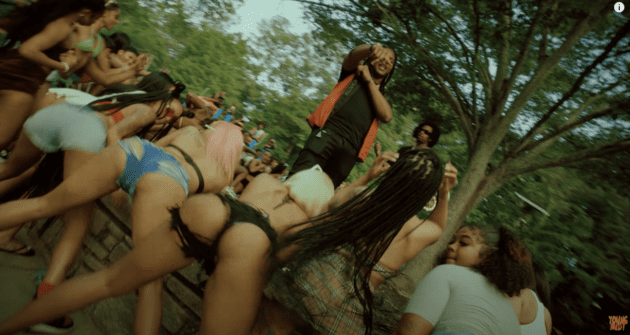 Baow!
Young Nudy brings the freaks out in Atlanta in his new music video, "Peaches & Eggplants" featuring 21 Savage.
Directed by Hiji, the racy clip centers the duo at a packed Atlanta park for a wild gathering filled with scantily-clad women twerking on one another.
"Slut out a freak / Hit her from the back, turn her bladder deep / Do the triple X when I'm in a freak," raps Nudy, while 21 Savage follows his cousin's lead. "Get freaky / She got a tattoo right by her bikini that say, "Eat me" / Top me in the Demon while I hit the gas down Peachtree."
"Peaches & Eggplants" is one of the 13 tracks off Young Nudy's latest album, Gumbo which also features a collaboration with Key Glock.