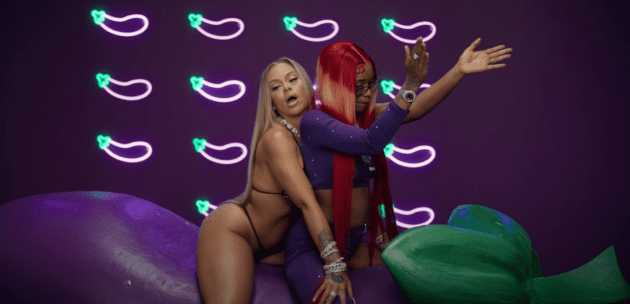 Remix, boaw!
Young Nudy reups his crowd pleaser with his "Peaches & Eggplants (Remix)" featuring Latto and Sexyy Red.
In the raunchy music video, the Big Bad Slime turns upside inside a kitchen with a gang of twerkers, while his lady co-stars gyrate on an oversized eggplant and grind on one another.
Sexyy Red cuts right to the chase spitting, "He wanna see how this coochie work / Fuck me good, nigga, make me squirt." Meanwhile, Big Latto drops a verse with some kinky and controversial bars.
"He wanna know if it's real or it's fake / I got a peach on the back like a plate, she raps. "I got him eating my booty on tape / I might expose him like 1090 Jake / He don't eat pussy, he gots to go / Give me that neck like Benzino / Give me that neck like, 'Where it go?' / One thumb in my bootyhole."
The original record features 21 Savage and is lifted from Young Nudy's latest album, Gumbo also featuring Key Glock.