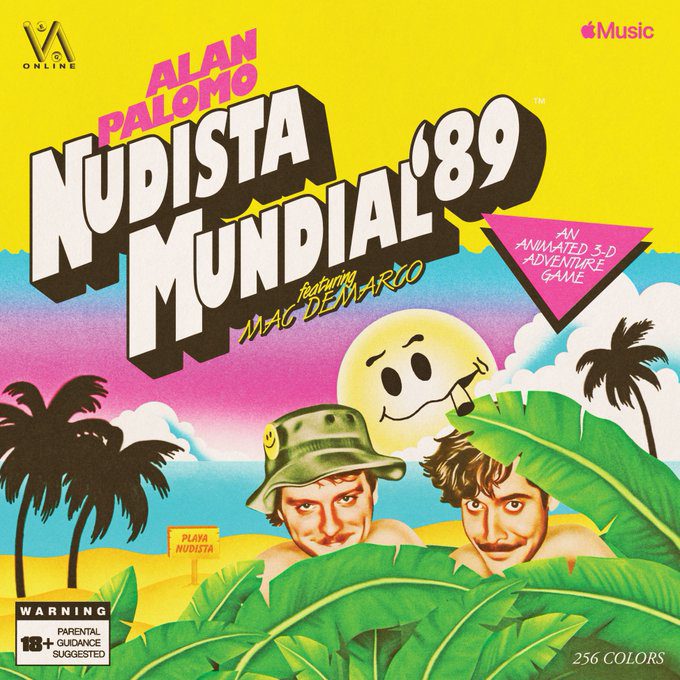 We are coming up on eight years since Vega Intl. Night School, the last album Alan Palomo released as Neon Indian. In the interim, all he's given us is 2019's "Toyota Man," a pro-immigrant protest song that saw Palomo singing entirely in Spanish for the first time. But lately Palomo has been teasing new music under his own name, and today some of it has arrived.
"Nudista Mundial '89," Palomo's big comeback single, pairs him up with fellow indie star Mac DeMarco. It's the kind of effervescently funky synth jam Palomo made his name on, with a hook in Spanish, some major falsetto action from Palomo, and DeMarco in low, grumbling spoken-word mode. Palomo recorded the track at DeMarco's studio. As he explains in a press release, ""While working on a few tunes, I was trying to get a hold of this certain piano. My keyboard player told me Mac had one at his studio so I hit him up. And on one breezy day in May, we sang a duet about two guys going to a nude beach together in Ibiza."
Inspired by the retro adult video game Leisure Suit Larry, the song's Palomo-directed video finds him and DeMarco in Ibiza searching for that nude beach party. Watch below.
you can press play on it below.
"Nudista Mundial '89" is out now on Mom + Pop/Static Tongues.