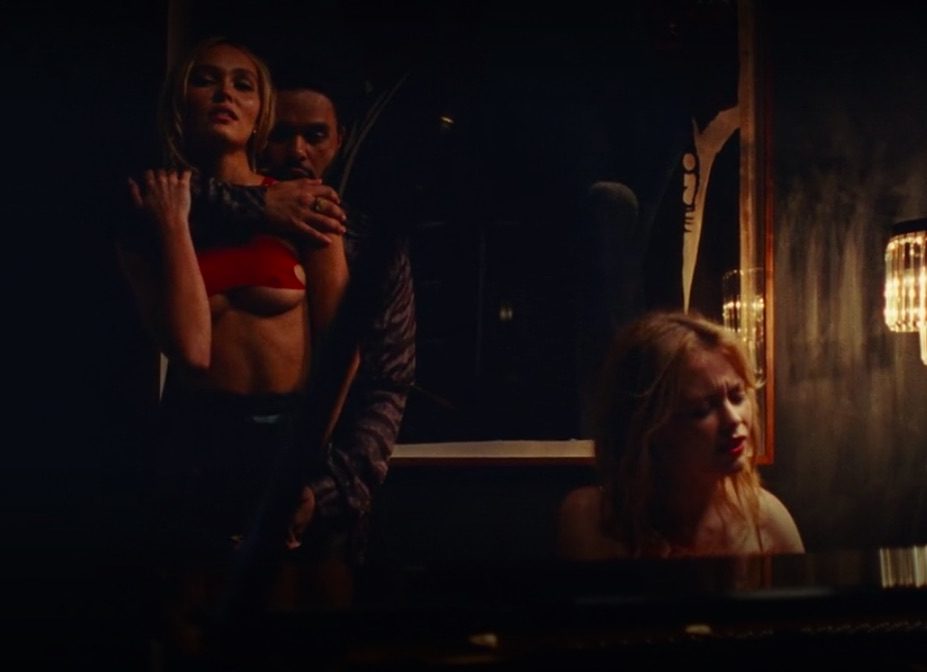 As we neared the premiere of The Idol, the new HBO show from the Weeknd and Sam Levinson, I briefly considered the idea of writing about each episode as it aired. The first episode of The Idol, which aired last week, wasn't exactly good, but it was a rich text. If every episode was like that, then maybe I'd have something to say about all of them. But now the show's second episode has aired, and it turns out: Nope, not so much. If you watched the first one, then you already pretty much got the idea.
For the second time in two episodes, The Idol started out with a fairly entertaining first half. Lily-Rose Depp plays a not-terribly-convincing pop star with the not-terribly-convincing pop-star name Jocelyn — that's it, just Jocelyn — and we watch all her underlings scrambling around and trying to keep her career on the rails after a public breakdown. (This time, it's a music-video shoot.) Then the Weeknd shows up as Tedros, a skeezy club owner who is apparently also a record-label owner and cult leader, and everything turns into boring fake-transgressive erotic-thriller nonsense.
The funniest part of the whole show — a show that definitely tries to be funny, at least part of the time — is that all the musicians on the show are just making music that sounds like the Weeknd. This makes sense, since the Weeknd had a hand in the whole soundtrack, but it's still profoundly goofy. Thus far, for instance, the whole plot revolves around Jocelyn's attempted comeback single "World Class Sinner/I'm A Freak," which is supposed to be a shockingly sexual but commercially friendly pop-star move, like Britney Spears' "I'm A Slave 4 U." Instead, it sounds like the Weeknd.
At the beginning of last night's episode, Jocelyn played the remix that she made with Tedros, and it just sounded like the original track but with sex noises. This was apparently enough to make Jocelyn's label rep freak the fuck out. But that remix just sounds like the Weeknd, too! It's as if the entire series takes place in an alternate reality where all music just sounds like the Weeknd. In real life, the Weeknd is influential, but he's not that influential.
Last night's episode ended with Tedros and his whole misfit crew sat around a piano, as Jocelyn joined in singing a song called "Family" that's about family. (Her mom just died, and she's sad.) Suzanna Son, the young actor who made a big impression in the 2021 indie film Red Rocket, sits down at a piano and sings, "That's my family/ Oh, we don't like each other very much/ Oh, I'm okay with that/ But it breaks my mother's heart." She sings that again and again. Then Moses Sumney joins in. (Sumney had more to do this week.) Then Jocelyn sings it, too. She's being indoctrinated! Tedros has her in his clutches! The song is boring!
Part of the deal with The Idol is that its soundtrack is coming out Flight Of The Conchords-style, with new songs showing up online the morning after the episodes air. Today, we get a studio version of that "Family" song. Now, it's a duet from Suzanna Son and the Weeknd. The Weeknd co-produced it with Mike Dean, and he co-wrote it with Son and Dean. It sounds like a not-as-good version of the Lana Del Rey duets that he's released over the years.
The other new track this week is an instrumental from the score. Mike Dean, who will apparently act on the show at some point, contributes "Devil's Paradise," an ominous and synthy thing with a whole lot of forbidding saxophone tootling. He's clearly going for an updated version of the scores from the Adrian Lyne and Paul Verhoeven erotic thrillers that inspired the show, but it still somehow sounds like an instrumental mix of a Weeknd song.
I hope Jennie from BLACKPINK and Troye Sivan get to sing their own Weeknd songs pretty soon. Meanwhile, The Righteous Gemstones returns this weekend, and if The Idol ever produces a song that slaps as hard as "Misbehavin'," I'll eat my hat.