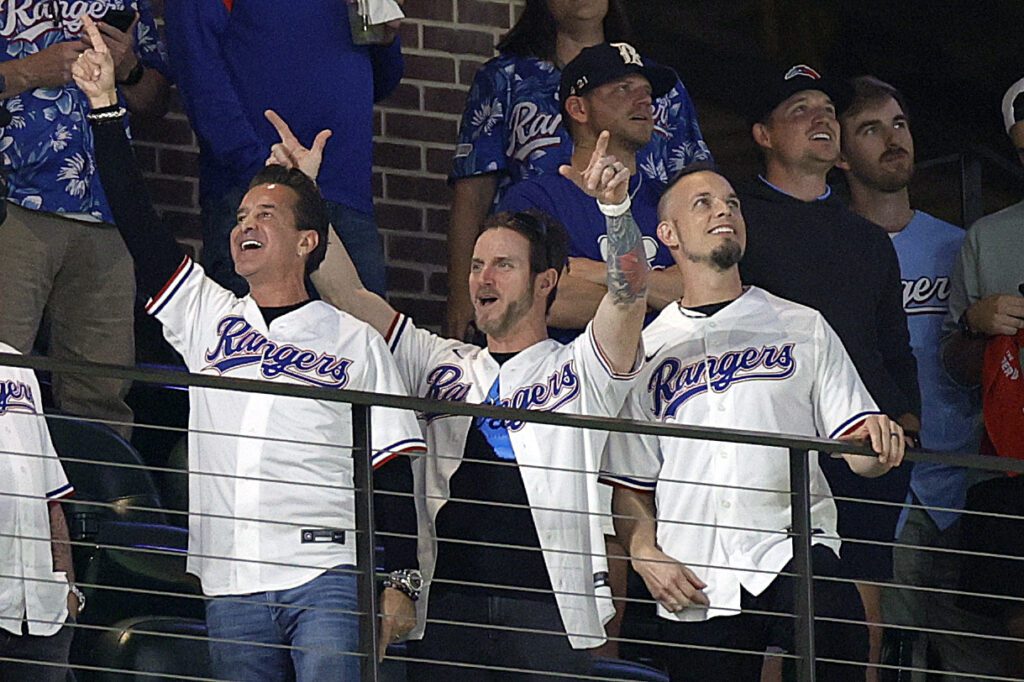 The Major League Baseball playoffs are in full swing, and one of the key subplots involves… Creed? The Texas Rangers, who are facing their cross-state rivals the Houston Astros in the American League Championship Series for the right to play in the World Series, have spent the postseason jamming to Scott Stapp and friends. What started with an offhand comment from a Rangers player has now become a Thing, and Creed even held a press conference to address it.
As the Sporting News explains, in a radio interview before Game 2 of the ALDS (the previous round of the playoffs), Rangers pitcher Andrew Heaney mentioned in a radio interview that the team had gotten out of a late-season slump by "having fun and playing Creed before games." In subsequent interviews, shortstop Corey Seager said Creed is "kind of just a random thing that everybody started singing to one day," and outfielder Evan Carter said the Rangers blast Creed on the team bus. This snowballed in the public imagination so quickly that by Game 3, the crowd at the Rangers' Globe Life Field had a group singalong to "Higher."
Creed's social accounts expressed their approval by cheering the Rangers on:
This Creed resurgence has spilled over into other sports, with the Minnesota Vikings also rocking out to Stapp and company before beating the Chicago Bears last week. And then, Wednesday night, Creed showed up in Rangers jerseys to cheer on the team against the Astros:
During the game, Creed sat for a press conference. Guitarist Mark Tremonti said the morning after the crowd singalong to "Higher," he got "like 35 messages" asking if he'd seen it. "I was just floored and excited after all these years that the music is still connecting with people," Stapp added. Watch the press conference below.