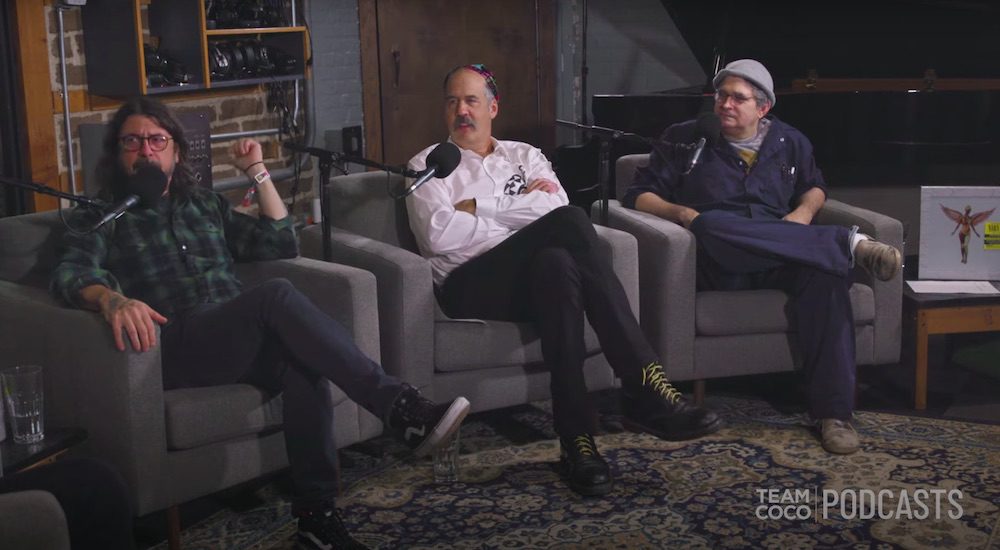 In September 1993, the first episode of Late Night With Conan O'Brien aired on NBC. Eight days later, Nirvana released the feverish, conflicted masterpiece In Utero, their third and final album. In Utero just celebrated its 30th anniversary with a box-set reissue, and now Conan O'Brien himself has marked the occasion by assembling the surviving Nirvana members Dave Grohl and Krist Novoselic, as well as In Utero engineer Steve Albini, for an interview.
The big In Utero interview will air next week on Conan O'Brien's podcast Conan O'Brien Needs A Friend, but we've already got a nine-minute preview, via Billboard. In that clip, Conan O'Brien and the Nirvana guys reflect on what it's like to go from impoverished obscurity to global fame at disorienting speeds. Steve Albini, who famously railed against underground bands signing to major labels, talks about the seething jealousy that often motivated the punk scene's no-sellout philosophy, and he goes out of his way to say that he never had any beef with Nirvana — the kind of clarification that he still has to make.
The full interview should be fascinating. But even with just the part that's available, it's pretty amazing to see these four guys talking about a very turbulent time. Watch it below.