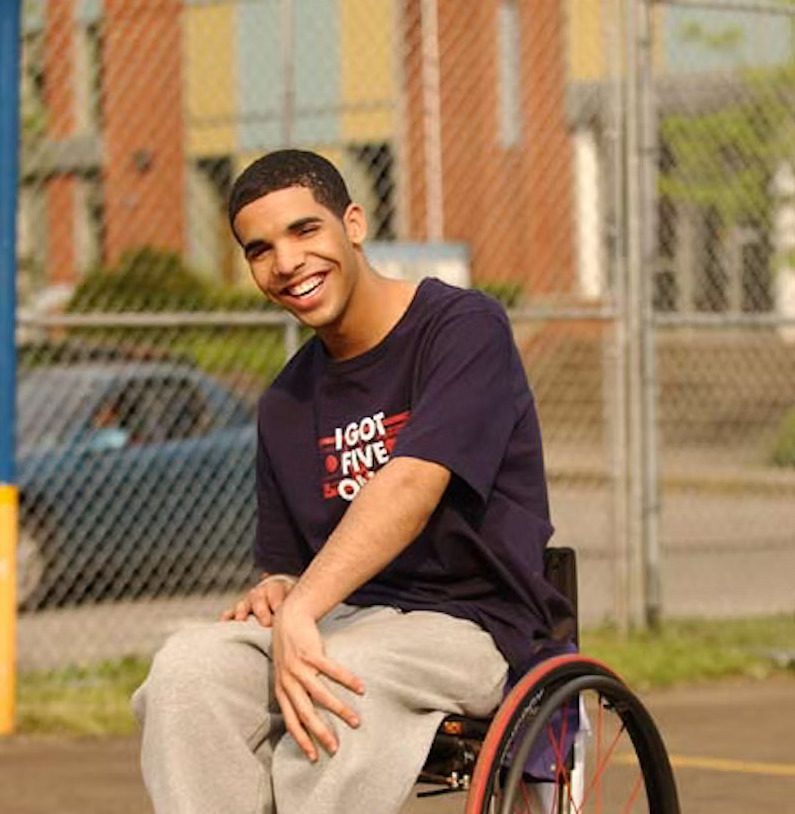 Before he was one of the most successful musical artists of all time, Aubrey Drake Graham famously rose to fame portraying the wheelchair-bound basketball star Jimmy Brooks on the teen soap opera Degrassi: The Next Generation. He has not been shy about referencing that history throughout his rap career, and today it came up again. After some delays, Drake and 21 Savage's It's All A Blur Tour launches tonight in Chicago. To mark the occasion, he shared an audio message on Instagram that delves into some deep metaphysical concerns, which somehow turns into an anecdote about getting high right before auditioning for Degrassi.
Here's the full text of his speech:
Someone asked me the other night what my biggest fear is, and I've never really had a good answer for it, but my answer was that all this is for nothing. Kind of the idea that, like, one day, life ends and it just all goes black. And I guess that question, like, sent me, you know, obviously deep into a spiral of thought. And it makes me think about my life and how surreal it feels at times. I go back to this day when I was like 13 or 14. I had an audition for a TV show that ultimately shaped my life, and before my audition, I went to this kid's house. And I, out of, I guess, a desire to be accepted, I would succumb to peer pressure, and I got high with these kids right before my audition. I kind of wonder, like, if something bad happened that day or, you know, maybe I'm still high, maybe I'm in some coma. And this is just, like, me playing out my ideal life. And yeah, that concept has stuck with me for a lot of years. I mean, it feels like reality, it feels tangible. But I definitely wonder sometimes.
We're once again reminded that no amount of career success will take away gnawing questions about the nature of reality. And that Drake is a cornball at heart.
Drake has a new poetry book out and has started teasing new album For All The Dogs.