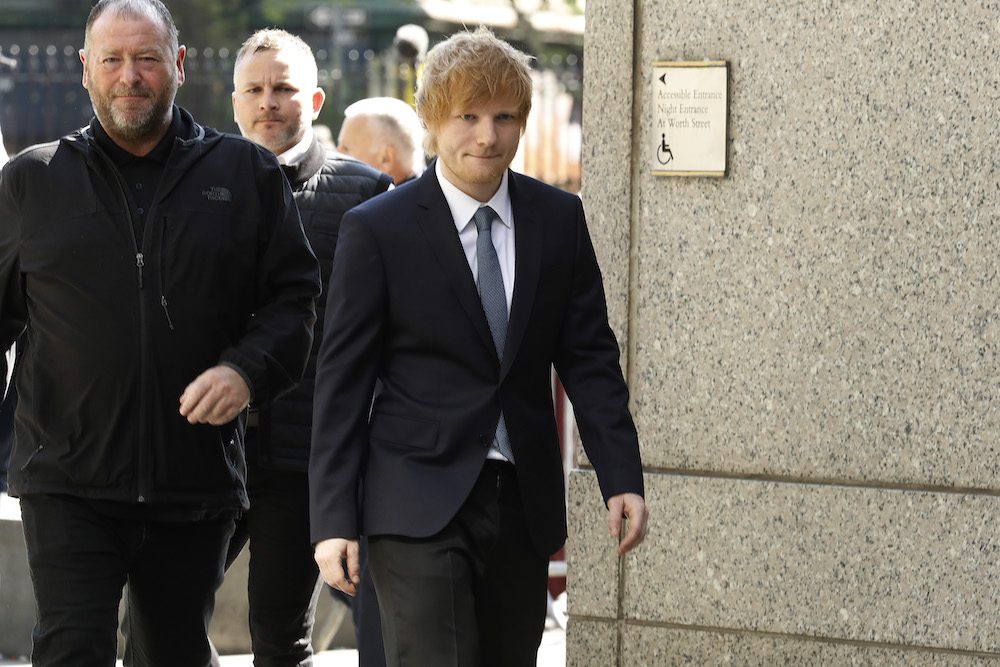 Ed Sheeran testified today at the highly publicized copyright trial alleging he copied Marvin Gaye's "Let's Get It On" to create 2014's "Thinking Out Loud." Appearing at federal court in Manhattan, Sheeran said he and co-writer Amy Wadge had created "Thinking Out Loud" independently, as reported by the New York Times. "Yes, Amy Wadge and I wrote the song 'Thinking Out Loud,'" Sheeran testified, adding that the song was inspired by his grandparents.
Sheeran was first sued in 2016 by the estate and heirs of the late Ed Townsend, who co-wrote "Let's Get It On" with Marvin Gaye. He is also facing a second lawsuit over the song from Structured Asset Sales LLC, which owns one-third of Townsend's estate.
In his opening statement, Ben Crump, a lawyer representing the plaintiffs, pointed to a fan video from a Sheeran concert where the singer performs a mash-up of "Thinking Out Loud" and "Let's Get It On." "That concert video is a confession," said Crump.
When questioned about the mash-up, Sheeran replied, "Most pop songs can fit over most pop songs. I'm just mashing up a song with another song." Sheeran also stated he had first heard "Let's Get It On" in an Austin Powers movie (likely The Spy Who Shagged Me, which features that song sync.)
Meanwhile, Kathryn Griffin Townsend, the daughter of Ed Townsend, took the stand. She told the jury that she'd been reluctant to sue Sheeran, whom she called "a great artist with a great future" and that she was not a "copyright troll." Ultimately, "I have to protect my father's legacy," she said.
Sheeran is expected to take the stand again during the trial.