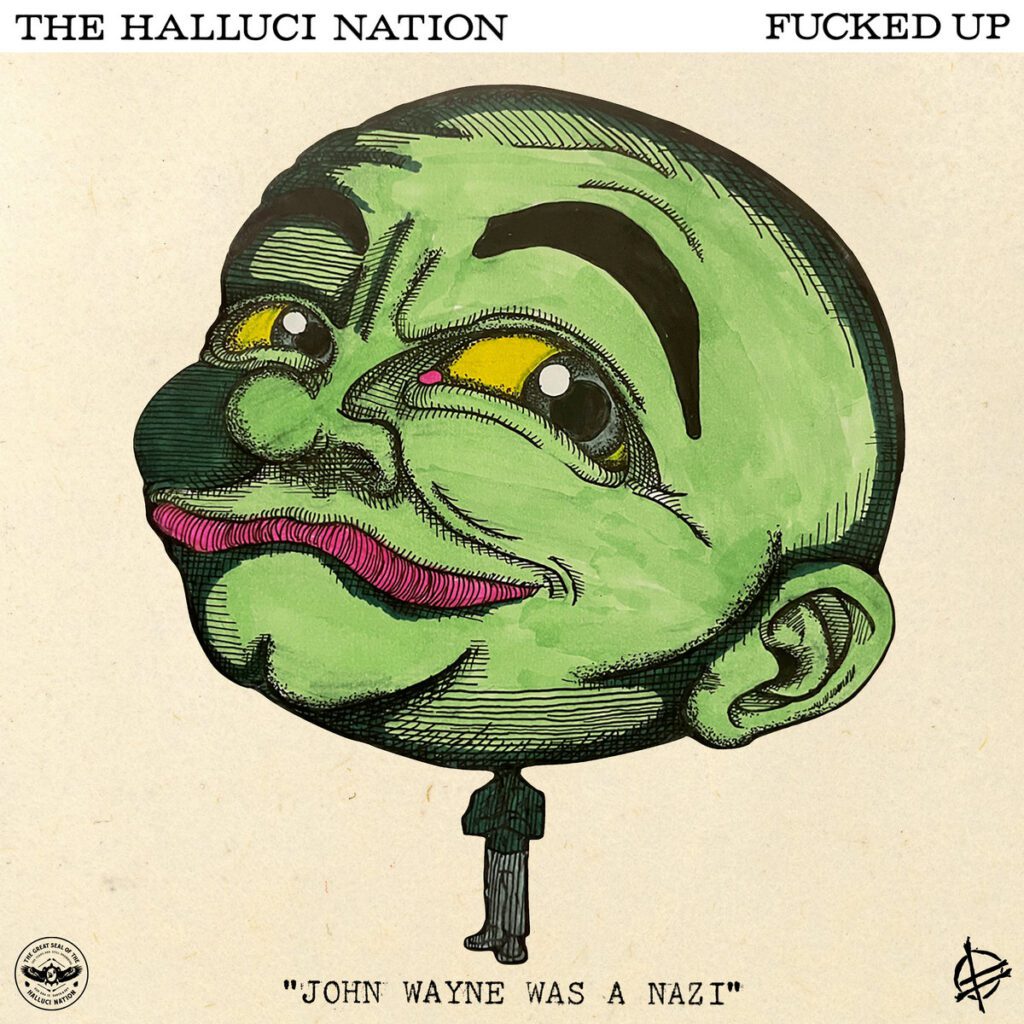 Last week, Toronto greats Fucked Up finished a Canadian tour with the Halluci Nation, the Ottawa dance duo who were once known as A Tribe Called Red. The shows looked awesome — full-on punk/rave spectacles with live pro wrestling matches. Before the tour kicked off, Fucked Up and the Halluci Nation joined forces to cover "Electro Shock," a 1980 single from the Mexican punk band Dangerous Rhythm. Now that the tour is over, the two groups have once again gotten together for a cover of an early-'80s punk classic.
On their new single, Fucked Up and the Halluci Nation cover "John Wayne Was A Nazi," a song that Texan hardcore pioneers released on their 1982 album Millions Of Dead Cops. At that point, the real John Wayne had been dead for just three years, and MDC went all-out to attack his myth: "Hypocrite coward never fought a real fight/ When I see John, I'm ashamed to be white/ Death bed Christian, of this you avowed/ If God's alive, you're roastin' now." With their new version, Fucked Up and the Halluci Nation slow "John Wayne Was A Nazi" down a bit, and they turn it into a grimy dance-rock stomper with ugly-ass guitars and visceral dubstep drops. Damian Abraham bellows the whole thing out like his life depends on it.
In a press release, the Halluci Nation's Ehren "Bear Witness" Thomas says:
The song has been with me since high school. The song and MDC have stuck with me over the years. It's got rage to it and that message, but I love that there's a dark humor to it as well. It really fits in with the way we make music and visuals, with the message that we try to put forward about confronting one-dimensional misrepresentations of indigenous people in the media. John Wayne becomes a stand-in for the entire colonial project.
Damian Abraham says:
For me, it's like this: you watch The Searchers in school, and John Wayne is presented very much as an iconic North American type of figure. As a young punk kid hearing this song for the first time, it did change the way I looked at him — it subverted it to where all of a sudden the hero is the villain, and you can see what's going on in pop culture. As a young punk kid, this song was one of the first that showed the cracks in that veneer.
Below, listen to Fucked Up and the Halluci Nation's version of "John Wayne Was A Nazi," as well as the MDC original.
The "John Wayne Was A Nazi" and "Electro Shock" singles are both out now on Merge. Fucked Up also released their album One Day and their EP Cops earlier this year.