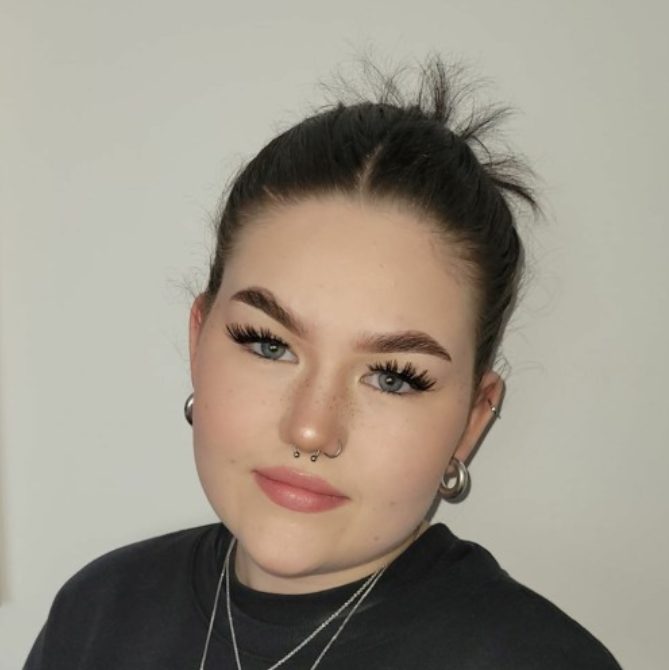 I've written about TikTok's lottery-like rags-to-riches fantasy in this column before — it's what YouTube's head of catalog Ryan Thornton once described to Billboard as the "potential of any song to go viral." About five years into TikTok's mainstream reign, countless unknown artists have benefited from that literal overnight virality and parlayed that success into also-viral dance challenges, lucrative brand partnerships, major-label deals, commercial radio play, chart dominance, enough Spotify streams to actually get paid, and then some.
I probably don't have to run through the list of TikTok success stories — you've likely already heard their names even if you weren't aware of their short-form video-platform roots (Lil Nas X, Doja Cat). More recently, the paradigm is being applied to a 19-year-old English singer/songwriter named Mae Stephens, whose bouncy kiss-off anthem "If We Ever Broke Up" has generated more than 10 million TikTok views since Stephens first shared a 15-second snippet on New Year's Eve.
In many ways, Stephens' humble-beginnings story is catnip for fans and an industry pushing the myth of meritocracy. Born in 2003 in Kettering, North Northamptonshire (located about 67 miles north of London), Stephens started writing music at 12 "to push emotional awareness," as she recently told Time Magazine. "[I wrote music] to make people aware how much emotional value we have as young adults or kids and that no matter what we go through, we still go through the same things as someone who's twice our age."
The other "It Could Be You!" bullet point Stephens' reps are peddling is the fact that, up until very recently, the singer worked at Asda, a British supermarket chain. Since that first snippet of "If We Ever Broke Up" took off over New Year's, though, Stephens has a) gone viral, b) been signed to Republic Records, c) finished, mixed, and mastered her song, and d) formally released it on February 10. The full version of "If We Ever Broke Up" now has nearly 10 million streams on Spotify, and it's not even March yet.
For what it's worth, Stephens had been playing the TikTok lottery well before "If We Ever Broke Up" hit. "Before all of this happened, it was just me and my dad, we called him my 'dadager,' dad-manager," Stephens has said. "He was behind the scenes, helping me with the content, and running all my socials. He was the powerhouse of all this and now he's had to hand over the baton to EMI."
In terms of influences, Stephens cites Freddie Mercury ("because he never cared what anyone thought"), Lizzo, and Sigrid. When I listen to "If We Ever Broke Up," I hear a pleasant mix of performers, both classic and current; melodically and structurally, "If We Ever Broke Up" bears a similar blueprint to Doja Cat's "Say So." Vocally, Stephens' East Midlands drawl stands out in song, giving "If We Ever Broke Up" a boost of attitude, which could inspire some Amy Winehouse, Lily Allen, and Kate Nash comparisons. (Just a quick aside that "Cockney" English is not the same as an East Midlands accent, but there are only so many examples out there of a strong London-adjacent accent showing up in mainstream pop music.)
Upward mobility narratives aside, "If We Ever Broke Up" actually diverges from the type of "sad-girl bedroom pop" that has proliferated so much on TikTok in the last few years, manifesting in artists like Olivia Rodrigo, Lauren Spencer-Smith, Sadie Jean, Gracie Abrams, Lizzy McAlpine, and many others. Rather than lean into confessional storytelling, "If We Ever Broke Up" outlines a scenario of looking back at an old relationship and applying the wisdom accrued with age to handling the breakup differently. Stephens' delivery is somewhere between a shrug and a revenge fantasy. It's the pop-song equivalent of the too-late comebacks we think of in the shower or while falling asleep at night. Maybe in 20 years, we'll have a 13 Going On 30-esque Pat Benatar bedroom-dancing scene around "If We Ever Broke Up."
Stephens has kept the momentum from her TikTok-ready single going, applying an influencer's tactics to build and keep her audience. Yes, she created a sense of intimacy among fans by posting a 15-second "If We Ever Broke Up" snippet filmed in her bedroom – something tons of creators do. Then, one day after posting, Stephens leveraged the first video's engagement by posting another that asked fans to "use this sound and help me get this song released! #IfWeEverBrokeUp." Stephens recognized two important factors in launching a career on TikTok, one that John Seabrook recently wrote about in a New Yorker piece titled "So You Want To Be A TikTok Star": the emotional connection between artists and fans, and the unique power fans hold over artists on TikTok.
Stephens taps into a couple of creator strains by giving fans a behind-the-scenes look at her writing process and taking them with her in multiple "Get Ready With Me" and "Come With Me" videos. (For the uninformed, to "get ready with" someone just means watching them apply makeup and/or choose an outfit as they literally "get ready" to go do something, while "come with me" videos show the subject heading out to, well, go do that thing. It might sound mundane if you've never spent much time on the app, but these curated peeks behind the curtain are oddly very entertaining.)
In addition to tracking "If We Ever Broke Up"'s success, Stephens has allowed her fans to share in her triumphs by doing "Get Ready With Me For My Last Shift At Asda" and "Come With Me For A Radio Interview At BBC" videos, just to name a couple. On Valentine's Day, she invited fans to share their worst breakup stories, noting that if she received enough entries, she'd relay her own, which involved crying at Disneyland. Part of generating TikTok engagement is knowing how to share just enough content (always leave them wanting more), then promising a pot of gold at the end of the rainbow ("If you do enough X, then I'll do Y").
Looking ahead in her career, Stephens told Time: "'If We Ever Broke Up' was never originally my style of music. I was always more into heartbreak songs and ballads. So to have this release, it's kind of given me a push to do more things and work on some kind of funky bops. We've been working on some pieces that are very similar to 'If We Ever Broke Up,' a vibe that people seem to be absolutely loving, so we're gonna just keep pushing music like that."
After an influx of sad bois and girls a la Rodrigo, Conan Gray, and Joji — and mad, in the vein of GAYLE, WILLOW, and Rodrigo again — maybe the synth-funk, couldn't-care-less tone within "If We Ever Broke Up" marks a changing of the guard, at least in terms of what fans want on TikTok. Think of it as a journey from "ABCDEFU" to "IDGAF." Data scientists with PHDs and business professionals have devoted hours to predicting What Users Want and What Will Generate An Algorithm Response — Stephens has managed to navigate virality with ease.
For now, her relationship to TikTok is symbiotic. Like generations of people — not even just artists — before her, Stephens has found a welcoming community online where she can feel free. Naturally, a sense of freedom is bound to unleash a wellspring of organic moments, which is I think the one thing everyone can agree TikTok really wants.
POP TEN
P!nk – "Kids In Love" (Feat. First Aid Kit)
Now this wasn't on my Bingo card for 2023: an acoustic collab between P!NK and Swedish folk duo First Aid Kit?? It's just so crazy that it works. Like, it really works.
Dove Cameron & Khalid – "We Go Down Together"
Cameron's vocal trills on a ghostly, spare track like this one sound kinda Billie Eilish-derivative, but Khalid fills in the empty spaces with his brand of effortless charisma. Cameron and Khalid sound wonderful together on this slow-burner, reviving an otherwise forgettable track.
Omar Apollo – "3 Boys"
Omar Apollo's first new track of 2023 is a soulful, heart-in-hand waltz about a potential pitfall of non-monogamy: "Three boys would work if I wasn't so tethered to you."
Sebastian Yatra – "Una Noche Sin Pensar"
Another first track of 2023, I love the upbeat, fist-pumping backing track on Sebastian Yatra's "Una Noche Sin Pensar" (translated to "A Night Without Thinking"), which will propel you to the nearest club.
Icona Pop & Galantis – "I Want You"
It's been 10 years since Icona Pop exploded brains with the Charli XCX-collab hit "I Love It," and the Swedish duo are back with another three-word, straight-to-the-point electropop jam. With a production assist from Galantis, Icona Pop have no time for the romantic runaround as they tell a lover over a strobing, irresistible beat: "I want you/ We don't have to play these games."
Aly & AJ – "After Hours"
Alyson and Amanda Joy Michalka find their inner Wilson Phillips on this "Hold On"-esque Americana ballad. In the video, Aly & AJ even pour one out for their Disney Channel past by nabbing fellow alum Aimee Carrero for a cameo.
Rebecca Black – "Misery Loves Company"
Ever since "Friday" opened a sinkhole into pop-music hell, Rebecca Black has been steadily releasing (frankly, amazing) music, hoping everyone will eventually forget about that time she internally debated which seat in the car to take. Anyway, I hope everyone will latch onto "Misery Loves Company," which rumbles with pent-up dystopian energy and even finds Black sounding like Art Angels-era Grimes on the vocally contorted chorus.
Zolita – "Crazy Ex"
Can't fight the crazy ex moonlight! In this wildly catchy, mega-entertaining pop headbanger, Zolita cosplays "that psycho bitch you can't get rid of" who "sends your new girl naked pictures," and even sets her music video in a Coyote Ugly-looking dive.
Polo G – "No Time Wasted" (Feat. Future)
Produced by Southside, the skittering "No Time Wasted" marks the first time Polo G has collaborated with his Atlanta comrade Future. The result is an appealing, sports-referencing track about the virtue of patience when dream-chasing. The sports stuff is lost on me, but a hustle theme is universal.
Latto – "Lottery" (Feat. LU KALA)
I'm gonna need Latto to stop rolling out these insta-classics; my body can't take it. It's too catchy. Just kidding — we all won the "Latto-ry" the second "Bitch From Da Souf" dropped in 2019. With a disco backing track and assist from Congolese-Canadian singer Lu Kala, "Lottery" has an invincible hook and on-point lyrics about knowing your worth ("If I tell you all my dirty fantasies/ You won the lottery").
CLOSING TIME