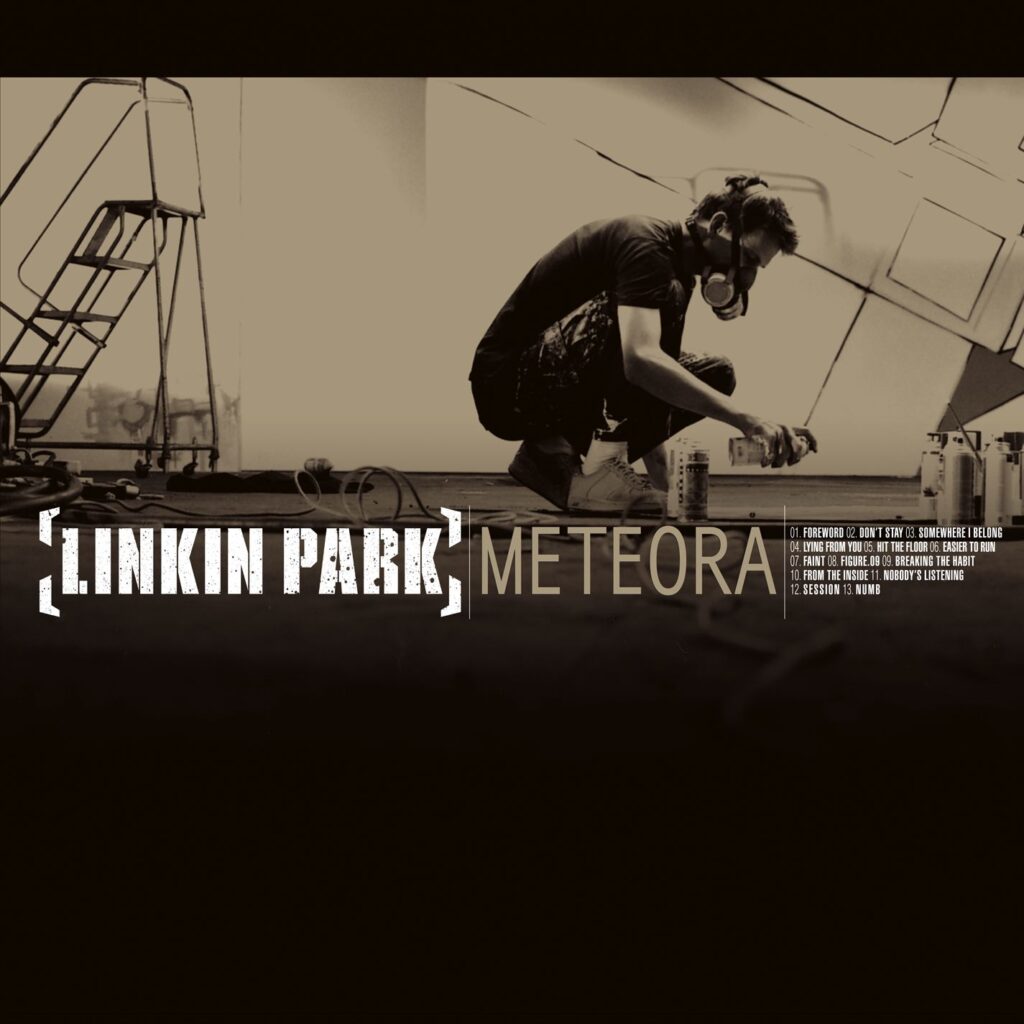 In March of 2003, my cousin took me to see my first small-theater concert. Technically, he was my cousin's husband, and he was the coolest. He lived in Brooklyn, played in a band, and had a massive CD collection he would let me borrow from whenever I would visit. He introduced me to a ton of music over the years, music that he grew up with like Radiohead (via Kid A-era concert bootlegs), Soundgarden, Led Zeppelin, Miles Davis, and Phish, although that last one didn't stick. On this night, however, it was my turn to introduce him to my favorite band: Linkin Park.
I didn't have any older siblings, so I wanted to impress him with my music taste so badly. As a 30-something living in Brooklyn, nu-metal wasn't exactly on his radar, and to him, rap-rock was best left to Zach De La Rocha and Tom Morello. As for me, I was obsessed with Linkin Park. Their songs hit me in ways previous musical curiosities never did. I would wear out my Hybrid Theory CD down to the nub. I owned T-shirts (multiple), posters, import singles, and even 'LP' sweatbands that apparently all the kids were wearing in the early aughts. I wanted to know everything about them – what instruments they played, what brands they wore, what tattoos they had. I wanted to have spiky, colorful hair just like members Chester Bennington and Mike Shinoda. (As a balding man in my 30s, I still kinda wish I had their hair.)
As big of a fan as I was, I still had not seen them in concert. I was so desperate to see a Linkin Park show that I even remember buying a DVD from the local Sam Goody that I thought was a concert film but turned out to just be some sort of talking-head documentary that didn't even feature any of the band members. So it was thrilling that not only was I seeing my favorite band in concert, I was seeing them up close in a relatively small, intimate venue. On that night in March 2003, Linkin Park were playing a free show at the old Roseland Ballroom in Manhattan for members of the "LP Underground," the band's fan club, of which I was a member (of course). I was about to become one of the first fans in the world to hear songs from their upcoming sophomore album Meteora, released 20 years ago this Saturday. Those guys on the LP Underground message boards were going to be SO jealous.
I had never been to a venue like this before. The room was no bigger than my grade-school gym. I can still vividly remember the faint haze of smoke hovering in the air while "Man In The Box" played over the PA as my cousin and I wandered around the edges of the venue. In the back by the stage, equipment boxes stenciled with "AC/DC" littered the floor, left behind from that band's show the night before. My cousin asked the security guard standing by the exit door if Angus Young was in the house. The unamused man did not answer. Alas, there would be no "Highway To Hell" tonight.
We made our way to the back of the room, center stage but strategically a safe distance away from the inevitable mosh pit. The lights went out, and the show began with Linkin Park's resident DJ Joe Hahn spinning the Meteora instrumental track "Session." The rest of the band then walked on stage to the most raucous applause my young ears had ever heard and launched into Meteora's riff-heavy album opener "Don't Stay," followed promptly by its anthemic lead single "Somewhere I Belong," a song I had fastidiously recorded on a cassette when 92.3 K-Rock debuted it a few weeks earlier.
Linkin Park put on a loud and exhilarating show that night. The energy never waned. They seemed invigorated — perhaps relieved to finally have a new record in the bag, ready to conquer the world with it. On record, the interplay between Bennington's soaring, impassioned high-pitched singing and Shinoda's hard, low-slung rapping was the beating heart of Linkin Park, a dynamic that fully transferred to the stage. I watched their every move and the way they bounced from one end of the stage to the other, feeding off each other and working the crowd like the true professionals they were. They were each other's hype man, like the nu-metal Glimmer Twins. When the songs got really heavy, guitarist Brad Delson – donning his trademark headphones – would bend down with his guitar barely above the floor right near his sneakers. The audience near the front would reach out in hopes to connect with a hand or a leg as Bennington leaned over the monitors as he sang. His voice sounded incredible that night, just like it did on the record.
Along with the unheard songs from the upcoming Meteora, they played the hits that night, which was most of their discography to that point. The old songs like "Papercut," "A Place For My Head," and "With You" would whip the crowd into a frenzy. Massive pits opened up in the middle of the floor. My cousin and I stayed away from any of that. I doubt he wanted to explain any new bruises or bumps I would've earned in there. At one point, before the band played the haunted power ballad "Crawling," things in the pit were getting a little too rowdy and Shinoda had to briefly pause the show to remind the crowd of pit etiquette.
After the show ended, with closer "One Step Closer" still ringing in my little ears, we walked back out into the brisk March night, past the band's tour bus and into the heart of Midtown to meet back up with my parents. I was wide-eyed and ecstatic. My world had changed. I can still remember that feeling, and I hope I never forget it. I hope I never lose that excitement of seeing my favorite band in person, no matter how old I get. And, God bless him, while I don't think my cousin was as on-board with Linkin Park as I was, I think he enjoyed the show too. I was just a child when Meteora dropped. Like all those kids who latched on to what the band was saying and the way they were doing it, I still had a lot to learn and a lot of growing up to do. On Meteora, Linkin Park were growing up along with us.
It's easy to forget how big Linkin Park were at the time. Their 2000 debut album Hybrid Theory was a behemoth. To this day, it remains one of the bestselling debut albums of all time. There was a level of craft and seriousness in that record that separated Linkin Park from the other nu-metal acts of that era. They weren't corny or crass enough to name one of their records Chocolate Starfish And The Hot Dog Flavored Water. They didn't wear masks, and more importantly, they didn't curse on their records — which seems silly, but trust me when I say it made a difference. Those same kids who weren't allowed to buy The Marshal Mathers LP could feel no guilt buying Hybrid Theory. (Look mom, no f-bombs!) Linkin Park, in contrast, were approachable and sincere, and the music on Hybrid Theory was chock full of hooks and memorable choruses. It was a rap-rock opus from a band just emerging from their parents' basement. It sounded like the future.