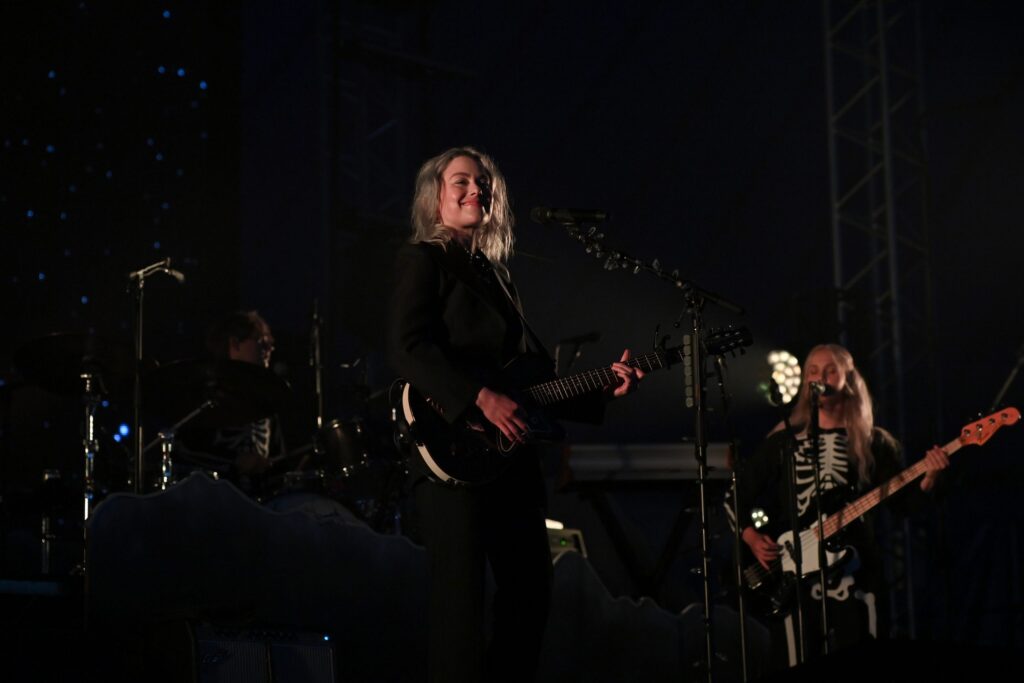 That new Apple TV+ show Shrinking has a scene in which Jason Segel rides a bike, sobbing, while listening to "I Know The End," repeatedly shouting, "Fuck you, Phoebe Bridgers!" The profane outburst is speaking Bridgers' language; she's been known to let some impassioned fuck-yous fly, often with help from a few thousand of her closest friends. Last summer at Glastonbury, Bridgers led a "Fuck the Supreme Court!" chant in response to the overturn of Roe v. Wade. And now she's turned her ire toward an anti-gay tennis player.
Bridgers played a show last night at Melbourne's Margaret Court Arena. The venue is named for the Australian tennis great Margaret Court, who has in later years become a vocal opponent of same-sex marriage. "So, Margaret Court," Bridgers told the crowd at one point. "Fuck that stupid-ass, dumbass bitch. Fuck that stupid cunt. Change your name!" After leading a rousing cheer of "Fuck Margaret Court!" she continued, "I think hate is undervalued. I think it's like a fucking weird, white supremacist idea that hate is bad, or something? You know what I mean? It's like hate is like what moves things throughout history. I hate that stupid bitch! Hate is like how you protect yourself. What, are you never supposed to be angry, ever?"
Watch footage below.
Phoebe Bridgers saying "fuck that stupid cunt" about Margaret Court at Margaret Court Arena at her Melbourne show tonight

icon fr "i think hate is undervalued"

i don't even know who margaret court is pic.twitter.com/4MOyB6LvZJ

— chrystal christie🫀 (@ChrystalChristi) February 8, 2023