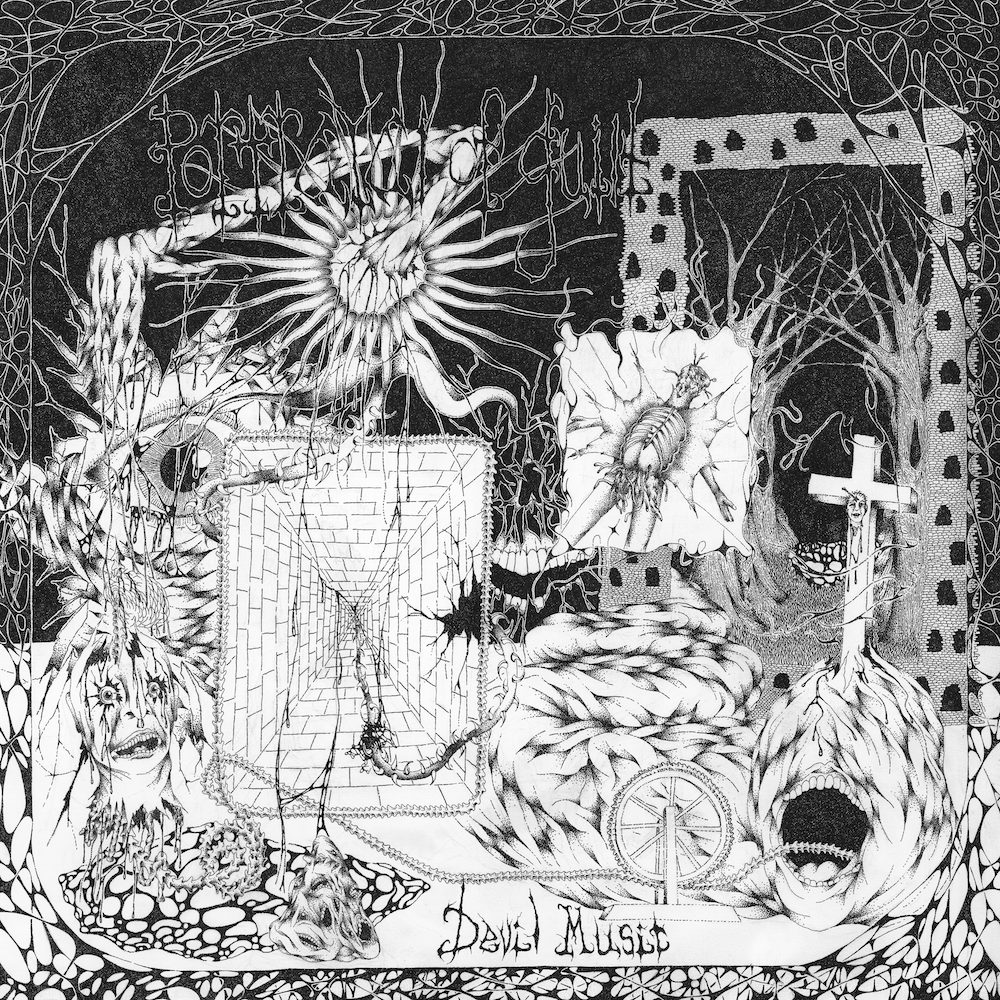 The Texas band Portrayal Of Guilt made one of the best hardcore albums of 2021 with We Are Always Alone, one of the two albums that they released that year. Today, they're announcing a new album called Devil Music, made up of five new songs on side A and an orchestral reimagining of those same songs on side B.
Today, they're sharing a short film directed by Emmanuella Zachariou that showcases the entirety of that orchestral side. "When I first heard the B-Side of Devil Music, I was extremely impressed by the cinematic nature of the music," Zachariou said in a statement, continuing:
As a filmmaker and artist who started working in this industry through being an avid lover of music, especially heavier and darker sounds, it has always been a deep personal goal of mine to create more projects that not only highlight the extremely intricate nature of such compositions, but to really try to bring in a true cinematic atmosphere to help visualize them. The string elements in the tracks really helped inspire the medieval blueprint in my mind's eye, and going off of that I wanted to implement slight nods to 90s black metal promo photos, and some of my favorite directors and films. Everything in this was a deliberate, carefully curated nod to some of my favorite films, books, artists and albums. Some examples include Marketa Lazarová (1967), The Wicker Man (1973), The Devils (1971), To the Devil a Daughter (1976), The Passion of Joan of Arc (1928), Wim Wenders, Jean Rollin, Jesús Franco, Mortiis, down to the choice of title card text (inspired by Medieval Marginalia and even Abigor's 1995 albums, Nachthymnen and Orkblut – The Retaliation).
Watch and listen below.
TRACKLIST:
01 "One Last Taste Of Heaven"
02 "Untitled"
03 "Burning Hand"
04 "Where Angels Come To Die"
05 "Devil Music"
06 "I (One Last Taste Of Heaven)"
07 "II (Untitled)"
08 "III (Burning Hand)"
09 "IV (Where Angels Come To Die)"
10 "V (Devil Music)"
Devil Music is out 4/20 (digital) and 4/21 (physical) on Run For Cover. Pre-order it here.