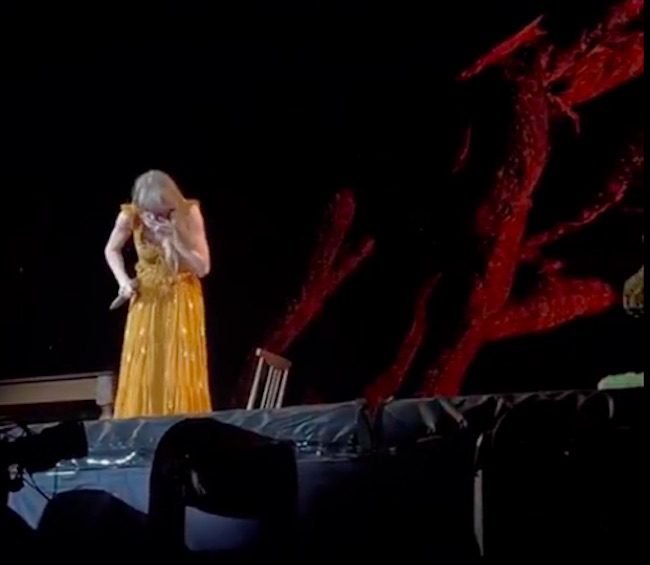 Taylor Swift! She's still doing stuff! While online discourse about this lady's love life continues to rage, she's still out here playing America's stadiums, putting on two or three three-hour shows every weekend and doing things that feel newsworthy in one way or another. This past weekend, Swift's Eras Tour came to Chicago. On Saturday night, Swift brought out Maren Morris and performed "You All Over Me," a song from her recent Fearless re-recording, for the first time ever. She also briefly attempted to bring a little girl onstage before realizing that this was a bad idea. Last night, Taylor Swift did something different: She swallowed a bug.
This wasn't like Ozzy Osbourne biting a bat's head off, and it wasn't a Jim Rose Circus Sideshow trick. Instead, the bug-swallowing moment was entirely accidental, and it happened when Swift was in the middle of a bit of stage patter. Like every other moment of every other Taylor Swift show, it was captured by many, many cameras. That means Swift's reaction has been recorded forever for posterity: The coughing into her hand, the slight retch, the moment when she let the audience know what it had just witnessed. Swift: "Swallowed a bug, I'm so sorry! I'll be fine, it's just that I'm so stupid. Oh, delicious. Oh, God. Is there any chance that none of you saw that? It's fine, it's all… it's… I swallowed it."
This is probably a slightly more Diane Keaton-esque version of how many of us would react if we accidentally swallowed insects while performing tasks that we could absolutely not stop doing. Also, given that bugs are attracted to light, and that Taylor Swift is always lit very brightly at these shows, I'm a little surprised it doesn't happen more often. Here's this extremely newsworthy moment.
Taylor swallowed a bug at last night's show 😳🤣 pic.twitter.com/aoibv0K7Vd

— The Eras Tour Singapore (@TSTheErasTourSG) June 5, 2023
In slightly less frivolous news, Taylor Swift also gave two songs their live debuts last night. A week and a half ago, Swift released her deluxe edition of her massively successful 2022 album Midnights. She added two remixes, one secret track that's only on physical editions, and one brand-new song that everyone can hear. The new song everyone can hear is called "Hits Different," and it kicks ass. She played it last night, and she got a huge, euphoric singalong. Here's that performance:
During the same show, Swift also debuted "The Moment I Knew," a song from her Red re-recording. According to widespread speculation, this one is about Jake Gyllenhaal not showing up for her birthday. Swift's fans, it's worth noting, know her entire catalog backward and forward. It's honestly pretty impressive how a relative obscurity like that one can incite another stadium-sized singalong.
This weekend, the Eras Tour comes to Ford Field in Detroit, with Girl In Red opening.