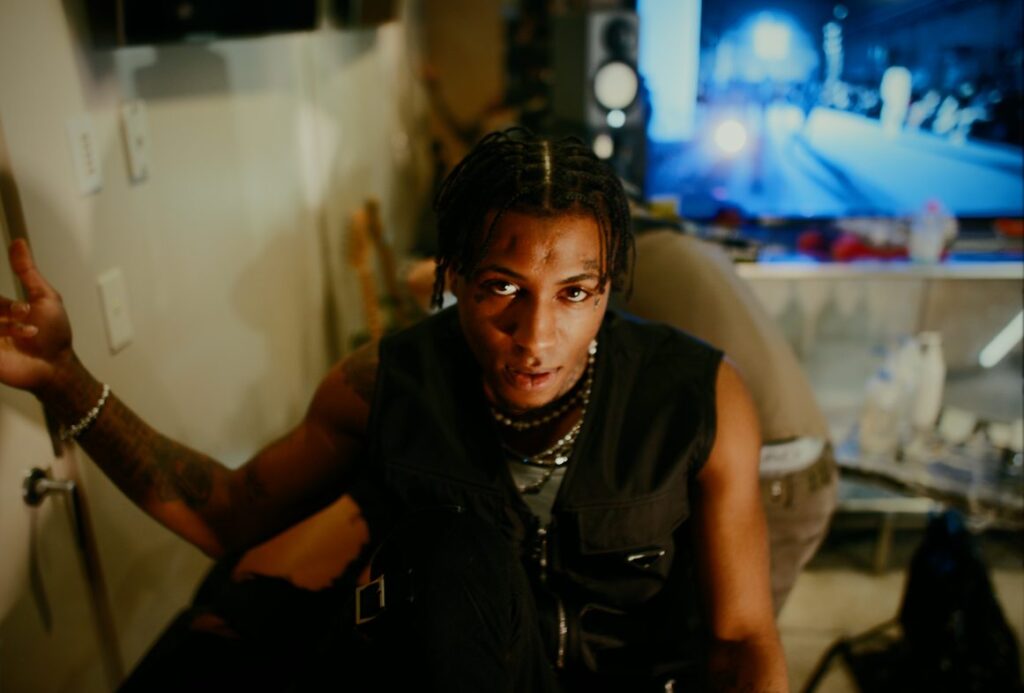 Baton Rouge rapper YoungBoy NeverBrokeAgain — known as NBA YoungBoy to hip-hop fans in the know — doesn't usually enjoy speaking to other human beings. As he told the writer Meaghan Garvey in Billboard, "I'm not big on people." YoungBoy's a quiet soul — deeply intense and deeply sensitive — with an unfiltered abundance of demons and an exacting gift for primitively sharing those demons in his music.
One way to avoid seeing people is to spend your days on house arrest on a mountainside. YoungBoy's been living in Utah since 2021 after his attorneys convinced a judge that the man born Kentrell DeSean Gaulden would stay out of trouble if he was living in the state that has decriminalized polygamy. Now that he's gone from the hole in East Baton Rouge jails to the snowy tranquility of Salt Lake City, he might be ready to calm down. YoungBoy is no longer taking demonic and upsetting photos with his cellmates in prison; thank God for that. The sometimes alarming rapper otherwise known as "Top" has settled into a routine, by design. He did the cover story for Billboard, was interviewed by the hip-hop podcast Rap Radar. It seems that YoungBoy is turning a leaf — however tiny and rusty that leaf might be.
Complexities and opposite traits exist in rappers like YoungBoy, who eat their self-destruction for lunch. He's soft spoken away from the booth, but on the mic, he is absurdly off-kilter and explosive. YoungBoy has a brain that causes him to blurt out exclamations uncontrollably and bitterly, fitting words into places where rappers usually rest. There's no negative space with YoungBoy, just an overpowering and neurotypical brashness: You don't know whether he will yell at you or be so devastatingly raw that you need to gingerly rub his back. Sometimes both of those phenomena happen at the same time.
YoungBoy is fluent in being fluid: a freak with a gun and a brute with a complicated and unflinching soul. On an album like last October's 3800 Degrees, that erratic syntax works well because of the production palette that the album belongs to. It's a less sophisticated spin on the No Limit Records albums from the late '90s. The album cover, which was inspired by Junvenile's 400 Degreez, has a '90s feel too.
YoungBoy often works best when the beats and song structure are concise and therefore the albums are as well. On a strategic and marketing level, he has used, sometimes cynically, his violent and thorny past to his advantage. (Some of his fans seem to sometimes think YoungBoy is a jailed political prisoner at times, even if the FBI did make a tactical decision to arrest him). Sometimes, he needs to practice restraint in his compulsive musicality. 3800 Degrees clocked in at about 34 minutes, a critic's dream; it's still genuinely his best record since 2019's AI YoungBoy 2 — the moment where you realize that the rapping of YoungBoy can still outshine people's glorification of his hectic and troublesome life. (I'm not above this either. As we learned from the grim and shocking "Notti Bop," the tantalization between real-life violence and artistic slapstick humor is still prevalent, like the use of the Fruit of Islam as security).
On Friday, YoungBoy released Richest Opp, his third release this year alone. It's his best work out of the three — YoungBoy tends to focus once every three tries, or something like that — another example of both his excellent artistry and how frustrating he can be to follow and support. As usual, the antics on song like "Fuck The Industry Pt. 2" (more on that momentarily) makes the slick songwriting and cotton-candy sweet Louisiana cadence on "Bitch Let's Do It" feel inconsequential. Sometimes, like on 2021's Sincerely, Kentrell, YoungBoy's choice of production can still be formulaic. He's not above getting too happy with the bassline like LaVine with his jumper. But at best, that low end provides him with a flow to soften the blow of his threatening volatility. And "I Heard," track three, is a huge blow, of the Mike Tyson variety: "I held it down from top to bottom/ These hoes be laughin' at my trauma/ I say, I got serious problems, I say, I wan' kill somebody."
If YoungBoy's talent is in the erratically polemical topics of his vinegarish raps, then consider him a Sandler character for the way he can burn hot. "Just Flow" recalls the sing-along flow of Kevin Gates. "Father" throws a warning shot — plus says a prayer — at rappers who think that they can diss YoungBoy, who isn't having it. But the song that has YoungBoy in the news again is "Fuck The Industry Pt. 2," on which he disses a long list of rappers including Drake, J. Cole, Lil Yachty, and Lil Durk — a frequent target. On the song, YB claims that Drake won't work with him because of the Toronto pop star's friendship with Lil Durk, says J. Cole ghosted him after YB missed a studio session, and calls Lil Yachty an anti-gay slur. Because of songs like this, nobody is now discussing the relatively solid record. YoungBoy's propensity for conflict is overriding his talent. He's known first and foremost as an emotional and inconsiderate sprayer of external strife, not a prodigious vessel for Southern rap ballads.
All of this is not to say YoungBoy is not still enthralling. As shown on "Slimes Go Where I Go," he is undeniably so. Richest Opp contains some spectacular moments; to listen is to blur the line between shock value and ordinarily stupefied pain. If YB is turning his life around, and if his acidity and depth continue to be celebrated, then his mistakes and lashes must be accounted for. Can he show us that without making enemies, and doing things he can't come back from? That's the million dollar question coming from Utah, the place where he is chilling out, hoping he can finally defeat his demons.
SILENCERS, INFRAREDS, AND OFFICIAL SHIT