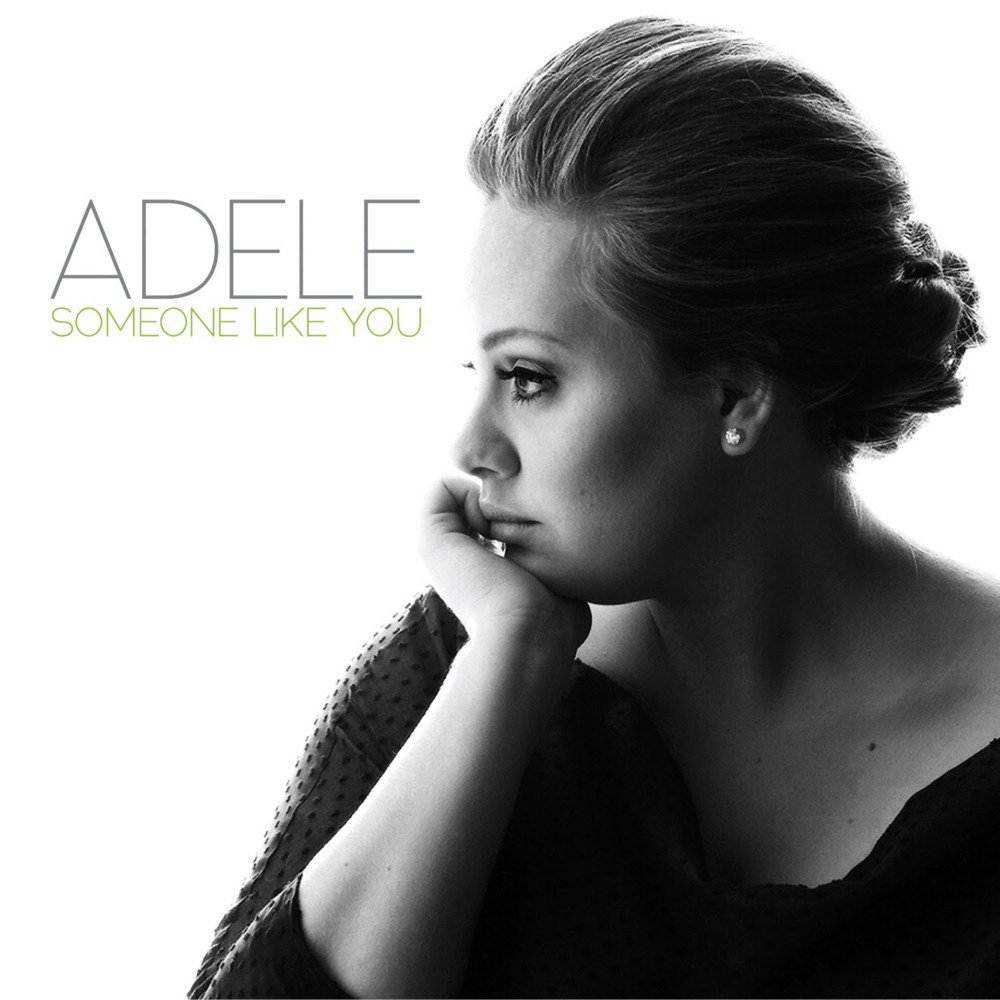 In The Number Ones, I'm reviewing every single #1 single in the history of the Billboard Hot 100, starting with the chart's beginning, in 1958, and working my way up into the present. Book Bonus Beat: The Number Ones: Twenty Chart-Topping Hits That Reveal the History of Pop Music.
"Rolling In The Deep" was one thing. Adele's first chart-topper sounded absolutely nothing like the other stuff that was on American radio at the time, and the song still became a seismic smash, the biggest hit single of 2011. But "Rolling In The Deep" had at least a few familiar contours. Adele herself described that song as "gospel-disco," and while the disco part was probably overstated, the single was at least driven by a four-four thump. It was a stark departure from the EDM-addled dance-pop cluttering up the charts, but it had the same kind of boom to it. "Rolling In The Deep" was also a sassy fuck-you breakup song, and Americans never get tired of those. The success of "Rolling In The Deep" might've been a fun fluke. The success of "Someone Like You" was something else.
"Rolling In The Deep" and "Someone Like You" were both written about the same person. Pretty much every song on Adele's blockbuster sophomore album 21 is about this guy, the unnamed older gentleman who broke Adele's heart so badly that she had to make a precedent-shattering record about it. But the two songs convey very different emotions. "Rolling In The Deep" is all prideful, self-righteous anger. "Someone Like You" is the bleak, world-swallowing emptiness that descends once that angry high is over. It's the moment of confrontation with an uncertain future, of mourning the thing that will never return. It's a devastated song, and it's a devastating one, too.
"Someone Like You" works so well, in part, because the song is so spare. It's the last song on 21, and it's got real last-song-on-the-album vibes. It's not catchy, though it's easy to learn, easy to sing along with. There's no sweetener in there, nothing to make the impact less raw. Adele sings it with virtuoso theatrical flair, knowing when to raise up from a whisper to a gale-force howl, but the theatricality is hidden, not flaunted. She makes it sound almost conversational — as if she's trying to keep it together while talking to her ex while also being emotionally forthright about what the breakup has done to her. It's so mature, so plainspoken, and that calm seriousness only sharpens the clarity of her pain. Adele knew how to mine her personal life for inspiration, but there's nothing calculated about "Someone Like You." You'll never convince me that Adele didn't mean every syllable of the song.
Before "Someone Like You," it had been a few years since a full-on slow-dance ballad had gone to #1 on the Hot 100. But "Someone Like You" isn't just a ballad. It sounds orchestral, but there are only two elements on that track: Adele's voice and a piano. Before "Someone Like You," no voice-and-piano ballad had ever gone to #1 in America. (Pretty soon after "Someone Like You," we got a second one, though it was done as a pretty obvious imitation.) "Someone Like You" served as proof that Adele could completely rework the pop playbook.
You could hear "Someone Like You" as counter-programming — the song that captured imaginations by cutting hard against the grain of the party rock anthems all around it. That probably didn't hurt the song; timing is always a key component of a hit single's success. But there's something deeper than that to "Someone Like You." People always need to cry, and "Someone Like You" was, and is, elemental and universal enough to bring that out of people. The word "timeless" gets thrown around way too much, but in a very real way, "Someone Like You" transcended its moment. If that's not timeless, I don't know what is.
The story goes like this: Adele and her mystery man broke up, and the experience was traumatic and devastating for her. She'd assumed that she would marry this guy, but he claimed that he didn't want to get married. Then, a few months after the breakup, Adele found out that the guy was engaged to somebody else, which had to be a whole new cycle of heartbreak on top of a still-fresh wound. Adele started writing "Someone Like You" by herself, strumming a guitar in her bedroom. Even in the haze of the moment, though, she knew that she wanted to capture something that wasn't in her other breakup songs.
Adele laughed when she told MTV about writing "Someone Like You": "Well, I wrote that song because I was exhausted from being such a bitch, with 'Rolling in the Deep' or 'Rumor Has It.' I was really emotionally drained from the way I was portraying him, because even though I'm very bitter and regret some parts of it, he's still the most important person that's ever been in my life." With "Someone Like You," Adele did her best to take stock of what she'd loved about being with this guy and with what she'd lost. When she'd finished the song, she said that she felt "so freed."
Adele didn't write the entire song by herself. She came up with the concept, the melody, and most of the first verse on her own, but one person helped her finish the track: Dan Wilson, a Minnesota native and Harvard graduate. After finishing college in the early '80s, Wilson moved back to the Minneapolis area and joined his brother in Trip Shakespeare, an college rock band who released a couple of unsuccessful albums on A&M. Trip Shakespeare broke up in 1992, and Wilson and that band's drummer Jacob Slichter started a new band called Semisonic. You probably know that name. Semisonic made one big hit. The ballad "Closing Time" was all over the radio in the late '90s, and a whole lot of bars still play it at last call. ("Closing Time" was never officially released as a single, so it never made the Hot 100, but it'll eventually appear in The Alternative Number Ones.)
Semisonic never got anywhere near the success of "Closing Time" again, and they stand today as one of the great one-hit wonders of the alt-rock '90s. The band went inactive in 2001, and Wilson made a 2007 solo album with producer Rick Rubin. Wilson also started working as a writer and producer for other artists, helping out people like Jason Mraz and the former Soul Coughing leader Mike Doughty. In 2006, the group then known as the Dixie Chicks — they're just the Chicks now — got together with Rick Rubin to record Taking The Long Way, their first album after the country music establishment blacklisted them for speaking out against the Iraq War. Dan Wilson co-wrote half the songs on that album, including the "Not Ready To Make Nice," which was a big-ass Grammy-dominating hit. ("Not Ready To Make Nice" peaked at #4, and it's actually the Chicks' highest-charting Hot 100 hit. It's a 7.)
Dan Wilson followed that success by working with people like KT Tunstall, Weezer, and Josh Groban. After she recorded half of her 21 album in London, Adele came to Los Angeles to work with Rick Rubin, and Rubin had the idea to put her together with Wilson. Adele and Wilson spent two days working in a small studio with a big grand piano, and that was all the time that they needed to finish and record "Someone Like You." Together, they listened to a bunch of songs from the rockabilly great Wanda Jackson, a key inspiration for Adele. They started working out the song on guitar, but when Wilson tried switching to piano, Adele realized that it sounded better that way.
From the way Dan Wilson talks about it, "Someone Like You" came together quickly and smoothly, with a minimum of drama. He'd have a melodic idea, and that would inspire another lyric from Adele. The two recorded a demo together on the first day, and when she sounded more ragged on the second day, he suggested re-recording the last chorus so that it would sound more wracked and pained. Wilson thought they were just making a demo for the song. Later on, he told American Songwriter, "I was thinking, 'Oh, they're going to make a big version of this, strings and angelic choirs, like a big Chrissie Hynde power ballad.'" But "Someone Like You" simply sounded too good in voice-and-piano form.
After one day of work, when the song wasn't even complete yet, Adele took the demo and played it for her manager and her mother, and then she told Dan Wilson, "My manager loves it, and me mum cried." When the recording was finished but before it came out, Wilson kept hearing about other people — some of whom knew Adele and some of whom didn't — hearing the song and crying. Eventually, that became the great legacy of "Someone Like You." It's the song that sneaks up on you in a CVS and wallops you emotionally, leaving you fighting back tears in the shampoo aisle. That's a good legacy to have.
The first time I heard "Someone Like You," the 21 album wasn't even out yet, and that song fucked me up. I'm glad that I got to experience the song that way. It felt like a personal discovery, not an everybody-sob-now cultural event. I reviewed the track for Pitchfork, and I'm pretty sure I compared it to Funkadelic's "Maggot Brain," which my editor wisely cut. (I've been hyper-exaggerating shit since the moment I first touched a keyboard.) Bringing up a piece of music as primal as "Maggot Brain" was dumb as hell, but I was really struck by how Adele turned a soft, simple backdrop into a grand, operatic personal-pain epic.
"Someone Like You" is just Adele's voice and Dan Wilson's piano, but the song feels a lot bigger than that. It sounds orchestral, even without an orchestra. Part of that is simple production wizardry. Adele and Wilson, co-producing together, knew when to double up her voice and how to let the piano's notes resonate. Mostly, though, it's the way that "Someone Like You" is written and sung. Adele tries to be calm and adult. She heard that you settled down, that you found a girl and you're married now. But bitterness still creeps in before the first verse is even over: "Guess she gave you things I couldn't give to you." She addresses her ex as "old friend," but she can't stop herself from telling this guy that it's not over for her. It's so easy to imagine her walking away from that conversation, shaking her head, wondering why she spilled her guts like that.
Adele was all fearsome power on "Rolling In The Deep." On "Someone Like You," the vulnerability is the power. She's lost, and she knows it. On the pre-chorus, she gets quiet, and she stretches things out an extra beat, as if she's still gathering her strength. When the chorus hits, she almost sounds like she's yelling at herself, trying to find hope in a loveless place: "Nevermind, I'll find someone like you/ I wish nothing but the best for you." She just doesn't want to be forgotten. It's overwhelming.
At least for me, sheer saturation hasn't really helped "Someone Like You." The song knocked me sideways when I first heard it, but that impact has dulled over the years. When "Someone Like You" became a general-consensus pick for everyone's sad-songs playlists, it lost something, at least for me. I can't access the way I felt when I first heard it. But it's still a great song, and I still admire the way Adele sings it. Maybe I ruined it for myself. Maybe I hit the emotional-response button too many times and wore it out. It happens.
The world had to discover "Someone Likes You." The song was too powerful to keep its deep-cut status for long. A few weeks after 21 came out, Adele performed the song at the Brit Awards, and she visibly and audibly fought back tears while singing. Shortly afterward, the song went to #1 in the UK. (It was actually Adele's first chart-topper in her homeland; "Rolling In The Deep" peaked at #2 over there.) In the US, "Someone Like You" didn't come out as a single until August, but the exact same thing happened. In the middle of a glitzy VMAs, Adele sang "Someone Like You" again. This time, she was sandwiched between performances from Pitbull and Chris Brown. Once again, it was just her and a piano, and the performance helped send the song to #1 in America.
Adele sang "Someone Like You" in a bunch of different televised settings, but the VMAs performance really stuck. Adele was already a huge deal in America when she gave that performance, and the 21 album was already triple platinum. But that performance helped push the song and the album over the top. A few weeks later, "Someone Like You" knocked Maroon 5's "Moves Like Jagger" out of the top spot. A week after that, Maroon 5 retook the top spot. But American radio stations soon caught up to the demand, and "Someone Like You" retook its place at #1. The video probably helped with that.
The veteran video director Jake Nava made the "Someone Like You" video, and he kept it simple. The clip is filmed in grainy black-and-white, and it's mostly just Adele walked around Paris alone. The shots are long and immaculately composed, and Adele looks so pretty and so sad. Eventually, she comes eye-to-eye with her ex, whose face never fully comes into frame, and he just walks away from her. The clip looks a little like a perfume commercial that's trying to look like an Antonioni film, but it's really the only way to shoot a video for this particular song. In the end, Adele is all by herself in the most famously romantic place on earth, and you can just imagine that compounding her despair. The clip now has more than two billion views.
There are a bunch of Adele tracks with Spotify plays in the billions, but "Someone Like You" is her most-played song. The single went quintuple platinum in 2012, and I have to imagine that it would have more plaques now if Columbia felt like paying for them. Today, "Someone Like You" probably stands as the definitive Adele song. People don't bother comparing Adele to Amy Winehouse anymore. Nobody thinks of Adele as a retro-soul singer. Instead, she's an old-school heart-wrecking balladeer, and that reputation comes, more than anything, from "Someone Like You." In the end, "Rolling In The Deep" was the outlier. All of Adele's other big hits are the ballads.
Dan Wilson co-wrote a couple of other ballads on Adele's 21 album, but "Someone Like You" is the only time that he's ever produced her. Weirdly, they haven't worked together since, though Adele has had more success with other former '90s alt-rock hitmakers. Wilson went on to do successful work with artists like Dierks Bentley and Taylor Swift, and he's continuing to rack up credits as a collaborator. This year alone, Wilson's list of clients includes Céline Dion, Chris Stapleton, and Manchester Orchestra. Just last week, Semisonic released their first album in more than 20 years. But Wilson hasn't worked on another world-conquering hit like "Someone Like You." I bet a ton of his income still comes from that song.
In my column on "Rolling In The Deep," I wrote about how Adele's cultural impact hasn't really been equal to her insanely dominant success. You could look at her as the pop-music equivalent of Avatar — the franchise player who dwarfs everyone else while seeming to exist on an island unto herself. After "Someone Like You," though, the pop charts did become a little bit more hospitable to heart-wrecked ballads. And Adele still had plenty of hits on deck. We'll see her in this column again soon.
GRADE: 9/10