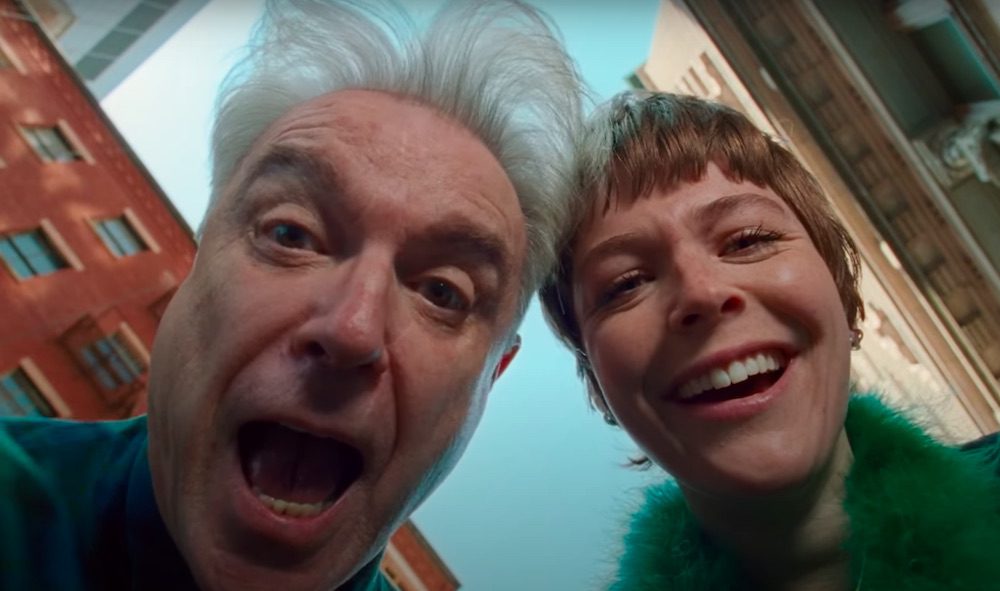 These days, David Byrne is everywhere. He's on Brodway. He was a big part of Miley Cyrus' New Year's Eve special. He's Oscar-nominated for "This Is A Life," the song that he recorded with Mitski and Son Lux for the Everything Everywhere All At Once soundtrack. My daughter tells me that "Psycho Killer" is all over TikTok right now, which makes as much sense as anything else. And last night, David Byrne was onstage at Radio City Music Hall, busting out synchronized dance steps alongside Maggie Rogers.
Last year, Maggie Rogers returned from a long absence to release her sophomore album Surrender. Byrne had a quick cameo in the video for that album's first single "That's Where I Am." Rogers told NME that she got that cameo by emailing Byrne out of the blue:
I cold emailed him. We'd never met. I'm a massive fan. And "Strange Overtones" was a song in the pandemic that I just deeply connected to and played over and over and over again. So he feels a part of this record in my brain because I was so connected to that song…

[He] was just like, "Yeah, I'm getting my haircut downtown tomorrow. Where? What time?"… He was like, "Yeah, great. I'll ride my bike over. I think I can hang for like 20 minutes."
I bet Byrne rode his bike over to Radio City, too. Last night, Maggie Rogers' tour came to New York, and she brought Byrne out in the middle of her set. Together, they sang "Strange Overtones," a song from Byrne and Brian Eno's 2008 album Everything That Happens Will Happen Today. That might not be one of Byrne's canonical classics, but it's a great song. During the keyboard solo, Rogers and Byrne danced together — a sort of shuffling Electric Slide type of deal — and it was the kind of thing that's impossible to dislike. Below, watch a fan-made video of their performance together.
David Byrne loves that headset mic!