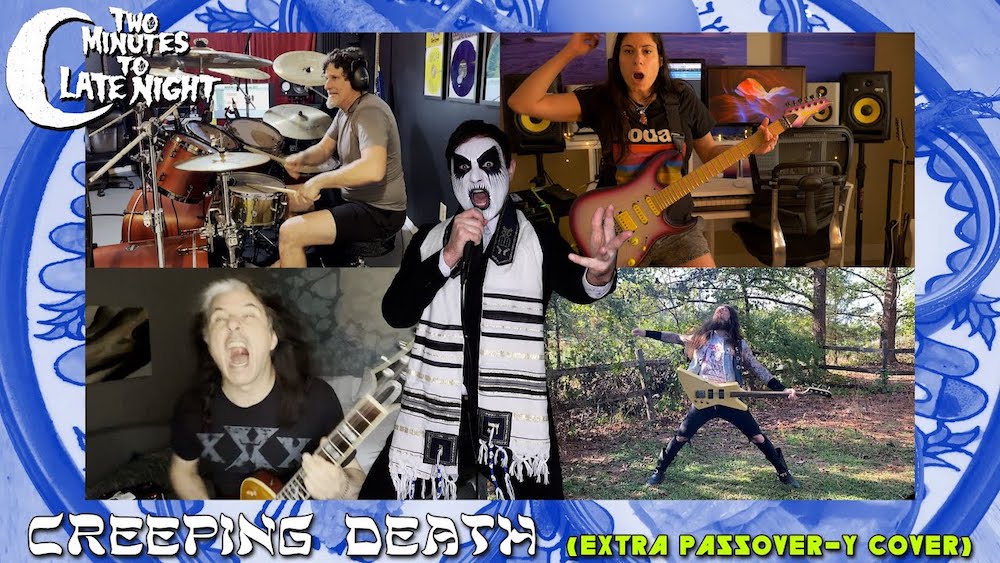 Jordan Olds' great video series Two Minutes To Late Night was a weekly pandemic delight, and it's kept going since then, albeit a little more intermittently. Last month, 2M2LN assembled a band of hardcore all-stars for a cover of AFI's "The Leaving Song, Pt. II." Now, in honor of Passover, we're getting a Jewish metal supergroup doing a very silly parody of Metallica's 1984 Ride The Lightning classic "Creeping Death" — a song that's actually about Passover.
According to the YouTube description, this new "extra Passover-y" version of "Creeping Death" has a new set of lyrics "about the time Drew threw up at a Passover in middle school after drinking Elijah's wine." So now "Creeping Death" has Jordan Olds bellowing, "So let it be eaten! So let me be full! I came here for some matzoh balls!"
For the purposes of this parody, Olds has assembled an elite team of shredder. Testament's Alex Skolnick, an actual contemporary of Metallica, plays guitar, as does Dethklok member and Danny Elfman collaborator Nili Brosh. The rhythm section is founding Cannibal Corpse drummer Paul Mazurkiewicz and Municipal Waste bassist Land Phil. This might be a joke, but these players aren't fucking around. Below, watch the Two Minutes To Late Night cover and listen to the original "Creeping Death."
Check out the Two Minutes To Late Night website here.