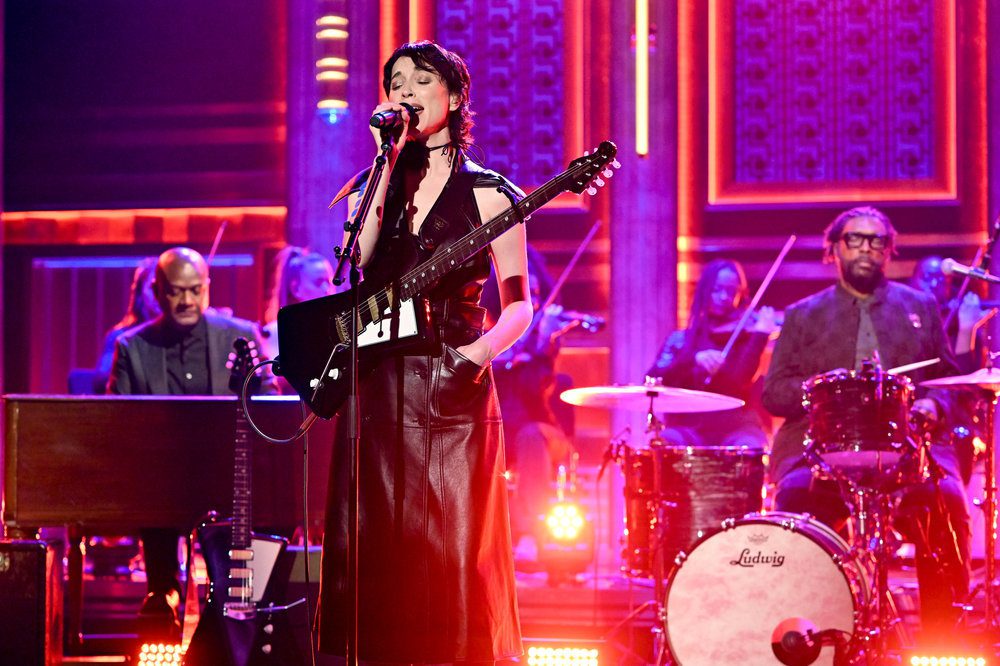 Sometimes, cool things just happen for no particular reason. Just go with it. St. Vincent, for instance, is in between promo cycles; Daddy's Home, her last album, came out two years ago. Every once in a while, though, Annie Clark will pop up on late-night TV with a sick-ass cover song. Last year, she did Fleetwood Mac's "Dreams" with the Colbert house band. And last night, she did Portishead's "Glory Box" with the Roots and a huge string section.
"Glory Box" is just one of those songs. It sounds like it's always existed, like it's just part of our cultural heritage as human beings. Time stops when you hear it. Portishead released "Glory Box as the third single from their classic-beyond-classic 1994 debut Dummy, and it wasn't a big hit outside the UK. But the song has echoed down for the past 29 years, showing up on mixtapes and playlists, entering the pantheon of desperately sad makeout music.
On last night's Tonight Show, St. Vincent sang the absolute hell out of "Glory Box." She looked cool. She hit those raw, feverish Beth Gibbons notes. She went in on the guitar solo. The Roots handled the slow, contemplative groove, and actual strings played the string parts. Nobody attempted to recreate the echoed-out drums of the short breakdown, which was probably wise. It's a great performance of a great song, and you can watch it and listen to Portishead's original "Glory Box" below.