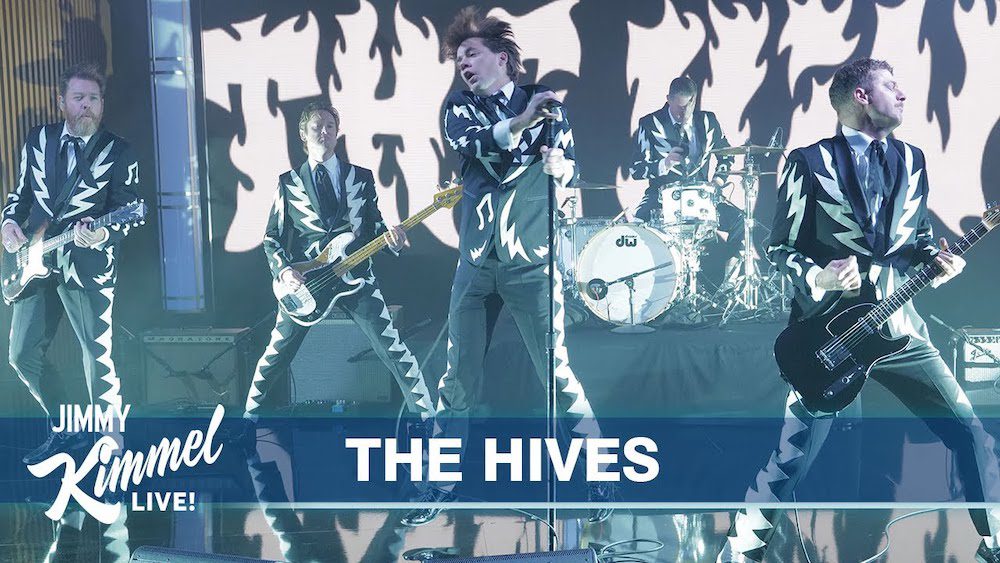 The Hives evidently do not care about aging gracefully. The Swedish garage-rockers returned earlier this year with The Death Of Randy Fitzsimmons, their first new album in more than a decade, and it's full of the same kind of rambunctious, peacocking riffage that made the band famous in the first place. Back in the day, Pelle Almqvist used to talk a big game about blowing other bands off the stage, and then he worked extremely hard to back it up. Based on the performance that they gave on Jimmy Kimmel Live last night, they're still bringing that same energy.
The Hives who ripped through "Bogus Operandi" on last night's Kimmel aren't trying to settle down or mature. Instead, they're still snorting and stomping and preening their way through high-energy bangers. Pelle Almqvist might have a few more lines on his face, and he might be a little more visibly winded as the song begins, but he's still the same hick-kicking, mic-spinning dynamo that he was more than 20 years ago. The Hives still rock matching suits, and they still pull showmanship tricks — sudden switches to black lights, Almqvist running out into the crowd. At the end of the song, Almqvist said, "Thank you, America," and it did not sound entirely ridiculous. Watch it happen below.
The Death Of Randy Fitzsimmons is out now on FUGA.