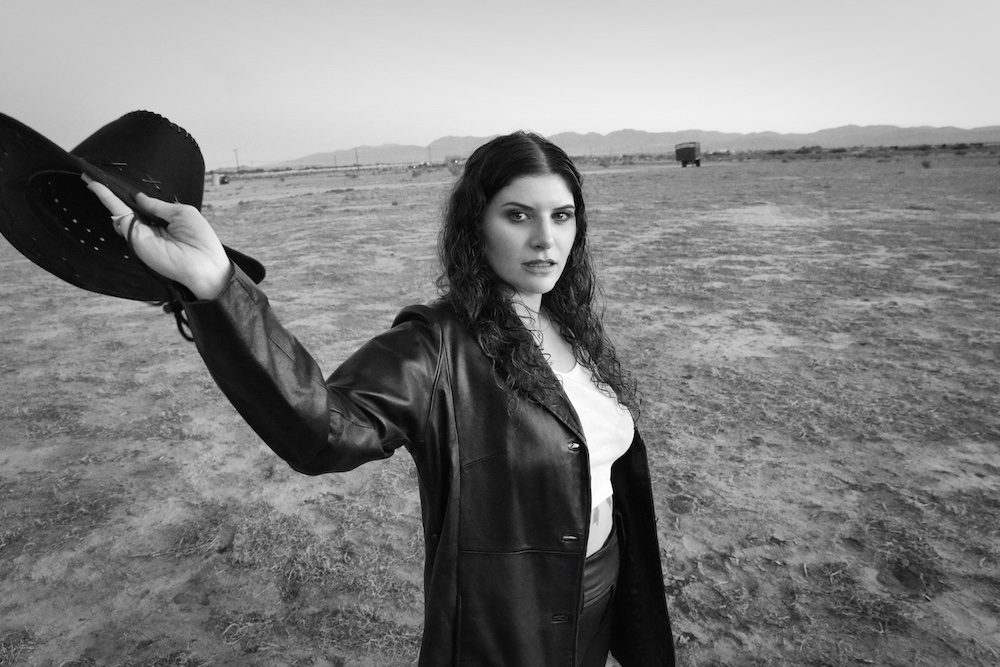 We've Got A File On You features interviews in which artists share the stories behind the extracurricular activities that dot their careers: acting gigs, guest appearances, random internet ephemera, etc.
On April 19, Bethany Cosentino posted the well-worn dog-in-burning-house "This Is Fine" meme to her Twitter account. "Two weeks from today, all of our lives are going to change. i won't elaborate on this. just trust me." A few days later, Cosentino posted a lengthy note to fans about the idea of change. Though she hadn't offered any context (yet), Cosentino was prepping to tell the world that her long-running, generation-defining pop-rock project Best Coast would be put on indefinite hiatus. Up next: Cosentino would release her first-ever solo album, Natural Disaster.
In pressing pause on the band, which Cosentino had performed in with Bobb Bruno since the late 2000s, the LA native felt comfortable leaning into sides of her music personality that never felt quite right under the Best Coast umbrella. Crashing through in 2010 with the lo-fi, slacker-surf-pop debut Crazy For You, Best Coast got pulled into a riptide of similar-minded fuzz-pedal indie bands of the time: Wavves, Vivian Girls, Dum Dum Girls, Girls, Bleached. With their post-2008 recession malaise, DIY ethics, and easy three-chord hooks, this influx of coastal indie-sleazers — congregating at Market Hotel in New York or the Smell in LA — marked a new phase in the Y2K rock revolution. Except they'd traded Manhattan for Brooklyn — think: Meet Me In The Union Pool Bathroom instead of Luna Lounge.
Eventually, this weed-and-VICE slice of hipsterdom played itself out, but Best Coast kept churning out records and polishing their sound. Their final record (for now), 2022's Always Tomorrow funneled the band's foundational love of distortion into an '80s power-punk whirlwind, reminiscent of the Bangles or the Go-Go's.
On Natural Disaster, however, Cosentino is eager to widen the scope much further. Sure, you could call Best Coast a pop band, but Cosentino as a solo artist took direct inspiration from Sheryl Crow, Shania Twain, Michelle Branch, and the Indigo Girls. She specifically points to "all of the Lilith Fair era" and "female-fronted '90s music" as the building blocks for Natural Disaster, which was produced by Butch Walker.
Ahead of Natural Disaster's release this Friday, Cosentino dialed in for a Zoom call to reflect on bidding farewell to Best Coast and launching her solo era. She also looked back on her early years as a child actor, designing an official Best Coast fashion line for Urban Outfitters, being a "momager" to the Linda Lindas, and why "it's fine" to openly enjoy Dave Matthews Band.
Solo Debut
Natural Disaster
(2023)
You started teasing your first-ever solo album on social media well before the actual announcement happened. Was it a relief when the announcement happened along with the release of "It's Fine"?
Bethany Cosentino: I feel very relieved. I have been holding onto this secret for a while. It was fun to keep it secret, and I think it was necessary for me to keep it secret as well, because it removed a lot of the pressure around what I was doing. But at the same time, it was starting to make me go a little cuckoo. As I started approaching the announce, I was every day like, "Oh my fucking God, I cannot hold onto this one second longer."
Now that it's out there, I feel a big sigh of relief. It goes from anticipatory anxiety to a busy schedule, and all of the other anxieties start to trickle in… But I'm very, very, very excited. I feel very ready to talk about this, and really ready to step into this next chapter.
Your press materials describe how you started giving thought to a solo move in 2020, in the pandemic's early days. But given how many years you'd been doing Best Coast, was this something you had been thinking about even pre-2020?
Cosentino: I had definitely thought about making a solo record or a very different style of record. When Always Tomorrow came out in 2020, it was the first Best Coast record in five years. It was the first headline touring that we had done in a while, and I was very invested in this new chapter of Best Coast. It's so funny because five years doesn't really feel like it's that long of a break, but if a band goes away for one to two years, people are like, "Where did they go?" So it was kind of this comeback moment, and I had definitely been thinking at that time about [a solo move] because I'm one of those people that the second something comes out, I'm like, "What's the next thing?" I have a very hard time sitting in the present, which I'm working on.
So I had thought about it, but it wasn't really on my mood board for the next five years. It was just sort of a thought that I had. Then when the pandemic really hit, we had to come off the road, and we kept trying to reschedule these tours. I just felt like the universe was, from all sides, being like, "Hey, you know that idea you have about doing a different kind of record? Why don't you try to explore that now?" It was within that period that I realized, "Oh, I have the time to do this." I think if the pandemic wouldn't have happened, I would have just had just my eye on the prize of doing the Best Coast album cycle and seeing what happened with that.
I think the pandemic probably forced all of us to reevaluate what was going on. I feel like I can't talk about this without talking about pandemic, which is annoying, because I feel like we all want to move past it. But it's impossible not to, because I think it's really what led me to end up here.
There's been some discussion about Natural Disaster's tone, your shift in aesthetic, and the sound. I've seen a lot of comparisons to Sheryl Crow, and I personally thought of Jenny Lewis a little bit. When you were working on what the sound of this would be, how did you want Natural Disaster to reflect your present-day tastes?
Cosentino: I think the necessary piece of the puzzle for me, in order to really lean into present-day Bethany's interests and what she listens to, was removing the box of Best Coast. I talk a lot about how I felt critically – and from a public perception – put into this box. But I also think that I kept myself in that box. I think that people moved on from the "lazy-crazy-baby" '60s lo-fi, sunny-pop thing. But because I did not know what I felt that I identified as anymore, I clung to that. I would see the criticism, and I would be like, "Okay, they know better than me." That's when I finally decided, "This is not going to be a Best Coast record, this is going to be a Bethany Cosentino record, I'm going to step out on my own. I'm going to just follow all of the things that I want to follow, all of the things that are influencing me."
I didn't feel beholden to anything. I really felt free to explore all of my interests. I would say that the real influences behind this record are things that I've always loved, and things that I've always listened to. Like, I'm a massive Indigo Girls fan, I love all of the Lilith Fair era, female-fronted '90s music. That's all shit that I listened to as a teenager, but I couldn't really make a Lilith Fair-ian Best Coast song. Technically, sure I could have, but I just didn't feel that it was right. It didn't feel like an organic thing to do.
At the top of the pandemic, when it was still that period of not being able to do anything, I would take these long walks with my dog, I would just listen to music. I just went back to being a fan of music and listening, immersing myself in stuff that I had always loved, but forgotten about. It's funny, because I was really listening to the music that I discovered as a teen, which was Sheryl Crow. I loved Sheryl Crow, growing up. I was listening to a lot of Shania Twain. I was listening to Counting Crows. I was listening to a lot of stuff from the '90s that was on the radio when I was a kid.
I feel like it went into the DNA of what I knew that I was going to create. Even shit like Michelle Branch, The Spirit Room, that was one of my favorite records when I was in the eighth grade. I was just like, "Nobody really makes music like this anymore. This music is just so carefree, it's uplifting, it feels good." So I just started to chase that kind of stuff. Because it was a secret, I didn't really care. I was like, "I don't really care if people think the Counting Crows are cool, because I think the Counting Crows are cool. And I love that songwriting, and I'm going to make my own version of that kind of shit."
Nobody knew that I was doing it, so I didn't have to deal with any of the external, "What do you mean you like Dave Matthews Band?" I got to just be like, "I like what I like, and that's fine."
Did I see that you and Michelle Branch had a back-and-forth on Twitter about The Spirit Room?
Cosentino: Yeah. I was in Nashville doing a promo trip, and I was listening to The Spirit Room. One of the songs came on and I tweeted, "This is as good as any Beatles song." And then all these people started correcting me, and were like, "Better than." And I was like, "Okay, you're right." Then she responded, and it was funny because she was like, "Everyone go listen to Bethany's record." I was like, "Okay, it's not out yet," but when it comes out, I will return to that tweet.
Michelle and I, we've never met, but we've had a little online friendship over the years. And I love that record. It's so good. Those are pop-classic songs.
Working As A Child Actor (Late '80s/Early '90s)
What initially made you think, "I want to be an entertainer?" When you appeared in commercials as a child actor, was that something you actively wanted, or was a family member's idea?
Cosentino: I'm an only child, and so I was very attention-hungry as a kid. My parents are the best, they're the most supportive. They really championed me as a kid. I look back and I realize that I must have really been a handful, because I do think that I was out of the womb like, "Here I am, I have songs to sing and poems to recite," and all sorts of shit. My dad is a musician, and my mom did commercials, but my mom is also a clothing designer.
I grew up in a very creative, artistic home. I grew up going to see my dad play shows, and he was the worship leader at my church, actually. That's where I started singing, in church. That's something that I feel like I've talked about a little bit, but I never fully went into that story, because I think I was also like, "Nobody wants to hear about the girl from Best Coast talk about singing gospel music." But in this chapter of my life, I feel like I can talk about it. Again, that's my own inner-critic shit telling me, "You're in a cool punk indie band. You're not supposed to talk about growing up in church," but whatever. These are things I deal with in therapy.
From a really young age, I just loved to perform, I loved to sing. My cousin and I would write songs and do performances on Christmas in my living room. Also, having parents that were really like, "Oh, you want to…?" With commercials, I saw my mom do it, and I was like, "I want to try that." She was like, "Okay." Her agency actually did not work with kids, but she brought me into a meeting once, and they saw me. I was a curly-haired, loud, rambunctious little tot. And they were like, "Oh yeah, we'll sign her. She'll get parts." So I did a couple of commercials and I auditioned for Curly Sue, actually, but I did not get the part. Could have been me, though.
Sharing Demos On MySpace As A Teenager (Mid-2000s)
In early interviews, you spoke about how you were a teenager being courted by major labels, and how there was some back and forth around how you would be marketed, or could be marketed. I feel like a lot of young singers would let themselves be romanced into a bad deal out of excitement, but you opted not to sign anything. What made you think that a major-label deal wouldn't be the right fit?
Cosentino: Honestly, it was because I was into punk music. I think I was 16 when all of that was going on, when I first started writing songs and releasing [them]. It's funny, because my favorite band at the time was Rilo Kiley. I was obsessed with Rilo Kiley, and I loved Jenny Lewis. But I also loved Joni Mitchell, Carole King, and Sheryl Crow. So I was trying to write singer-songwriter-esque songs, but aesthetically, I had a really short haircut with a rat tail, and a bleach spot in my hair. Aesthetically, I was kind of punk, and I was going to punk shows. But musically, I knew what kind of music I wanted to make.
So I think that it was the classic "I don't want to be a sellout" thing that actually saved me from a major-label system as a kid. But also – and this is where I get a little woo-woo – I've always been a really, really, really intuitive person. Any time I haven't listened to my gut, even when my gut is screaming at me, "Don't do that," and I do it anyway? It always blows up in my face. It always ends up being the thing where I'm like, "I wish I would've listened to myself." I'm very much in the mindset of, everything happens for a reason.
Anyway, I just knew that I didn't want to go down that road. I'm also super stubborn. I do things when I'm ready and when I know that I want them, which is why I think also it took me until 36… Well, I started the record when I was 35. But anyway, until my mid-30s, to really realize, "I want to be a different type of artist. I want to try something else." I just don't think that I'm someone who can be molded or told what to do.
So I think that, as a 16-year-old, I knew, A) "I don't want to be a sellout," but B) "I'm not going to listen to the Atlantic A&R person if they tell me what kind of artist I should be. I know what kind of artist I want to be."
It's funny because I don't think I really ever gave myself a lot of credit for that, but hearing you say it, and also other people have said it to me before too. It is really wild when someone that young knows, "No, I don't want to do this," because there is still shit in life that I question. If I'm like, "Should I do this? Should I not do this?" To think that a 16-year-old [knew]… It was a show at the Hotel Cafe in California, in LA, which is such a singer-songwriter venue. This woman hands me a business card, and I think I threw it away. My dad was like, "What are you doing?" And I was like, "Trust me. I know what I'm fucking doing."
Performing In Drone Experimentalist Group Pocahaunted (2006)
When Best Coast got big, was there anything you'd picked up in your Pocahaunted years that kind of kept you grounded in terms of how to deal with the music industry? Or were the experiences just completely different?
Cosentino: I think the only thing that really transferred over from Pocahaunted days was the [DIY world]. In the beginning of Best Coast, all the releases were 7″s on boutique DIY labels. I had a lot of connections in that world, because Pocahaunted — we were in that scene. When people found out that I had a new project, they would reach out, like, "Oh, we want to put out a limited tape," or a 7″, or whatever.
It's funny, I was doing an interview yesterday where the guy was asking me a lot about Pocahaunted. And to be really honest, I don't even really remember. I was 19, and I was dating a guy at the time that was like, "You're so talented, you need to be playing music again." And I was like, "I don't want to, I want to be a writer. I want to move to New York. I want to do all this shit." It was a convenient place to play music, because they had a label, and all this stuff. But I remember being like, "This is not the kind of music that I want to be playing." But it was a space for me to be creative, so I just sort of went with it.
Looking back, it's funny. Because when you look at the trajectory of my career, it's so funny that I sort of publicly had my start in an experimental drone jam band.
Doing Editorial Internships In New York (2008)
In terms of your career timeline, I know you weren't overly happy attending college and living in New York, and it wasn't long before you moved back to La Crescenta. I'd be fascinated to know what you took away from any of the media internships you did, though.
Cosentino: I think songwriting and writing go hand in hand, and I grew up writing. I was so bad at math and science in school. Like, Fs. My brain does not work that way. But when it came to writing, I excelled. I was in AP English, it was just what I loved. I think with music, I watched my dad struggle to try to make it as a musician my whole life, and so I think with music I just knew. I was like, "I don't want that." I respect my dad so much, and my dad loves what he does, and now in his mid-60s, has found a niche thing that he does, and he is doing well.
Anyway, I knew that I didn't want to be trying so hard to make a music career work. So I was like, "Well, I love to write, and it's creative. Why don't I just do that?" So I worked my ass off. I tested out of high school early, and I worked my ass off to go to community college, and I got all my credits, and I transferred to the New School in New York. I had a ridiculous idea of what it would be like to live in New York and to be a creative writer. I very quickly realized, "Oh, it's not like Sex And The City. That's not the vibe. This is not going to be a Nora Ephron movie." But I do think that when I was working, when I got the internship at The Fader, that made me realize: "Wait, I'm a musician. I want to be a musician. Why am I going to shows and interviewing artists when that's what I do?"
In the same way that I said I'm an intuitive person, something clicked for me where I was like, "I don't want to be here anymore. I'm just going to go home, and I'm going to start this band." I didn't do a ton of [band] interviews, but because I had a little bit of experience in that when I started doing interviews, I kind of understood how things worked. It's not like I was brand new, being like, "I've never talked to a person before in this context." I do think it helped me a little bit.
Also, I still get to write. I've been asked to do op-eds before. While I was teasing this release, I wrote this essay on change, and I've considered making a Substack. I don't think that that is something that I'll ever stop doing.
Doing A Converse Campaign With Kid Cudi And Rostam Batmanglij (2010)
Do you recall how you ended up involved in that "Three Artists, One Song" Converse campaign? Did it have anything to do with your recent past as a Fader style columnist?
Cosentino: No. It's funny, I remember when I got asked to do that, I was so confused. I didn't really understand the capacity. I was blossoming into an actual professional musician and a public figure, at that time. I was like, "I don't get it. Why do people want me to collaborate with Kid Cudi and Rostam? I don't understand this." I remember going to New York to do that, and I didn't even know that Fader was even remotely connected. And I ran into my old boss when I was an intern, Matthew Schnipper, who's still a good friend of mine. And I think I was like, "What are you doing here?" And he was like, "Oh. What are you doing [here]?" It was just a funny thing, where it didn't really seem like either of us even understood that we were involved in the project at all.
It's funny where events take people. When I lived in New York, I worked for SPIN for two years. When I started, they already had a crop of editorial interns. One of those interns took me out for coffee near the end of her internship, and she told me, "I'm also a musician, and I'm kind of undecided about what I want to pursue: music or journalism." And I'm all, "Oh, you'll figure it out. You have time." Two years later, we see her in a video where she's playing a song for a masterclass with Pharrell. It's Maggie Rogers, our former intern.
Cosentino: Oh my God, really?
Yup. So I guess she figured out which career she wanted to pursue!
Cosentino: Yeah, that's wild.
First Best Coast Demo "Sun Was High (So Was I)" (2009)
What about working with Bobb Bruno felt like the right call in the early Best Coast years, and what kept your band's relationship going for more than a decade?
Cosentino: Yeah, I met Bobb pre-Pocahaunted, I was 17. I was friends with these girls in a band called Mika Miko. Jennifer and Jessie [Clavin] later went on to make Bleached. They were like, "There's a venue in LA called the Smell," which I think everybody knows about now. It was where we all hung out. [That's] where I met Bobb.
I just thought Bobb was so… He was just such a nice guy, and he helped everybody out. He was the resident producer for all of the Smell bands. We would see each other around at events, and we bonded. He's a metal guy, [but] and we bonded over our love of Kate Bush and the Beatles and the Beach Boys and Cocteau Twins and all this stuff.
When Pocahaunted started, Bobb was neighbors with Brit and Amanda [Brown], who ran Not Not Fun. He would come over and record us, and he would play with us. As I said, my interests were not remotely involved in any sort of drone experimental music. I was driving to band practice listening to Sheryl Crow, and walking in and doing these 12-minute-long drone jams. Anyway, Bobb and I would really connect over our shared love of pop culture stuff, and pop music.
When I decided that I wanted to leave New York and start a band, I [had] limited knowledge of recording music. I know exactly what I want, and I know how to describe what I want, but I needed help. So I reached out to Bobb and was just like, "I'm coming home. I'm starting a band. Will you help me?" And he was like, "Yeah, just start sending me songs once you start writing them." I think two days after I moved home, I sent him "Sun Was High," which was the first real Best Coast song. He was just like, "Oh, this is great. Come over and let's start recording."
He was a real safe space and a safe person. He really understood me and wanted to help me, and still does. I did not read a lot of the comments when I announced this record, but I did see a few where a couple of people were like, "How could you do this to Bobb?" I was like, "Dude, Bobb is like my brother." He really is like my brother. When I decided that I wanted to [go solo], we had a conversation, and he was like, "I love you. Go do your thing. I want you to be successful. I'm here if you need me, if you need me to help with anything, just let me know."
I think it happens with women in particular, it's like, "Oh, well she went solo, and left the band," or whatever. And it's like, "No. Every artist ends up going solo at some point." I really feel like that happens.
Bobb is a very busy, in-demand musician and producer outside of Best Coast. I think Bobb will be just fine.
Cosentino: Yeah, no, he is. That's how he came into my life — he was so involved in all of these different projects and all these different things. But I really love him like family, and I feel really grateful. There are a lot of collaborators that would be very egotistical, and be like, "What the fuck? What do you mean you're going to go do your own thing?" But he is absolutely not one of those people.
Recording The Only Place In Capitol Studios With Jon Brion (2012)
When you were making The Only Place following the success of Crazy For You, did you feel like you ultimately got what you wanted out of the Capitol Records recording experience?
Cosentino: I think it was a combination of many things. The first Best Coast record was recorded in two weeks. We worked with this producer Lewis Pesacov, who we knew in LA, and we recorded it in a studio space that was in a practice space in LA, which is now, I believe, being torn down to put high-rise apartments or some shit. But we literally made it in two weeks. We did not have a lot of money. We were not signed to a label. We just were like, "All right, we're going to go in, we're going to do this."
Then we left for SXSW, and we were one of the big, hyped bands that year. The record that we made – the sound, the aesthetic, everything – was sonically based off of the resources that we had. Part of it was intentional because we were trying to replicate a sound that we liked, and we were huge fans of Phil Spector – Phil Spector's music, not horrid Phil Spector [the person]. So when the record became as successful as it did, nobody expected that. None of us. I don't even think our label expected that. I think Mexican Summer was, and they were such a good label, because they were boutique. It wasn't like signing my life over to a major label that was going to do the thing that I worried about when I was 16.
When the first record became as successful as it did, I think there was an opportunity that everybody saw — management, the label, everybody, Me, Bobb — to sort of be like, "Okay, well let's level up and see what happens here." Bobb had a relationship with Jon Brion because Bobb actually worked for Jon for many, many years. I think our manager at the time was like, "Well, what about Jon Brion?" I was like, Jon Brion's not going to make a fucking Best Coast record. What are you talking about?" [But] he was available. He had this studio at Capitol, the label was super on board, and so we just went in there and did it.
The juxtaposition between the two experiences was so fucking insane. I was so not prepared. I also never had a chance to breathe from what happened with Crazy For You. We toured Crazy For You for two years, then there was a week break of writing, and then it was directly into Capitol Records to make a record. Literally, Paul McCartney was in the room next to us, working. I was just like, "What the fuck is going on?" I still feel like, at 36, I look back sometimes and it's like a tornado of me trying to put things together, like, "How did any of this happen?"
Designing A Fashion Line With Urban Outfitters (2012)
Cosentino: Before I went to school for creative writing, I wanted to go to fashion school. As I mentioned, my mom is a designer and my whole life I watched my mom create. Very briefly I was like, "Maybe I'll be a clothing designer," but it required math. So I was like, "Fuck it, I'm out." And when I was interning at The Fader, I had a column called "Thrintage," where I would go around to different thrift and vintage stores, and I would review them. I would talk about the items that I bought and how much I spent on them. I've always liked fashion and I've always liked clothes, and I've always wanted to express myself by way of what I wear.
When I got asked to do that, I was like — I mean, many crazy things had happened prior to that. Like working with Drew Barrymore. I had written a song with Rivers Cuomo from Weezer, I met Justin Bieber on David Letterman, and all this crazy shit. But when I got that call, I was like, "Oh, shit." This was a different time. This was the early 2010s. Everybody was shopping at Urban Outfitters. Urban Outfitters was the cool place to be. I remember growing up, I would go to Urban Outfitters with my mom, and I did not grow up with money, so I could not afford things at Urban Outfitters.
So to then suddenly be in a position where I had a name tag on clothing that said "Bethany Cosentino for Urban Renewal at Urban Outfitters," I was like, "What the actual fuck is my life? What is happening?" I have a giant box of shit out in my garage from the collection. Every so often when I'm out there cleaning and stuff, I'll find it. I still look through it. It's one of those things where I'm like, "What? How did this happen??" I remember doing a look book for it, and I'm like, "What?" Still, to this day, I look back and I'm just like, "How on earth did that happen?"
I do think that that was a time where there were brand and artist collaborations, crazy shit like that happened all the time. Like, Best Coast was in a Microsoft commercial. There's obviously still a lot of brand-artist content creation, and all sorts of partnerships, but I feel like back then it was peak-level indie rock mixed with large corporations. That was a huge thing.
Sometimes I still get the urge to walk into an Urban Outfitters out of habit. But then I do a U-turn because absolutely nothing in there is meant for me. And then I start to think about potential burial sites for my decaying corpse.
Cosentino: Well, everything now is what we wore when we were in seventh grade. It's jarring for me to be in there and be like, "Oh, fuck, I am now of the age where everybody is replicating what I wore, the way that I did about the '60s and the '70s, and the '80s. I'm just like, "Fuck, dude, I'm getting old."
I have zero issue with getting older. I just can't wear baggy cargo pants again.
Cosentino: The low-rise jeans, the platform Rocket Dogs. I'm like, "I'm okay. I'm totally fine." I'm with you. I'm totally fine with getting older, I feel better than I ever have, I feel more confident than I ever have. But when I have to see the style of the early 2000s, like Lizzie McGuire-era clothing, I'm like, "I'm good." It's fine, babe.
Collaborating With Iggy Pop For The True Blood Soundtrack (2012)
Speaking of pop culture artifacts that haven't held up… Remember when True Blood was must-see TV? Though to be honest, I will defend seasons one, two, and maybe three. I'm also a big fan of the show's music supervisor, Gary Calamar, a former KCRW personality. Did your Iggy Pop collab come through him?
Cosentino: Yeah. It was Gary. I got a call from my publisher at the time. [They] were like, "They're doing a song for True Blood, and they want you to be on it with Iggy Pop." Again, I was like, "What the fuck is my life?" Unfortunately, [Iggy] was in the UK, so I didn't get to actually be in the room with him. I went and recorded my vocal at a studio in, I think Silver Lake or something. But when I walked in, they were like, "We have something for you." And I was like, "Okay."
They sent me into the vocal booth, and I went in and I put the headphones on and I was like, "What is this?" It was a message from Iggy Pop. And he was like, "Bethany, it's Iggy, I'm so excited to have you on this song. I'm so excited to be doing this song together. True Blood, what a great show. And I hope we get to meet one day." I was literally in the thing staring at the ground, just being like, "What is happening?" It's so funny because now that I have my own [solo artist profiles on] DSPs and Spotify and all this shit, the only things on there are… It's my new song, "It's Fine." And then it's like me with Iggy Pop, me with Jimmy Eat World, me with New Found Glory. I'm like, "It's me, and then all of these bands that meant so much to me, as a kid." It's pretty fucking cool.
Releasing The Kids' Album Best Kids (2018)
A while back, Grimes called children's music an "insidious artistic scourge" that is "devoid of humanity and beauty" and claimed society doesn't need it. Then she clarified that she was only half-joking and walked the statement back a little because apparently she did enjoy listening to Raffi as a kid. Raffi even responded on social media. As someone who has dabbled in the kids' music space, can I ask for your take on that? Did you grow up listening to kids' music?
Cosentino: Oh yeah, I saw this.
Besides getting my start in singing in church, it was really Disney songs. I did talent shows, I did fucking karaoke contests. I did anything that I could get on a stage with a microphone to sing, I did it. Disney music, The Little Mermaid in particular, I'm really excited for the new one because that movie made such an impact on me as a small kid. That music, to me, was everything.
The decision to make that kids' record was because I like writing easy, three-chord-change, rhyme-y songs. I was like, "Well, there's no better place to really do that than kids' music." I have friends who have kids [and they] always talk about how it's so annoying because they're like, "If I have to hear the fucking 'Wheels On The Bus' one more time, or 'Let It Go' from Frozen," or whatever.
So I was like, "Well, what if there was a cool kids album? What if there were some original songs, plus some covers, that parents would enjoy listening to with their kids?" We had the time; I wasn't ready to do a full record yet. It was like, "Let's just make this kids' record." It was really fun.
I think about the impact that music made on me as a kid and how it fully shaped my entire life. Yeah, I was raised around the music that my parents listened to, but I had my own personal experience with fucking "A Whole New World" [from Aladdin] and shit like that. I can't imagine what it would be like to not have those experiences. To the point where when I hear The Little Mermaid song, I go back to my inner child moments of performing those songs in the living room.
Kids' music should exist. Music is such an important element of life. I don't see what the problem would be with having music for kids. Best Coast got to cover the Scooby-Doo theme song for the Scoob movie a couple of years ago, and that was really fucking cool. I watched that show all the time as a kid, so it was really exciting for me to get to perform it and do my own take on it.
Singing The National Anthem At Dodger Stadium (2022)
As an LA native, how satisfying was it for you to sing the National Anthem at Dodger Stadium last year? Was it a bucket-list item?
Cosentino: Yes, that was one of the most exciting things I think I've gotten to do. I've talked about all these incredible things I've done in my career in this interview. But when I was growing up, I went to Dodger games all the time. I played softball. I don't love sports, I don't really care much about sports, but I do really like baseball, and I do really like the Dodgers. There is nothing cooler than getting asked to go to your home team's stadium and sing the National Anthem.
There were all sorts of opinions on it when I announced I was doing it. I'm so sensitive that I think I even apologized, which now looking back, I'm like, "I didn't need to fucking apologize, but it's okay." I'm working on not feeling I have to be the version of myself that everybody wants me to be.
Anyway, yeah, it was really exciting. It was a real win for my inner child. I've never been on the field at Dodger Stadium before, so getting to stand there and sing and see my name and have fans come out to see me do it.
Also, I'm a massive Linda Ronstadt fan, and she sang [the National Anthem] at the World Series. Photos of her doing that have always been saved on my desktop. Also, I knew what I was plotting. I had this record [Natural Disaster] that was done, and I was getting ready to announce this thing to the world in a few months. So it was really a special moment for me on my own – getting to go out there and just be Bethany and sing to this massive stadium of people. That fucking song is hard as hell to sing.
Being A "Momager" To The Linda Lindas (2021)
You've been such a great "band mom" to the Linda Lindas. What were some industry-specific lessons that you wanted to help instill in them early on, that might help set them on a healthy path forward?
Cosentino: Mila and Lucia are the daughters of Carlos de la Garza, who's a very good friend of mine, who also produced the last Best Coast record. He and his wife, Angela and I, we're all good friends. When the Linda Lindas went viral, I went over to their house and I sat with all of them at a table. I said, "Whatever you do, do not go into any of these comment sections. Don't read any of this stuff. I know you guys are excited because people want to write about you, and they want to talk about you, but do not do it."
It doesn't matter if these are young girls that are super-talented and cute, and the world loves them. For every one of those [good] comments, there will also be a horrific comment. I just wanted to protect them so deeply from going into that world, and not just the negative stuff, but that shit is a drug. When you get into those sections and you start seeing people talk about you, even the positive stuff, it's a dopamine hit. It can take you down these weird paths. I really wanted to come in and be very protective of them, and also of their parents to say, "This stuff could get very easy for you to really dive deep into, and become obsessed with."
I really wanted to give them that, because I never had anybody tell me that. I look back and I wish that I had had somebody around me say, "Don't read the comments. Don't read your own press. Don't argue with people on the internet." But I didn't have anybody telling me that, and I had to learn the hard way.
So I was very adamant about sitting them down and being like, "Don't do it. Do not do it." I don't know if they listened to me or not, but I don't worry so much about those girls. They have really good families, really good parents, really good people around them. They're so smart, those girls. They just love what they're doing.
I think at the end of the day, they're going to be just fine. Again, they have a really good support system around them. They have a lot of mentors and musicians and figures around them to give them advice and to protect them from shit that can go wrong in this industry. So yeah, I just get excited every time I see any really cool thing happening with them. I feel truly like their mom, in a lot of ways.