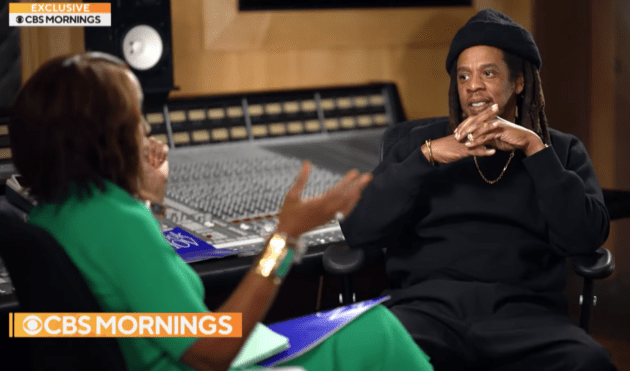 One eye open like, C-B-S, you see me.
JAY-Z sat down with television personality and broadcast journalist Gayle King on CBS Mornings. The two-part interview was aired on Thursday (Oct. 26) and Friday (Oct. 27).
Shot inside JAY-Z's Book Of Hov exhibit at the Brooklyn Public Library, the Grammy-winning rapper reflected on his early days in Marcy, the possibility of a new album, and everything else in between.
"I already used the word retirement. I can't do that ever again," he says noting his previous retirement in 2003. "I'll say I wanna make music, but it has to be something important."
He continues, "I don't wanna just make a bunch of tunes. That's not gonna serve me. It won't feed me, first of all. I have to be saying something important. It has to mean something you know? It has to mean something to a larger society. 4:44 for example was a personal story, but the amount of vulnerability in there allowed for a lot of people to explore the space."
As the two look at a display of rare master tapes, JAY explains the origins of his nickname, One-Take HOV. "This was when you were recording to actual tape. So, you can't mess up 'cause then you got to go all the way back and cut the tape. That's where the whole One-Take HOV came from," explains the man himself.
"Because if you wanted a fly chorus on this thing, you had to go to dinner. It took an engineer hours to cut the tape, fly it over here. So I start learning my lyrics really good so I could do them one time. You understand? Straight down, and I didn't waste time."
JAY also weighed in on the popular online debate whether a fan should choose a dinner with the billionaire rapper and business mogul or take $500,000.
"You gotta take the money," he says. "You've got all that in the music for $10.99. I wouldn't tell you to cut a bad deal. Like take the $500,000, go buy some albums and listen to the albums. It's all there. If you piece it together and really listen to the music for the words, well, what it is, it's all there."
Jay also spoke on fatherhood, watching Blue perform alongside Beyonce during The Renaissance Tour, the decision to keep the masters of his music, and much more.