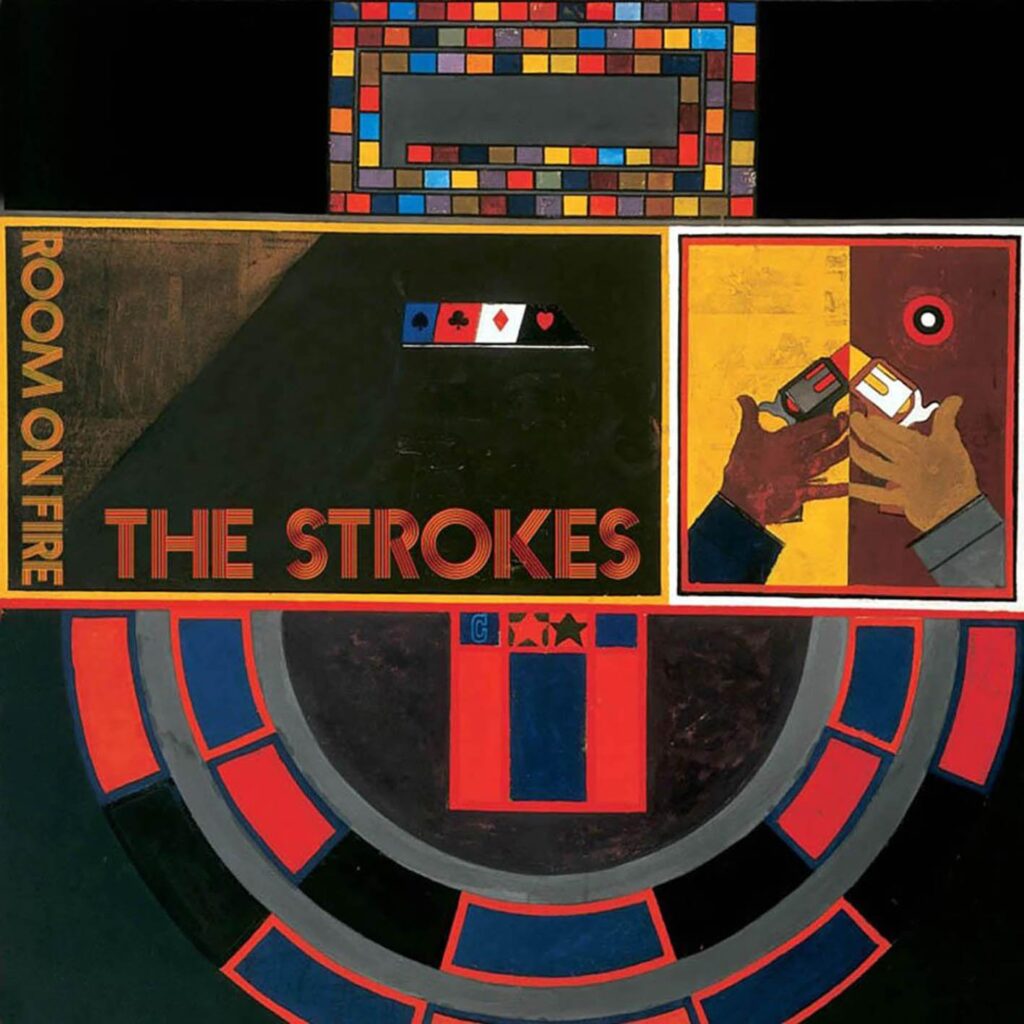 In the wake of the Strokes' debut, any band with messy haircuts and "the" in their name could count on the public's attention for at least 15 minutes. It didn't matter if you'd been toiling in the trenches for years or if "New York City Cops" had inspired you to form your first band. These were boom times for the Hives, the Vines, the Mooney Suzuki. The Libertines were basically royalty for a certain faction of Brits and anglophiles. Kings Of Leon were promoted as the Southern Strokes. Jet happened. The Cribs happened. Longwave happened. It was a movement broad and pervasive enough to include bands as disparate as Black Rebel Motorcycle Club and Hot Hot Heat, and it all more or less traced back to Is This It.
This situation was not as advantageous for the Strokes as you'd think. The band was facing unbearable pressure to follow up Is This It — from fans who had no new music to spin besides live tracks downloaded on Napster, from a media eager to scrutinize and sensationalize the band's every move, and from RCA Records, who were fully aware that Is This It's cultural reach exceeded its actual sales (an ironic fate for a record often dismissed as a Velvet Underground ripoff). "One thing about the 2000s is that everything happened too fast," journalist Andy Greenwald said in Meet Me In The Bathroom, the widely read oral history named after one of many phenomenal Room On Fire tracks. "The time between Nirvana and Candlebox probably was two or three years. The time between the Strokes and Longwave was like 18 months. And there were diminishing returns. The Strokes weren't really that big. Everyone needed them to be that big and desperately wanted them to be that big, but they kind of weren't."
No wonder Casablancas opened LP2 by announcing, "I want to be forgotten, and I don't want to be reminded." The market was crowded with garage rockers angling for MTV2 rotation, and more commercial alternatives like the Killers were beginning to emerge. Internally, the band believed their manager Ryan Gentles was too distracted with his new client Ryan Adams, who had careened into their social scene and was assisting guitarist Albert Hammond Jr.'s descent into heroin addiction. On the creative front, the Strokes' attempts to move beyond the Is This It template by recording with Radiohead producer Nigel Godrich in 2002 had failed spectacularly. Everyone was partying constantly, but no one was having much fun.
When they ultimately reunited with Is This It producer Gordon Raphael to record Room On Fire in 2003, they were under the gun. "They had become a monstrously well-prepared, tight band," Raphael told Pitchfork years later, recalling when the band showed up and played through the whole album on the first day of the sessions. The tight rhythmic pulse, the interlocking guitar parts, the reliably abundant vocal and instrumental hooks — they were more of a machine than ever in that moment. Still, the Strokes used every bit of their three months of studio time. "I remember being in the studio on that last day and just staying up 24 hours straight trying to work out all these last little kinks," guitarist Nick Valensi said in the same feature. "I think the album would've ended up a lot better if we'd had another couple of weeks."
Upon Room On Fire's release 20 years ago this Saturday, critics mostly offered qualified praise while describing the album as "Is This It part two," even an "identical twin." Rolling Stone declared, "In most of the ways that matter, it is exactly like their first." None of these takes were totally wrong. Room On Fire does essentially run back the Is This It playbook, with only minor variations such as the guitar that sounds like a keyboard on the Cars-esque "12:51" or the venture into something like balladry on "Under Control." Lyrically, Calablancas was still serving up vivid, inscrutable storytelling with occasional flashes of clarity ("We were just two fucks in lust/ Oh baby, that just don't mean much"). The similarity was only a problem if you disliked LP1. For those of us who bought the hype recognized Is This It as a masterpiece, another set of meticulously constructed, miraculously catchy rock songs was nothing to complain about. I've always said that if the Strokes had titled their sophomore release This Is It and ceased recording altogether after that, they'd have a flawless, symmetrical discography.
OK, near-flawless. Maybe it's the senior-year nostalgia talking, but even the least noteworthy songs on the original Is This It tracklist hold up as classics, whereas on Room On Fire the highlights soar a bit higher and some deep cuts feel less than essential. There is a case to be made for the propulsive, explosive Guitar Hero staple "Reptilia" as the band's absolute peak. The soulful slow jam "Under Control" has been covered so many times that it basically qualifies as a modern standard. (Don't miss Rostam's version from the Save Stereogum comp.) Pop-rock doesn't get much more pristine than when Valensi spraypaints neon lead guitar over that hand-clapping beat on "12:51." Opener "What Ever Happened" explodes out of the gate, and in the towering "The End Has No End" and the driving "I Can't Win," the album essentially has back-to-back grand finales.
With that kind of firepower at the Strokes' disposal, you can see why some people believe Room On Fire is as good or better than Is This It. I can't quite get there — filler like "You Talk Way Too Much" and "The Way It Is" feel doesn't exhilarate me like the rest of the band's early music — but given the heights they ascended here, it makes sense that some hear Room On Fire as not just a replication of the formula but an improvement upon it. Unfortunately for the Strokes, few heard the album as a classic in the moment. Although Room On Fire went gold within months, it was hardly the blockbuster RCA was hoping for. The music press was ready to move on to the next big thing. So, apparently, was Julian Casablancas, who is depicted in Meet Me In The Bathroom expressing his doubts about Room On Fire during an all-night coke bender at a friend's apartment.
Things did not get better for the Strokes from there. Interpersonal friction and typical rock-star distractions pulled the band apart for a while, as Casablancas sought new creative pastures and his bandmates demanded a say in the songwriting. Side projects piled up, most of them forgettable. The group never made an album nearly this good again. (Sorry, The New Abnormal fans. And Comedown Machine fans. And Angles fans.) (First Impressions Of Earth has no fans that I'm aware of.) The Strokes prematurely crossed over into the realm of classic rock. I will still go see them any time the opportunity arises, and I will likely enjoy it no matter how sloppy their live show gets. Before long they'll be voted into the (admittedly suspect) Rock & Roll Hall Of Fame, and they'll absolutely deserve it. Bands have been deified on the basis of one timeless album, and the Strokes gave us two.