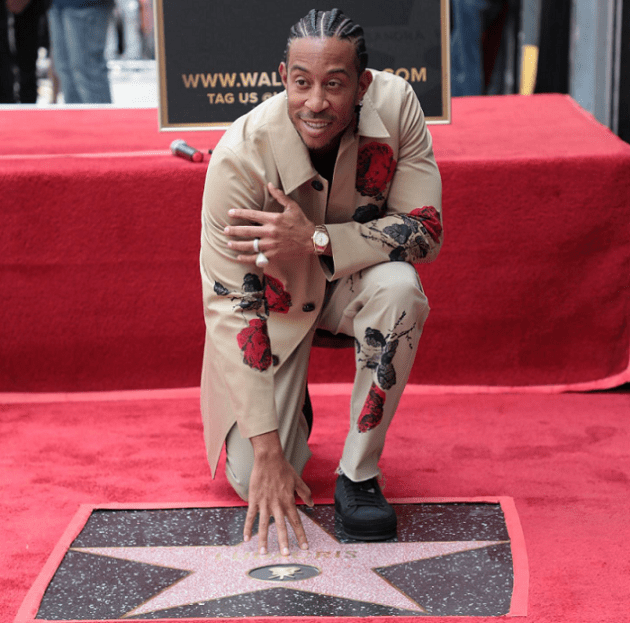 Stand up!
Ludacris is the latest hip hop act to earn a star on the Hollywood Walk Of Fame.
On Thursday (May 18), Ludacris, born Chris Bridges, was honored at the historic landmark along Hollywood Boulevard and Vine Street in Hollywood, California. The 45-year-old rapper and actor, who was joined by his mother, wife and four children, thanked his late Fast & Furious director and actor John Singleton and Paul Walker, as well as his longtime managers of Disturbing The Peace, Chaka Zulu and Jeff Dixon.
"I'm just gonna say, I'm happy I've got these sunglasses on right now," said Luda during his emotional speech. ""It just occurred to me today, since my father passed away a while ago, that all the success and everything that I'm doing today, besides my mama, y'all helped. Y'all helped raise me, man," he continued referring to Zulu and Dixon.
Ludacris even mentioned new music. "After all of the 'Fast' craziness and me getting this Hollywood Walk of Fame, I will have some time to truly devote to putting some more music out," he said. "After you have nine, 10 albums, that's why you take a break, because art imitates life and you truly have to be able to live some life so that you could come back with the best art. It can't be manufactured, bro, it has to be real."
Those in attendance include his Fast co-stars Vin Diesel, Michelle Rodriguez, Tyrese Gibson, Jordana Brewster, as well previous Hollywood Star honorees LL Cool J and Queen Latifah, who became the first female rapper to earn the prestigious award back in 2006.
Earlier this year, DJ Khaled received the honor becoming the 2,719th star. Others who also earned their star over the past decade and a half include Missy Elliott, 50 Cent, Snoop Dogg, Ice Cube, Pharrell, Nipsey Hussle, Diddy Cypress Hill, Boyz II Men.