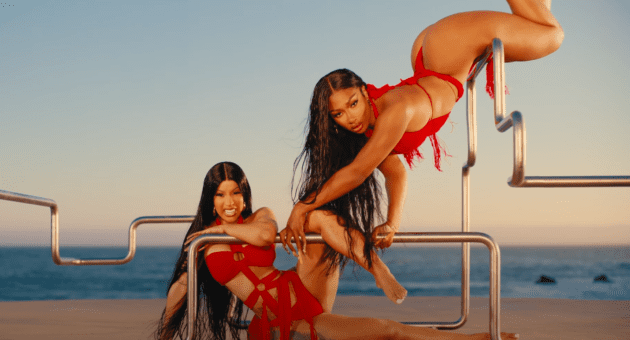 Bong bong.
After much anticipation, Cardi B and Megan Thee Stallion reunite on their new collaboration, "Bongos", which is premiered with its epic music video.
In the vibrant and twerk-filled clip, Cardi and Meg are serving looks in various colorful and provocative fits while twerking and dancing on an exotic beach and a house of male servants.
Cardi takes charge with her raunchy bars. "Nigga, eat this ass like a plum / This pussy tight like a nun / Better chew it up like it's gum / Then wipe your mouth when you done," she raps, while Hot Girl Meg addresses her naysayers. "This ass sit like the stallion, all these wannabes my lil' ponies / These hoes camped out in the comments, always talking like they know me," adds the Houston hottie.
The two previously collaborated on their 2020 chart-topping collaboration, "WAP". "Bongos" marks Meg's first music since last year's Traumazine album and arrives on the heels of Cardi's feature on Offset's latest single, "Jealousy".