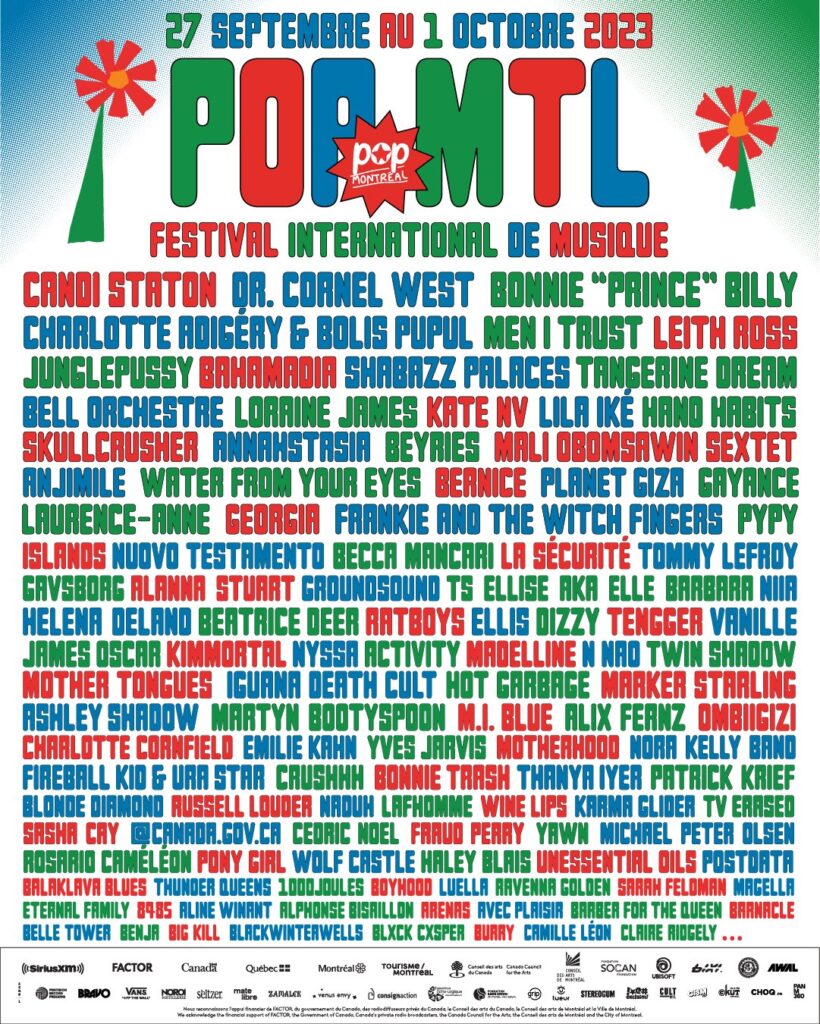 Ever since 2002, Pop Montréal has taken over part of its namesake city for a sprawling, multi-faceted festival. This year, it takes place Sept. 27 to Oct. 1 and in addition to music (obviously), there are art showcases, discussions, film, pretty much everything. When it comes to music, Pop Montréal is a SXSW-style affair. Hundreds of artists will play around town, and it's the exact kind of place where you might discover something new and amazing that nobody's quite heard of yet.
For this year's 22nd installment of Pop Montréal, Stereogum have joined up as media partners. (This also means we'll be there — come say hi.) While a large part of the fun will be stumbling into unexpected gigs and hearing bands we've never heard before, there's also some tried and true favorites rounding out the lineup. Here are some of the acts we're looking forward to most.
Bernice
Earlier this year, the idiosyncratic Toronto pop experimentalists released their latest album, Cruisin'. Like its predecessors, Cruisin' is at times glassy and removed, and others suddenly beautiful and open-hearted, all driven by strange synths and Robin Dann's conversational vocals. It's another great entry in an already formidable (and somewhat underrated) body of work.
Bonnie 'Prince' Billy
Though it's been a full four years since Will Oldham's last proper Bonnie 'Prince' Billy album — 2019's striking I Made A Place — he's been busy. In 2021, he teamed up with Matt Sweeney for Superwolves, a sequel to 2005's cult classic Superwolf, and also teamed up with Bill Callahan for a whole album's worth of covers. Just last week, he returned with the spare and reflective Keeping Secrets Will Destroy You. Look, you don't really need me to tell you about Will Oldham. At a festival designed to discover new talent, Oldham is the revered elder statesman.
Georgia
Back in July, Georgia returned with another collection of ebullient dance-pop that was, fittingly, called Euphoric. Out of the established names on Pop Montréal's 2023 bill, there's a whole array of sounds. But Georgia is one that promises to be an easy-to-love, straight-up fun set amidst headier fare.
Hand Habits
Meg Duffy is fresh off the release of a new Hand Habits project, Sugar The Bruise, a collection of songs intended to let Duffy be a bit more freewheeling, to make something as a "a little sugar to the bruise of being born, a little sugar to the bruise of existence." As you might expect, the music is no less emotionally weighty or resonant than other Hand Habits releases, and should be just as powerful in a live setting.
Islands
Speaking of elder statesmen: Islands are not only the long-running indie establishment led by Nick Thorburn, but also a band that originated right in Montréal. Next week, Thorburn's returning with a new Islands album called And That's Why Dolphins Lost Their Legs. Islands kick off the very first night of the festival, almost like they're presiding over the ensuing days.
Loraine James
Loraine James made one of our favorite electronic albums of 2022 — it was just under her other moniker, Whatever The Weather. Now, she's already back with another under her own name, Gentle Confrontation. It drops right in time to get familiar with it before seeing James bring it to life at Pop Montréal.
Ratboys
It's been a long rollout, but Ratboys' new album The Window finally arrives next week. If you've been paying attention to Stereogum, you may have noticed that there have been a whole lot of singles from the album, and most of them ended up on 5 Best. So maybe you could say we're excited about the new Ratboys album. You should be too, and you should really be excited about seeing them up the ragged roots quotient on these songs live.
Shabazz Palaces
Pop Montréal's lineup doesn't have an abundance of noted rap names, because it isn't that kind of festival. But what it does have is Shabazz Palaces, Ishmael Butler's art-rap collective. It's actually a perfect addition to the festival: adding rap to the mix, but rap that's a few degrees left-of-center, like so much of the Pop Montréal lineup.
Skullcrusher
At a normal big festival in a field, a lot of these artists would get swallowed up by louder, more immediate acts. That's especially true for Skullcrusher, a project defined by Helen Ballentine's autumnal, spectral folk. But that's the cool thing about a city fest like Pop Montréal, where you can imagine Skullcrusher not getting lost in the shuffle, but instead being given a stage these songs deserve.
Tangerine Dream
The prospect of seeing Tangerine Dream today is a slightly odd one. Edgar Frouse, the founder and only consistent member of the pioneering electronic group, died in 2015. The group continues on as a trio now led by Thorsten Quaeschning, a longtime Tangerine Dream member and a protege of Froese's. That means a band formed founded in 1967 is older than any of its current members. Still, the history and catalogue of Tangerine Dream is vast and transformative. Even if it the band lives on in tribute to what Froese left behind, it's bound to be a captivating performance.
Tengger
Ever since first getting some international attention via Kikagaku Moyo's Guruguru Brain label, the Pan-Asian family band Tengger (made up of a couple and their son), have consistently made gorgeous, transporting music that's hard to pin down. It's psychedelic, but sometimes ambient, but sometimes New Age-y. Every now and then you need a blissful zone-out during a festival, and Tengger are the perfect option for that. Their new self-titled album also happens to drop right in the middle of Pop Montréal.
Water From Your Eyes
Water From Your Eyes are still riding high on the release of Everyone's Crushed, one of the best albums of the year thus far. (During Pop Montréal, Rachel Brown will also be releasing their new Thanks For Coming EP What Is My Capacity To Love?.) There's a reason Water From Your Eyes have become so acclaimed: The duo makes a free-for-all alternate universe pop. As wide-ranging as Pop Montréal is, there's something about Water From Your Eyes that feels particularly perfect for the festival's ethos.