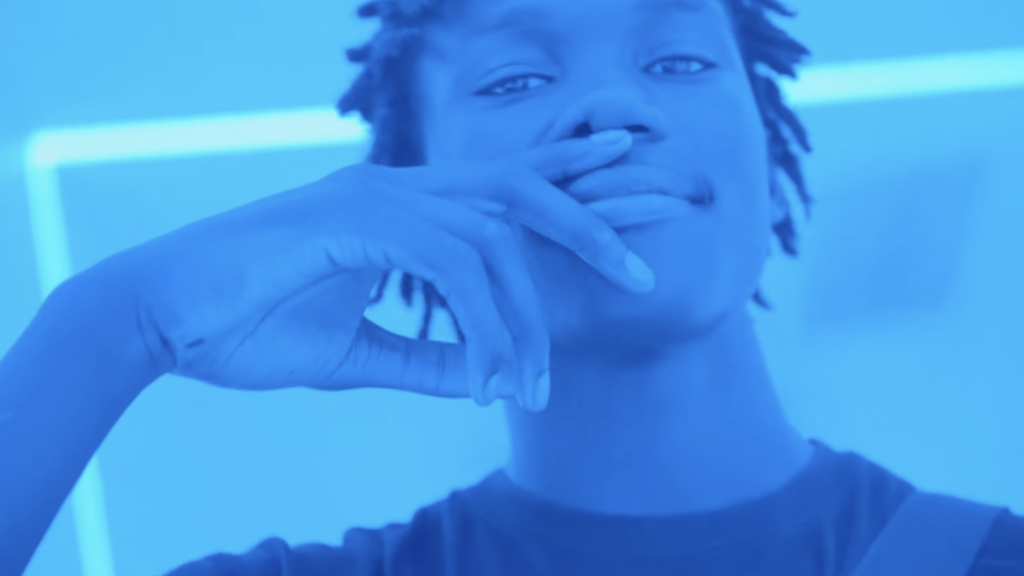 Harlem rapper Bobby TooTact doesn't like Eric Adams, New York's mayor and top cop, as a person or a mayor. When given the chance, TooTact is willing to shout this out, to absolutely everyone and absolutely nobody, outside his housing project on St. Nicholas Avenue in Harlem. Here, in this recreational alley behind the building entrance, is where TooTact and his neighborhood friends congregate every single day to playfully roughhouse with one another, tease each other, and even sometimes shoot music videos. They also seemingly have no problem expressing their views on the mayor. These Black boys are relentlessly outspoken. Even if he showed up smiling and politicking in this basketball-court-sized expanse, they'd have no problem telling Mayor Adams how much they dislike him to his face.
"Mayor Adams can suck my dick, for real," TooTact says, forcefully. "He's trying to make it harder on us here." TooTact and his friends are speaking confidently and lightly, in the way that New York teenagers are constantly joking but are also dead serious about what they're joking about. It's both light-hearted and intense; exaggerated and truthful. "I'm not jacking that bald headed motherfucker," TooTact's friend says. "I feel like he is invested in putting us down even though he is a Black man just like us." TooTact's manager AB, who is here at the alley, says he remembers seeing Adams do one of his infamous news broadcasts right outside the building complex. "I saw him in 2022. I should have thrown a water bottle at him," AB shouts. "I feel like he is targeting drill rappers like Bobby. So, if he shows up here again, we have to make it known that he isn't welcomed here."
TooTact's been criticizing the mayor in his music as well, the most effective place to do so if you're a rapper. On TooTact's best song, "Who Told U," he states his dislike of Adams and his reactionary crime policies in a simple but jab-effective line: "You see how they deal when a nigga get famous/ Fuck Mayor, not jacking these changes."
In his eclectic and exciting music, TooTact is combining two different Black genres: Afrobeats and drill music. Name the Afrobeats song and TooTact has rapped over it, or at least tried to. Because both genres are born out of inequality, and with Afrobeats in particular flourishing in New York thanks to the supernatural creativity of the city's Black dispersion, it doubles as not only fun music, but something that is helping to bring Black communities together. Harlem is a neighborhood of acute sounds. Either it is coming from the courts that ballplayers hone their skills at, or the streets that cop cars patrol, or the projects where kids exuberantly turn up. To hear an Afro drill song is to hear the neighborhood in a polymorphic package. If TooTact, who declined to tell me his real age, hears an Afrobeats song, it reminds him of his Senegalese nationality. Then, he puts his spin on it in the only way a kid who grew up listening to Chief Keef and Pop Smoke can: with unabashed physical force and intensity. In August, Byron Messia's "Talibans" was given the TooTact endorsement, to the tune of a performance where TooTact raps "pick up the gun and go put in pain."
TooTact is the self-proclaimed "king of Afro drill." Just like Bandmanrill out of Newark, he has an uncanny ability to rap in a drill flow — sometimes inert, overtly masculine, and stiff — but make you want to dance when you hear him over an odd sample. The sound is worldly and unrepressed, both violent and neat. Rarely do you hear drill being used in such a restrained way. What makes the Afrobeats infusion such a fresh proposition for drill is the contrast between the power of the RPM machine with the sternness of the lyrics. It's not lush, nor does it sound like the specter of the violent summer, but rather it has a kinship with the humility of the Afrobeats genre itself. TooTact is a savvy rapper, too: In touch with his ability to dominate a track, but with the light intensity of a teenager. On "Talibans," the succession of his rapping pace reminds you of a heartbeat: happening always, and unrelenting.
Tantalizingly and frustratingly, as is customary within drill music, TooTact is not above sending messages to the competition in his songs. When fellow Harlem artist and rival Moose Fablo threw a shot on "Shoulda Just Order from Chic" by saying that he would take the chain of one of TooTact's friends, TooTact responded on "Talibans," denying that a snatching of a chain would take place, stating "I'm with Lou Bands, who takin' his chain?" ("There is a lot of beef out here. Just don't bring it on my block," TooTact explains).
TooTact knows that Mayor Adams and his law-and-order way of thinking is counting on the kids to drill music to beef with one another. That's how they push the narrative that these artists, who are largely young Black males, are out-of-control citizens that are going to wreak havoc on each other. Although inner city violence is always concerning, TooTact doesn't buy the portrait of drill music that the Mayor is selling. "It's hypocritical. Mad hypocritical. He woke up one day and decided to stop us. He's weird," TooTact tells me. "I know that nigga's son be listening to the music. He is getting niggas booked for no reason. It doesn't make no sense." On the plus side, as a Black New Yorker, TooTact is too familiar with the NYPD's tactics towards Black citizens to be surprised. "They've been on us for no reason now," he says. "They stopped me just to mess with me when I was walking on the street for no reason."
As a native New Yorker, particularly one from Harlem, TooTact knows all about the systemic changes that his local government has pushed onto its working class citizens. The son of two Senegal natives and one of eight children, TooTact embodies the African diaspora that helps color the city — both figuratively and literally — with a formative culture that ties communities together. "Harlem is known for the hustle. You got to get it. I grew up on 116th, the best block in the world," TooTact says. "There are different varieties in Harlem. Some people speak your language and some don't."
TooTact understands that in Harlem, there are two kinds of neighborhoods. The Jay-Z line "It's all Black. I love us" is true, but Hamilton Heights — where A$AP Ferg and I are from — is different from the blocks steeped in African culture where TooTact hails from. Hamilton Heights occupies a certain chicness and literary history. Ralph Ellison lived there. Actors trying to make it in the New York theater scene occupy that side of Harlem. Bars now carry pride flags to thankfully show their progressivism. The Hudson river is flowing outside your window and those sights are raising the prices on distinct and warm apartments. It's glamorous to be from that side of Harlem.
TooTact's neighborhood is much more tough and uncompromising than my neighborhood was. It is not uncommon to see TooTact at the African restaurants that are up the block from his building, or see him smile outside of the Texas Chicken and Burgers spot with those wide and distinct lips and lowkey voice. He's a tall and lanky kid, as if the muscle that a swole Afro-New Yorker would have has been drained out of his body. When asked about one of his early accomplishments as an artist, or the kind of New York women he likes, or some of his major influences, TooTact has that bashful smile that many young African kids in New York have. His hands slightly raise, and he tells me to calm down with my embarrassing questions. Like many African kids, he isn't accustomed to the attention. If you see them out loud in the streets, it is because that is their way of letting loose because their home life requires them to have more humility.
Five minutes into our interview, TooTact was telling me to come join them for Ramadan at their local mosque. He's a traditional Harlem soldier. It's not a surprise when TooTact says he used to play basketball, specifically at the Riverside Church for the AAU organization, the Riverside Hawks. This is the same team that I once suited up for, when I had a thirst for hoops that could not be adequately quenched. That's what New York is for Black people; the biggest place to inhabit and the smallest world that we can possibly be in. "I could have been nice. I could have gone to the A, for real," TooTact says. "I didn't want to though."
Luckily, TooTact is focused on releasing music. His album is set to come out within a month, though he still won't reveal the title. Things are still relatively makeshift in the TooTact camp. Studio sessions are only once a week because of the high cost. Since TooTact is best consumed on YouTube, where the kinetics and chaos of his music videos can reverberate through you, he isn't making all that much money yet. But record labels are calling to check up on TooTact. A budget from a record label would do wonders for his music.
As of right now, it is refreshing to see that TooTact is staying out of trouble, or at least attempting to. As the roughhousing continues in the alley, the kids hear sirens, and everyone stops like a light was flashed onto them. TooTact and several of friends travel to where the sound is coming from, concerned for their well-being and safety. Such is the case when your identity is under siege and your rowdy way of life is being considered polarizing. Soon, TooTact and company are towards the other side at the alley — where the building entrance is in the immediate vicinity. He sees that the several cop cars are on the other side of the street. It appears to be a plot twist — the boys in blue were not there to watch or check up on TooTact or his friends. "Oh aii-ght, never mind," TooTact says. Having avoided an uncomfortable interaction, they come back, dancing and laughing.