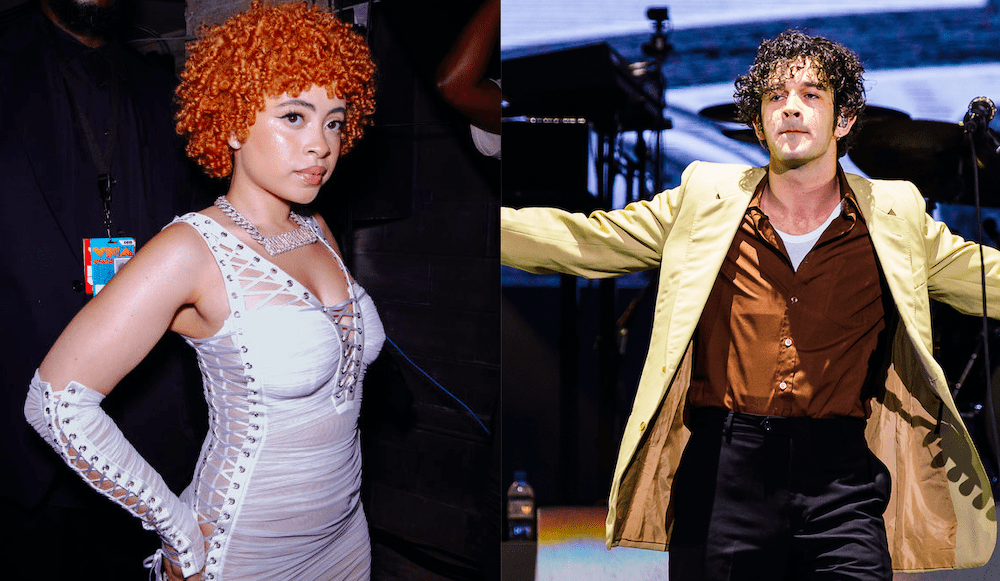 Earlier this year, the 1975 frontman Matty Healy was a guest on the podcast The Adam Friedland Show, and he mentioned attempting to slide into the DMs of Ice Spice, the fast-rising Bronx rap star. Friedland and his co-host Nick Mullen went on to make a bunch of racist jokes while attempting to guess Ice Spice's ethnicity, impersonating a bunch of different ethnic accents. Healy laughed a long, said, "Yeah, that's what Ice Spice is like" and called her "dumb."
Those jokes caused a huge backlash against Matty Healy, who apologized to Ice Spice while performing in New Zealand: "Ice Spice, I'm sorry. It's not because I'm annoyed that me joking got misconstrued. It's because I don't want Ice Spice to think I'm a dick. I love you, Ice Spice. I'm so sorry." Apple and Spotify removed that episode of the podcast, and fans of Taylor Swift, who was reportedly dating Healy at the time, started talking about him like he was a serial killer. (Lots of people have speculated that this whole situation was why Swift featured Ice Spice on her "Karma" remix.)
During that whole flap, Ice Spice never commented on Matty Healy. But in a new Variety cover story, Ice Spice, who's been a fan of the 1975 since high school, finally talks about the Matty Healy situation. Here's what she said:
When I had heard that little podcast or whatever, I was so confused. Because I heard "chubby Chinese lady" or some shit like that, and I'm like, "Huh? What does that even mean?" First of all, I'm thick. What do you mean Chinese? What? But then they apologized or whatever. And the whole time, I didn't really care. But that's funny because I saw him at the Jean Paul Gaultier party a couple days ago, and he was like, "Hey, you OK?" and I'm like, "Of course." He apologized to me a bunch of times. We're good.
This seems like a very sane reaction to a not-sane news story. It's basically her saying: I don't really care, but that's stupid. And also: What? You can read the whole Variety feature, which also includes a bunch laudatory quotes about Ice Spice that Taylor Swift emailed, here.