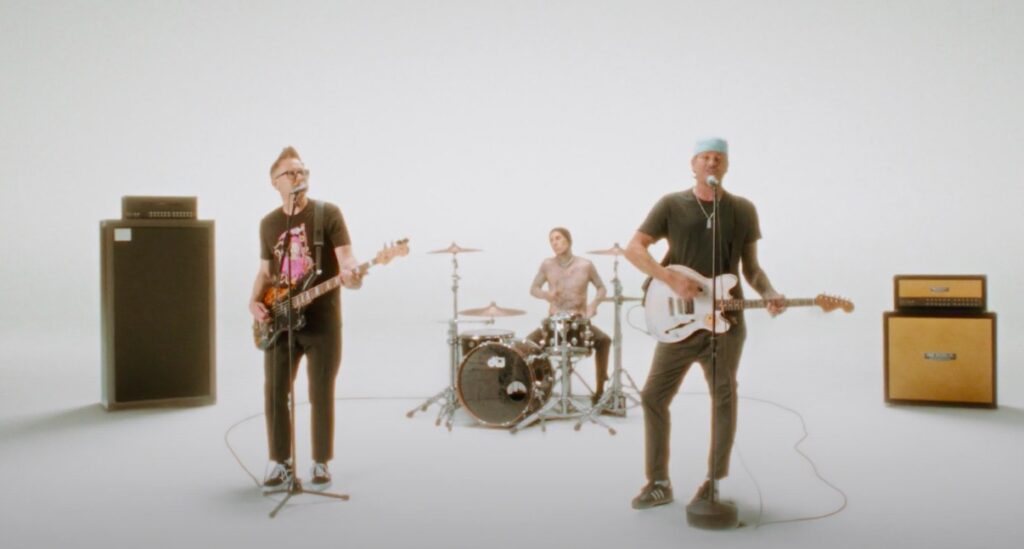 Last year, the classic Blink-182 lineup got back together. Longtime co-leader Tom DeLonge, who split messily with the band in 2015, returned, and Blink announced a massive global arena tour, with Turnstile opening the whole American leg. Blink released the new single "Edging" and played their first show back together at Coachella, and it's been off to the races ever since. Now, Blink-182 have announced a new album called One More Time…, and they've dropped two singles.
Blink-182 recorded One More Time… while they were in the midst of their big reunion tour, and they produced it themselves. It's Blink's follow-up to 2019's Nine, but it's also their first classic-lineup LP since 2011's Neighborhoods. The album features "Edging," as well as the two new singles, the title track and "More Than You Know."
The heartfelt "One More Time," which is not a Daft Punk cover, explicitly addresses the band's whole saga, including Mark Hoppus' battle with cancer and the plane crash that almost killed Travis Barker. Over pianos and acoustic guitars, DeLonge sings, "Strangers, from strangers into brothers/ From brothers into strangers once again/ We saw the whole world, but I couldn't see the meaning/ I couldn't even recognize my friends." Mark Hoppus answers back: "I wish they told us, it shouldn't take a sickness/ Or airplanes falling out the sky." The song has a no-frills video from director Carlos López Estrada, and it has zero dick jokes.
"More Than You Know," the other new song, is faster and more charged-up, but it's just as sincere. There are no dick jokes on that one, either. Below, check out "One More Time," "More Than You Know," and the new album's tracklist.
TRACKLIST:
01 "Anthem Part 3"
02 "Dance With Me"
03 "Fell In Love"
04 "Terrified"
05 "One More Time"
06 "More Than You Know"
07 "Turn This Off!"
08 "When We Were Young"
09 "Edging"
10 "You Don't Know What You've Got"
11 "Blink Wave"
12 "Bad News"
13 "Hurt (Interlude)"
14 "Turpentine"
15 "Fuck Face"
16 "Other Side"
17 "Childhood"
One More Time… is out 10/20 on Columbia.