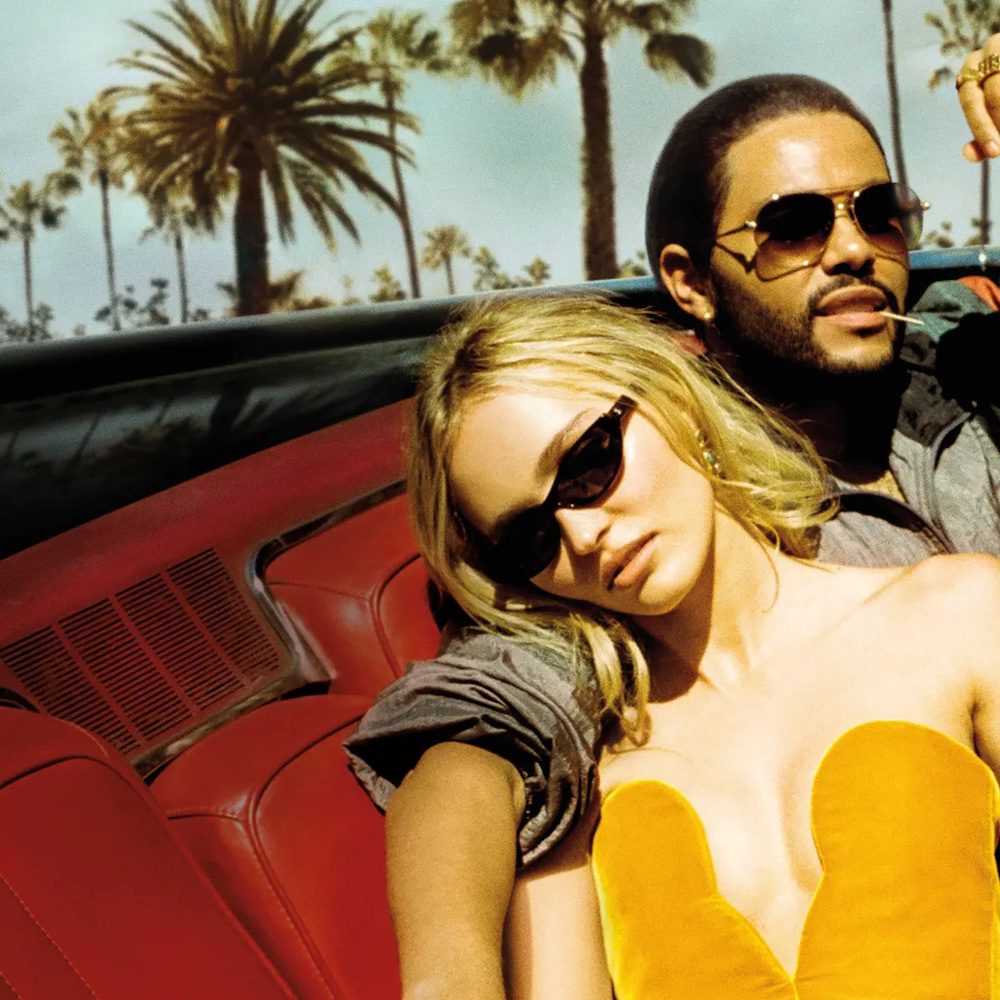 Let me begin by saying that I have not watched The Idol. Between the eviscerating reviews and an (allegedly) toxic filming environment that resulted in phrases like "sexual torture porn" being bandied about, I figured it was best to not waste my time. There's so much good TV out there, and I don't like hate-watching unless I'm getting some level of enjoyment out of the experience. For example, I have been hate-watching The Bachelor for approximately five wonderful years. Is it heteronormative garbage that refuses to evolve or address race with any nuance whatsoever? Yes. Do I watch it anyway? Also yes. Because I'm a *cue Bouncing Souls* hopeless romantic, and the Bachelor franchise scratches an itch.
But we're not here to talk about The Bachelor. I want to talk about the cognitive dissonance around seeing The Idol be called HBO's worst show ever even as pieces of its soundtrack – specifically the Weeknd's "One Of The Girls" featuring Lily-Rose Depp and BLACKPINK's Jennie – climb the charts. Featured in the series' fourth episode, "One Of The Girls" debuted at #14 on the Hot R&B Songs chart with 2.5 million U.S. streams and 1,000 downloads sold in its opening week. It also started at #11 on R&B Digital Song Sales and #19 on R&B/Hip-Hop Digital Song Sales. This is Lily-Rose Depp's first-ever appearance on a Billboard chart.
For context, Depp plays Jocelyn, a rising pop star going through a hard time who falls under the thrall of Tedros (Abel Tesfaye/the Weeknd), a nightclub owner and talent scout whose management philosophy is "tough love." This basically amounts to controlling, psychologically twisted, wildly sadistic sex stuff. Spoiler: By the show's end, there's a Big Twist and some debate around who is controlling whom, but that's not really this column's concern. Ostensibly, "One Of The Girls" is a success, while its accompanying show, The Idol, is not.
A woozy, smoky R&B/pop ballad, "One Of The Girls" is, by Tesfaye's own admission, not meant to be a sensual or sexy song. It's meant to mirror the fucked-up dynamic between two people who are manipulating each other via sex for fame and notoriety. Here's a peek a the lyrics:
I love when you're submissive
Love it when I break skin
You feel pain without flinchin'
So say it
Give me tough love
Leave me with nothin' when I come down
My kinda love
Push me and choke me 'til I pass out
We don't gotta be in love, no
I don't gotta be the one, no
I just wanna be one of your girls tonight
We don't gotta be in love, no
I don't gotta be the one, no
I just wanna be one of your girls tonight, oh
Push me down, hold me down
Spit in my mouth while you turn me on
I wanna take your light inside
Dim me down, snuff me out
Hands on my neck while you push it out
And I'm screamin' out
Tesfaye might display a level of self-awareness when asked to describe The Idol and this song ("With this show, we love to play with the emotions. We're puppet-mastering your feelings through the show," he told GQ), but there's an R. Kelly-ish feeling of hiding in plain sight here, particularly given some of the latest revelations about the way director Sam Levinson behaved on set while coordinating a sex scene between Tesfaye and Depp. I realize Tesfaye and Levinson are two different people, but Tesfaye gave the polarizing Euphoria director his seal of approval for a reason.
"Abel came to us with a pitch," Levinson told W Magazine in May. "He said something that I'll always remember: 'If I wanted to start a cult, I could.'"
"What he meant is that his fans were so loyal and devoted that they would follow him anywhere," Levinson continued. "That was the germ of the idea for The Idol: What happens when a pop star falls for the wrong guy and no one speaks up?" Levinson is similarly powerful — Euphoria has been such a success for HBO that its creator could no doubt ask for anything of anybody with little consequence. I'm not saying The Idol definitely mirrors Tesfaye and Levinson's private lives, but the onscreen content plus the behind-the-scenes mess leads the imagination to some discomfiting places.
Zeroing in on the "One Of The Girls" lyrics might elicit the same queasy feelings, but the track has fared much better than The Idol in the court of public opinion. Perhaps that shouldn't be surprising; a song experiencing success separate from its crappy visual counterpart is way less rare than one would think. In 1980, Xanadu bombed at the box office, got panned by critics, and apparently inspired the creation of the Golden Raspberry Awards, aka the Razzies. Its soundtrack, however, went double platinum and spawned five top-40 hits, including Olivia Newton-John's "Magic," which went to #1.
There's also "Together In Electric Dreams" by Phil Oakey and Giorgio Moroder. That one hit #3 in 1984 and was attached to the rom-com Electric Dreams, about a man who falls in love with a computer. The movie, which has a plot similar to Spike Jonze's much more successful Her, got mixed reviews — it holds a 47% on Rotten Tomatoes. I'd never heard of it, so I'm assuming it holds some B-movie cult fascination. Clearly, it was never a hit.
Madonna's "Who's That Girl?" went #1 in 1987, but its accompanying movie of the same name (also starring Madonna) belly-flopped at the box office, generating only $2.5 million in its first week, with its final domestic total being about $7.3 million on a budget between $17–20 million. In 1999, Will Smith's "Wild Wild West" topped the Hot 100, but its "steampunk Western" action movie, which I remember being marketed heavily, was nominated for eight Razzies and won five (including, amusingly, Worst Original Song).
I could go on forever: Mariah Carey's Glitter nearly stalled the singer's entire career, but its theme song, "Loverboy," peaked at #12 in 2001. Batman Forever was a colossal box-office disappointment in the '90s, but we got Seal's #1 "Kiss From A Rose" out of that.
There's also a spectrum: Sometimes the movie/show fails to make an impact upon initial release but its soundtrack helps it achieve cult-classic status (see: Empire Records, Reality Bites, or Donnie Darko). Other times, soundtrack songs and their onscreen counterparts lift each other to pop-culture greatness, which was unequivocally the case with Dirty Dancing and its #1 "(I've Had) The Time Of My Life." Popularity and substance are not necessarily correlated, but The Idol feels like an extreme case — the quality gulf between the visuals and the soundtrack appears to be so, so vast.
Leaving aside how much the critics hated The Idol, let's compare viewership to streams. According to The Hollywood Reporter, approximately 913,000 people watched The Idol's premiere. One week later, episode two saw a 12% decline in viewership. Its finale jumped 39% in total viewers, but Showbiz 411 says "it still didn't crack 200,000" and its "season average was 164K" — quite the drop-off after a premiere watched by close to 1 million people. The show's failure comes into sharper contrast when you consider Succession averaged 8.7 million viewers per episode across all platforms, and The Last Of Us had 8 million viewers tuning in every Sunday night before later on-demand viewings were even factored in.
Spotify streams are high, though. "Dollhouse," which also features Depp's vocal, has cracked three million, the Weeknd's "Like A God" has 2.5 million, and "False Idols" with Lil Baby and Suzanna Son has well over five million. "World Class Sinner / I'm A Freak" hovers at around 16 million, and the Weeknd's collab with Playboi Carti and Madonna has exploded to around 86 million. The clear winner within the entire soundtrack is the Weeknd's "Double Fantasy" with Future, which has a bonkers-level 90 million Spotify streams.
At one point, The Idol Vol. 1 was supposed to come out as a full collection on June 30. That day has come and gone with no comprehensive album-album. You can still listen to the soundtrack — just in bite-sized bits according to the order Tesfaye released them with each new episode drop. Listening to the tracks in their entirety, I can understand why they received a warmer reception, though there's a clear hierarchy. The blurry-eyed "Dollhouse" (featuring Depp) never really takes off; it just kind of shuffles through the smoke machine. The otherwise outstanding Troye Sivan gives a dead-eyed cover of George Harrison's "My Sweet Lord" that I wish I could forget ever happened. The Weeknd's cover of John Lennon's "Jealous Guy" is executed with more success, thanks to its singer's crooning vocal and the aching synth effects. Suzanna Son's "Crocodile Tears" is also substantially better — against pounding, solitary piano keys, Son compares herself to an actual reptile ("My claws are too sharp/ My thoughts are too dark/ And I keep eating all of my friends") to drive home what social isolation really feels like.
Whatever you think of The Idol as a show, there's no question that its soundtrack understands better how to show and not tell. While all involved parties were condemned for making gratuitous, unearned raunch, the Weeknd has spent many celebrated years finding new ways to comment on the dark, seedy, and horny. While "Dollhouse" and "My Sweet Lord" disappear like a puff of cigarette smoke on a windy day, the serpentine "Like A God" elegantly outlines Jocelyn and Tedros' circumstances ("Mama died after fallen dreams/ Suicide made her tabloid queen/ She's alone, the city gon' break her"). The oozing "False Idols" continues the narrative: "Watches over like a God/ Makes you hurt again/ So you can heal and say amen."
The majority of the songs from The Idol soundtrack mirror the show's themes: empty fame and/or promises, emotional detachment, manipulation, sexual subjugation, sadism, jadedness. Any time the Weeknd is the featured singer — "A Lesser Man," "Jealous Guy," "Take Me Back," "Double Fantasy" — the proverbial room lights up. He has unparalleled vocals, the grace to surf across traditional pop, R&B, hip-hop, and new-wave, an unstoppable ear for radio hooks, and a god-given gift for storytelling and setting the mood. Looking back at "One Of The Girls," if I had no idea what its lyrics were specifically alluding to, then I'd probably be all in. With its downcast, minor-key wash of synths, "One Of The Girls" makes the hair on the back of my neck stand up as Jennie, Depp, and the Weeknd's vocals meld and undulate against one another. Knowing the messy circumstances surrounding "One Of The Girls," however… that takes me out of it.
Until now, the Weeknd's vehicles have been albums, music videos, live shows, and a Super Bowl halftime show. The Idol is arguably the first time Tesfaye has had creative input on something and come out on the other side with fans and critics questioning his taste. Mostly I've just been wondering, has a piece of visual media ever been this far removed from its own music? The consensus appears to be that The Idol's soundtrack is worth spending time with because its creative engine — the Weeknd, a guy with seven #1 singles — worked on it. Given how the Weeknd has been telling some version of The Idol's story on each of his albums, it's remarkably easy to enjoy the soundtrack without having to watch a single episode. I wouldn't choose this batch of songs over Dawn FM, After Hours, or Starboy, but the Weeknd is like that pizza metaphor — even a two-day-old cold slice is better than none.
It makes sense that culture critics thought The Idol would have been better served under director Amy Seimetz, who left abruptly because Tesfaye allegedly felt the show was leaning too much into "a female perspective." Creative differences happen, but given how Tesfaye reacted to the negative reporting from Rolling Stone before The Idol premiered, he doesn't strike me as someone who hears criticism very often. The absence of pushback is a particularly vicious type of brain slug that can rob otherwise talented people of their humility. Hopefully next time Tesfaye ventures into film or TV — like, say, the movie he's working on with one of his Idol collaborators — he'll welcome feedback from a larger circle of collaborators. If not, at least we'll probably get some good music out of it.
POP TEN
FIFTY FIFTY – "Barbie Dreams" (Feat. Kaliii)
Speaking of soundtracks, this latest installment from the much-hyped Barbie movie is a whole lot of fun, and I love how it repurposes Janet Jackson's classic bop "Together Again."
NewJeans – "Super Shy"
And speaking of fun, buzzy K-poppers NewJeans have this way of making it look totally effortless. Their skittery, R&B-tinged "Super Shy" makes me think of hyperpop and Post Malone, but not necessarily together. Whatever NewJeans are doing, they're building off of what's already trendy while layering on something fresh and new.
Maisie Peters – "The Good Witch"
When it comes to mulling over the past, how much is too much? That's the question I'm getting from Maisie Peters' slow-building and contemplative "The Good Witch," which lyrically alludes to woo-woo elements without being too obvious or cliche.
Rauw Alejandro & Miguel Bosé – "SI TE PEGAS"
With its propulsive reggaeton beat that morphs into an '80s synth fever dream, "SI TE PEGAS" is easily one of the most instantly catchy songs I've heard all summer.
Priya Ragu – "Easy"
Swiss singer-songwriter Priya Ragu unleashes all the good vibes on "Easy": we get a dose of '90s pop-R&B with an impeccable fast-paced beat (courtesy of Ragu's brother and producer Japhna Gold). Ragu's vocals, meanwhile, are giving Jessie Ware — never a bad thing.
Katelyn Tarver – "Cinematic"
Pour one out for the nostalgic girlies. Katelyn Tarver's dreamy single offers a well-worded defense of anyone who might see their life as a movie: "I get so sentimental over small things/ You say I'm obsessed with nostalgia but I think/ What's the point of all this livin' if you can't go back and grab it?/ Make it cinematic/ Prove you really had it." It's a much prettier way of saying "pics or it didn't happen."
TOMORROW X TOGETHER & Jonas Brothers – "Do It Like That"
Now, this is how you collab with a K-pop act. (Chris Martin, are you taking notes?) "Do It Like That" is perfectly light on its feet, with a disco-funk backing track and silky falsetto vocals. Sometimes two larger-than-life pop groups risk overshadowing each other or weighing down their collaborative effort with production and/or other people's expectations. "Do It Like That" is how every cross-continental collab should be done.
Aluna, Tchami & Kareen Lomax – "Running Blind"
I'm not personally a club person, but that doesn't stop me from gravitating toward an absolutely magnetic club track. Teaming up with French producer Tchami and Georgia alt-R&B vocalist Kareen Lomax, Aluna has a thumping, celebratory hit with "Running Blind," which sparks pure, club-ready joy.
Yung Gravy & bbno$ – "You Need Jesus"
With scary Christian Nationalism on the rise in the US, I find some relief in a jokey-catchy track like "You Need Jesus," where Yung Gravy and bbno$ take the piss out of missionary work, Sunday school, and baptisms with comebacks like, "Go back to church/ What if I don't wanna/ Smokin' marajuana/ Deliver her banana/ Take a few hits then I'm reaching my nirvana." The video is keeps the LOLs coming, with both rappers rocking those short-sleeved button-down shirts the missionary dudes seem to like so much.
Petey – "I'll Wait"
TikTok personality/emo-electropop performer Petey made a killer pop-crossover track with "I'll Wait," which sounds like if Brandon Flowers joined the Used and covered 1980s Springsteen. I love it.
CLOSING TIME