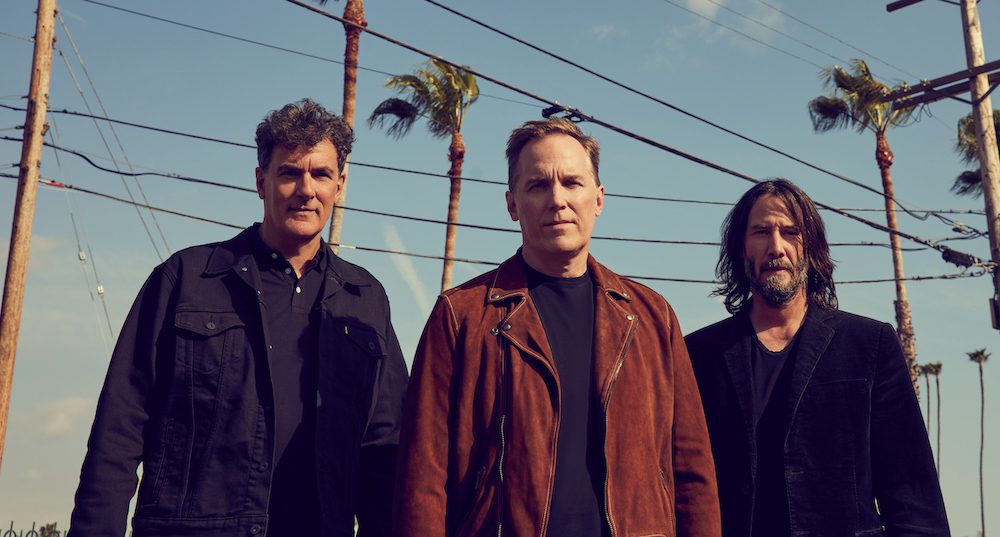 For well over 30 years, Keanu Reeves has devoted most of his time and artistic energy to movie stardom. He's still doing that; IMDB says that Constantine 2 is currently in production. But these days, Keanu is also back to the important business of rockin'. Earlier this year, Keanu Reeves' '90s alt-rock band Dogstar announced their big return. Last month, Dogstar dropped "Everything Turns Around," their first new song in 23 years, and they also announced an album called Somewhere Between The Palm Trees And Power Lines and a full-scale tour. Now, Dogstar have unveiled a second song, and it's got Keanu going all Neo on his bass strings.
On Instagram earlier this week, Dogstar said that "Breach" was about to arrive and that it would feature "a nasty bass solo by KR." Now, the song is here, and it does indeed feature a Keanu Reeves taking a quick spotlight moment. It's a glossy mid-tempo riff-rocker with some Queens Of The Stone Age energy. And Keanu's bass does take the lead for a couple of brief runs, though it's not like he magically channels the spirit of Cliff Burton or anything.
This song raises a question. Most people join rock bands to get more attention. But in his role within Dogstar, Keanu always seems to want less attention. He rarely sings lead, never stands in the middle in the press pics, and plays venues that, one would think, are too small to contain the spectacle of a Keanu Reeves rock show. So why take a bass solo, then? Is it Keanu's sly acknowledgment of his role within this band? Or did the song just scream out for some low-end? The creative process remains mysterious. Listen to "Breach" below.
Somewhere Between The Palm Trees And Power Lines is out 10/6 on Dillon Street.