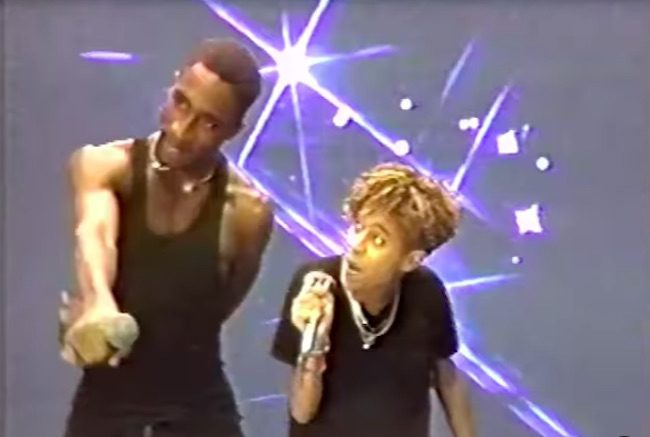 In the late '80s, Tupac Shakur and Jada Pinkett, two teenage classmates at the Baltimore School For The Arts, became close friends. They remained close friends into the '90s, when Pinkett became a movie star and Shakur became maybe the most dominant rapper of his era. In 1997, the year after Shakur was murdered, Pinkett married Will Smith, a very different kind of rap star. That marriage has faced a whole lot of public scrutiny, especially after Will Smith, in some misguided attempt to defend his wife, slapped Chris Rock at the Oscars. Now, that whole psychodrama gets a strange new chapter. Once again, it involves Tupac.
In his 2021 memoir, Will Smith wrote about feeling "raging jealousy" toward Tupac, especially when he started dating Jada Pinkett: "In the beginning of our relationship, my mind was tortured by their connection. He was 'PAC and I was me… I was in a room with Tupac on multiple occasions, but I never spoke to him. The way Jada loved 'Pac rendered me incapable of being friends with him. I was too immature."
Now, Jada Pinkett-Smith is getting ready to publish her own memoir Worthy. By way of promoting it, she's just posted a video of herself and Tupac Shakur, pre-fame, dancing and lip-syncing to DJ Jazzy Jeff & The Fresh Prince's 1988 hit "Parents Just Don't Understand." Specifically, they're doing the bit where Will Smith raps about taking his parents' brand-new Porsche to pick up a girl, with Tupac playing Smith and Jada playing the girl. The video appears to be the product of one of those mall karaoke studios, and it's adorable. Tupac and Jada never dated, but there's definitely a slightly flirty energy to their interaction.
In an audio clip from her book, Jada Pinkett-Smith talks about that video:
Not in a million years would I have dreamed that the Fresh Prince and I would become, um, very acquainted. Not in a million years did I imagine three lives, three fates, would be so intertwined. And I never would have imagined that this video would become a tangible memory of the last time Pac and I were simply kids together.
I'm really more curious about what mall Tupac and Jada were in when they filmed this video. Mondawmin? Towson Town Center? Golden Ring? Hunt Valley? White Marsh?