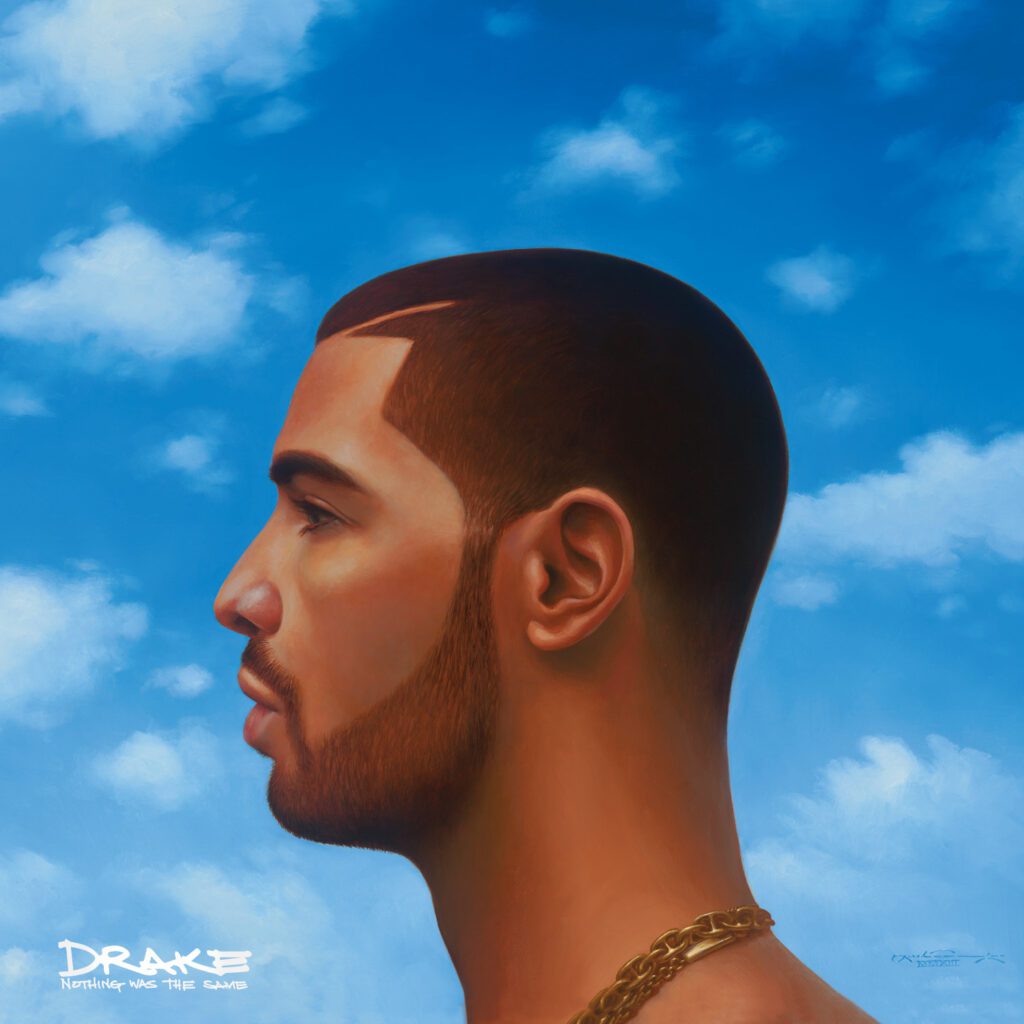 "Started from the bottom [citation needed], now we here." In the bitter cold of winter 2013, Drake once again retraced his rise. Even by millennial standards, the man has always been obsessed with his own story, his hero journey (or antihero journey) from a Canadian teen soap opera to the pinnacle of mainstream hip-hop. In the years when he was becoming rap's biggest pop star, Aubrey Graham never missed an opportunity to mythologize his personal narrative, turning every memory into a movie scene and elevating figures from his past and present into larger-than-life icons. With "Started From The Bottom," the lead single from his third official album, he did it again, this time in strokes so broad they inevitably sparked some incredulity. Drake was not a complete nonentity when he launched his music career; he had ascended from Degrassi, not from squalor. But the specific starting point of his rise was not important. What mattered was that he'd arrived here, i.e., at the top.
"Started From The Bottom," crisp and minimal and vaguely eerie and impossibly catchy, was merely the opening blast in a rollout that lasted months. It was already old news by the time Nothing Was The Same dropped, 10 years ago this Sunday, but it set the table for a far more celebratory gathering than the contemplative scene from the cover of his prior album. Take Care was the coronation; Nothing Was The Same was the victory lap. Drake had spent the two years in between the albums racking up a staggering run of hit features ("Stay Schemin,'" "No Lie," "Pop That," "Amen," "Fuckin' Problems," "Poetic Justice," woo!) and spawning enough imitators that he could accurately rap in early 2013 that "every song sound like Drake featuring Drake." (Remember Kirko Bangz?) His intuitive glide between rapping and singing was becoming rap's default, even if no one could quite replicate his signature blend of pettiness and sensitivity, of effortlessly cool and shamelessly corny. That internal chemistry had evolved since Take Care, which ended with a promise that "my junior and senior will only get meaner." In the interim, Drake had indeed shifted out of doe-eyed disbelief at his own fame, toward the churlish cockiness of a narcissist who can't lose.
He was feeling himself for good reason. In 2013, Drake was dominating the zeitgeist and operating at the peak of his powers. For me, Take Care is his masterpiece, while others might reasonably select 2015's apostrophe-deficient "mixtape" If Youre Reading This Its Too Late as his creative high water mark. But the many people who call Nothing Was The Same his best work aren't crazy to feel that way. The hits hit hard (the contagiously rowdy "Worst Behavior"), except when they're immaculately soft ("Hold On, We're Going Home," an effervescent synth-pop pastiche that is somehow simultaneously dead serious and a proto-"Hotline Bling" song-as-meme). The production, from 40 and a coterie of sonic architects, is still lush and luxuriant, but it's also tougher and nastier in a way that mirrors Drake's own personal evolution. The hooks are abundant, the bars routinely quotable, the guests smartly curated. It sounds like an absolute blockbuster, and it was.
Can you imagine how many #1 hits Drake would have if the streaming era was in full swing when his first few LPs dropped? In 2013, Drizzy felt like the biggest star in the world, and his music was inescapable, yet "Started From The Bottom" and "Hold On, We're Going Home" peaked at #6 and #5 respectively on the Hot 100. The album itself sold 658,000 copies in its first week, the biggest debut of the year up to that point, and Drake was unmissable on rap and R&B radio, still a fixture of my listening at the time. Nothing Was The Same is speckled with evidence that Drake was not necessarily equipped to handle this level of success — just ask Courtney from Hooters on Peachtree. His assertion on bonus track "All Me" that he succeeded with no help would be unbearable if not for 2 Chainz, amidst his own legendary run of features, lightening the mood by (among other triumphs of wordplay) likening "Givenchy" to the sound of a sneeze.
From the Cappadonna namecheck on opener "Tuscan Leather" to the chopped and screwed "C.R.E.A.M." sample on closer "Pound Cake / Paris Morton Music 2," Nothing Was The Same is threaded with Drake's love for the Wu-Tang Clan. Nevermind that he was steering rap somewhere far away from the grimy NYC boom-bap that put the Wu on the map and defined the taste of a generation of hip-hop fans. Nothing Was The Same has some grit to it, some thunderous soulful loops that would make sense for someone like Ghostface. Any album on which Birdman shows up to talk shit is automatically hard. But the primary mode here is smooth, sparkling, and melodious. There are plaintive piano ballads that work as showcases for Jhené Aiko (the airy "From Time") and Sampha (the gorgeously melancholy "Too Much"). There are sleek and moody excursions like the midnight-black "Connect" and the marvelously pretty "Furthest Thing," on which feedback bends like light reflecting off a CD. Inevitably, there are also dreary slow jams like "Own It" and "305 To My City," rare momentum-drags on an otherwise sleek and aerodynamic tracklist. Nothing Was The Same is nothing to fuck with, but in a much different way.
From the title on down, one of Drake's fixations on this album is the belief, or at least the hope, that fame and fortune have not altered the kid from Toronto who used to dream of reaching these heights. "I like when money makes a difference but don't make you different," he announces at one point. But throughout, he grapples with the reality that he can't have it both ways. "Nothing really changed, but still they look at me a way now," he laments. "Don't talk to me like I'm famous," he pleads. "I'm trying to get back to that kid in the basement," he told GQ at the time. "To say what he has to say. And I'm trying to make it last."
On that final count, he followed through. Any Drake full-length will have its insufferable moments, but Nothing Was The Same holds up as one of the most lavishly entertaining event albums from a moment when rap was generating event albums with startling regularity. (Even Big Sean's goofy-ass verse is fun!) Less successful was the effort to get back in touch with the old Drake. From this point on, nothing really was the same. Drake had altered the chemistry of popular music, and he'd launched into a dominant run that still hasn't let up. He'd also calcified into the charismatic cornball-creep character who persists on Drake records to this day. Artistically, he lost something circa Views, when his albums started to feel formulaic, overstuffed, and too big to fail. But commercially, every time I think he's going to fall off, he wills his way back to the summit. This time next week, his SZA duet "Slime You Out" will likely be the #1 song in America. A decade after "Started From The Bottom," he's still here.