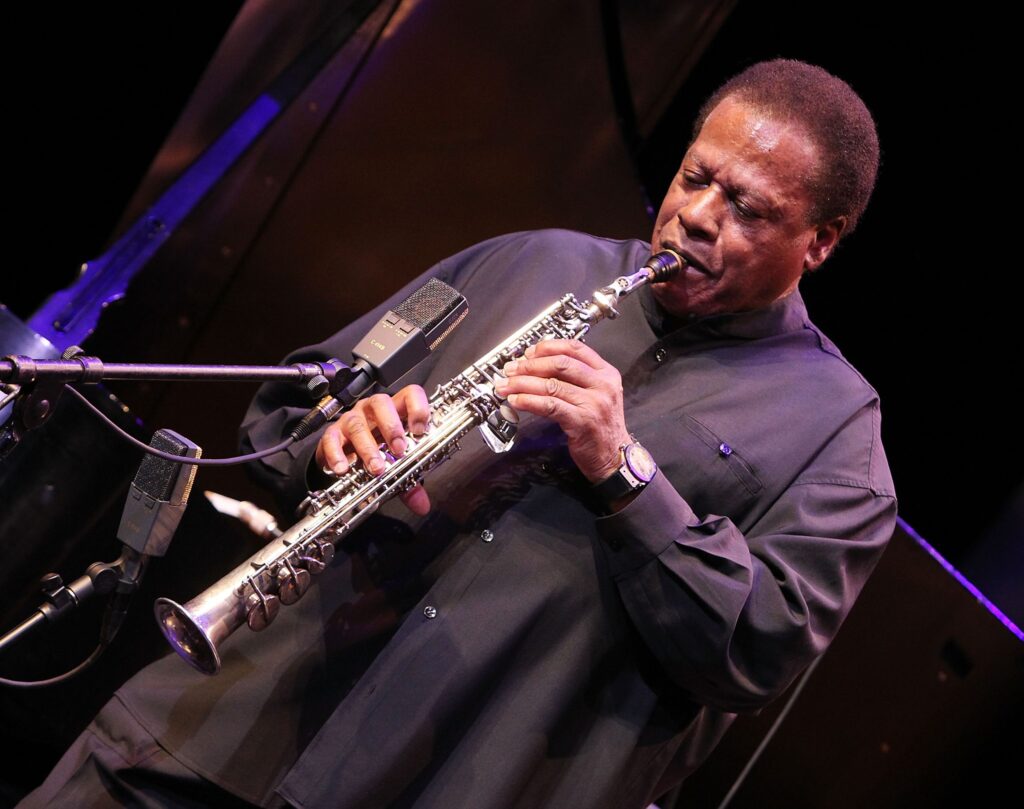 Wayne Shorter — one of the most acclaimed and influential saxophonists in jazz history, known for his work with Miles Davis, Weather Report, and elsewhere — has died. As the New York Times reports, Shorter passed away today at a hospital in Los Angeles. He was 89.
As the Times points out, Shorter was known for his childlike love of mischief and adventure. He loved comic books and sci-fi and was known for the saying, "The word 'jazz,' to me, only means 'I dare you.'" He's widely regarded as one of the genre's greatest improvisers and a fearless stylistic innovator.
Shorter was born in 1933 in Newark, New Jersey. He took up the clarinet while attending Newark Arts High School but eventually switched to saxophone. After graduating from New York University with a music education degree in 1956, he served two years in the Army while continuing to play music, including briefly with Horace Silver. Upon returning to civilian life, he played with Maynard Ferguson before coming to prominence as a member of Art Blakey's Jazz Messengers.
In 1964, he joined Miles Davis' Second Great Quintet alongside Herbie Hancock on piano, Ron Carter on bass, and Tony Williams on drums. The band started out playing hard bop but gradually worked in elements of free jazz; their best-loved recording is the live album The Complete Live At The Plugged Nickel 1965. As Davis moved toward jazz fusion and jazz-rock sounds in the late '60s and early '70s, the Second Great Quintet fell apart, but Shorter continued to be part of Davis' band on influential albums including 1969's In A Silent Way and 1970's Bitches Brew. During his time with Davis, Shorter also performed and recorded his own music for the famed Blue Note Records.
In 1971, Shorter formed the jazz fusion act Weather Report, which he co-led with former Davis keyboardist Joe Zawinul. Playing with a range of bandmates including the massively influential bass player Jaco Pastorius, Weather Report pioneered an eclectic sound that pushed the boundaries of jazz in multiple directions at once. Although building on the work they'd done with Davis, in the context of the new band, Shorter diverged from his dominant, showy playing style in favor of a more restrained and minimal style. Although he stayed busy with lots of outside projects — including a feature on Steely Dan's "Aja" in 1977 — Shorter remained a member of Weather Report through many lineup configurations and stylistic evolutions, all the way up to his departure in 1986 to focus on his solo work.
Shorter's resumé since leaving Weather Report is long and accomplished. He toured and recorded with Carlos Santana and Herbie Hancock, played the sax solo on Don Henley's "The End Of The Innocence," collaborated with Esperanza Spalding on the "operatic" work (Iphigenia), released numerous albums backed by various bands, and won an armful of awards from prestigious institutions.
"Wayne Shorter, my best friend, left us with courage in his heart, love and compassion for all, and a seeking spirit for the eternal future," Hancock says in a statement. "He was ready for his rebirth. As it is with every human being, he is irreplaceable and was able to reach the pinnacle of excellence as a saxophonist, composer, orchestrator, and recently, composer of the masterful opera …Iphigenia. I miss being around him and his special Wayne-isms but I carry his spirit within my heart always."