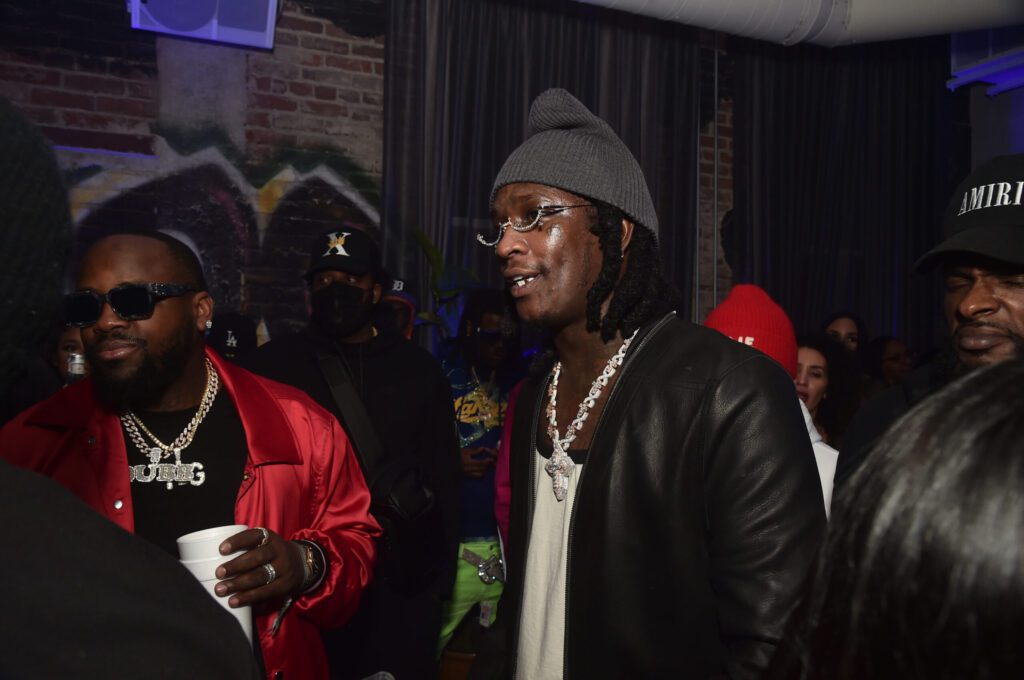 When rappers go on trial, prosecutors often use their lyrics against them as evidence of criminal activity. It's a controversial tactic, one that's been curtailed by lawmakers in New York and California. The argument is that not everything people say in songs is strictly nonfiction and that talk of breaking the law in rap music is often creative license rather than autobiography.
Not everyone agrees with that premise. Fulton County Prosecutor Fanni Willis has argued that she should be allowed to use Young Thug's lyrics against him in the Atlanta rapper's looming RICO trial. "If you decide to admit your crimes over a beat, I'm gonna use it," Willis told reporters last year. "People can continue to be angry about it, [but] I have some legal advice: Don't confess to crimes on rap lyrics if you do not want them used — or, at least, get out of my county."
As Billboard reports, Willis is getting her wish. After holding a hearing Wednesday on whether Thug's lyrics should be allowed as evidence in the case, Fulton County Superior Court Judge Ural Glanville ruled today that the words in the songs will indeed be permissible. Prosecutors are seeking to convict Thug, born Jeffery Williams, of charges including racketeering, possession of controlled substances with intent to distribute, and possession of unidentified illegal guns, and to prove that his Young Slime Life record label and rap crew is actually a criminal gang with ties to the Bloods.
At the hearing, prosecutor Michael Carlson argued that "proclamations of violence" by alleged gang members that are "highly relevant in this case." He added, "The issue here is not rap. This is not randomly the state attempting to bring in Run-D.M.C. from the '80s. This is specific. These are party admissions. They just happen come in the form of lyrics."
Thug's attorney Brian Steel spoke out against the ruling. "They are targeting the right to free speech, and that's wrong," Steel said. "They are saying that just because he his singing about it, he is now part of a crime." In court, Glanville told Steel his argument was wrongheaded. "They're not prosecuting your clients because of the songs they wrote," Glanville said from the bench. "They're using the songs to prove other things your clients may have been involved in. I don't think it's an attack on free speech."
Prosecutors will have to make an argument as to why certain lyrics are relevant to the case. During the hearing Wednesday, prosecutor Symone Hilton highlighted lyrics from Young Thug songs such as 2016's "Slime Shit," specifically quotes about "killin' 12 shit" (a reference to killing police) and "hundred rounds in a Tahoe" (which they argue relates to the 2015 murder of Donovan Thomas). She also cited 2018's "Anybody," in which Thug raps, "I never killed anybody/ But I got somethin' to do with that body," and 2021's "Really Be Slime," where he says, "You wanna be slime? Go catch you a body."
The trial is set to begin Nov. 27 and could continue well into 2024.