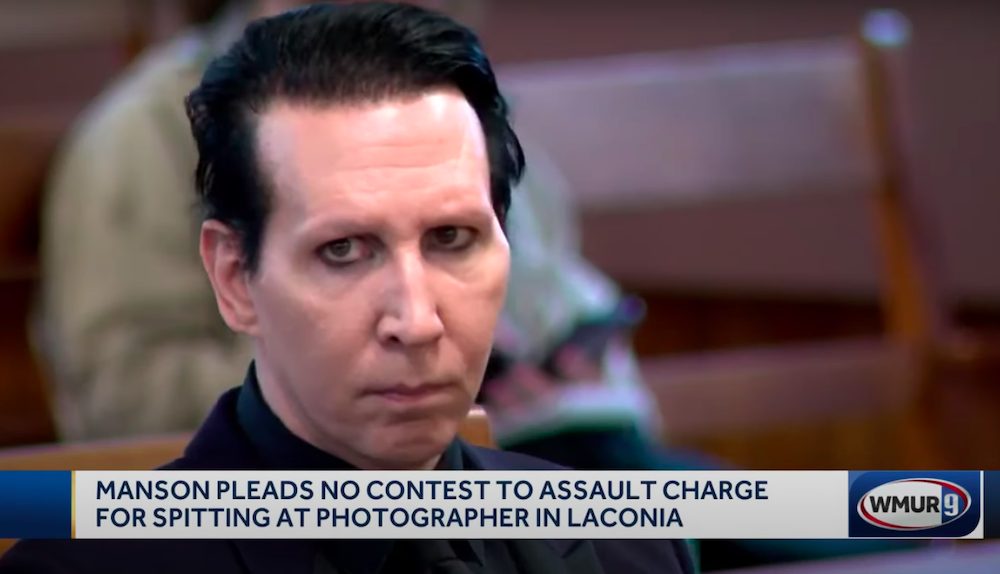 Marilyn Manson has been spending a lot of time in court lately, and most of that has been because of the many women who have accused him of sexual assault. Earlier this year, one of those women recanted her allegations, claiming that Manson's ex-girlfriend Evan Rachel Wood pressured her into defaming Manson. But most of Manson's defamation lawsuit against Wood was thrown out of court in May. The ongoing legal ramifications of those many allegations remain to be seen, but Manson will at least face small consequences for some obvious asshole behavior.
In 2019, Marilyn Manson performed at the Bank Of New Hampshire Pavilion in Gilford while on a co-headlining tour with Rob Zombie. During his set, Manson walked over to the edge of the stage and hocked a loogie at Susan Fountain, a videographer who was photographing the show. A few minutes later, Manson blew a snot rocket at Fountain, then pointed and laughed while she walked away. Fountain pressed charges. As Blabbermouth reports, Fountain filed a victim-impact statement, which was read aloud in court. Here's what she said:
For me, I'm a professional person and I've been in this industry for 30 years. I've worked for a lot of companies, and in all the years I've worked with people, I've never been humiliated or treated like I was by this defendant. For him to spit on me and blow his nose on me was the most disgusting thing a human being has ever done. I understand this was not a big criminal charge to begin with, but I was hoping that the defendant would receive a sentence that would make him think twice before doing something like this again.
Marilyn Manson, whose real name is Brian Warner, originally pleaded not guilty to two charges of simple assault. As the BBC reports, he later agreed to change his plea to no contest. Manson appeared in court yesterday, wearing a suit and vampire makeup, and he was sentenced to 20 hours of community service and $1,400 in fines. When the local news station WMUR asked Manson if he would apologize to Fountain, he said nothing.