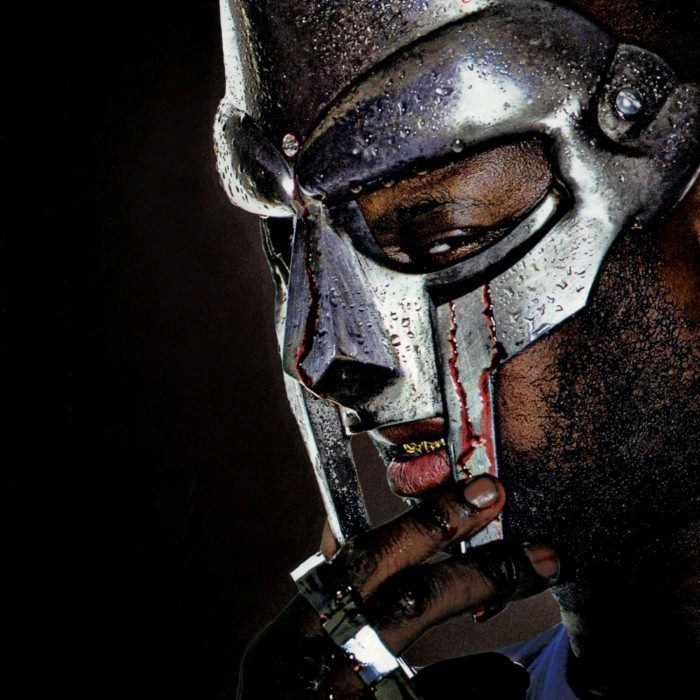 Three years ago, the great indie-rap enigma MF DOOM died at the age of 49. Earlier this week, DOOM's widow Jasmine Dumile Thompson filed a lawsuit against Eothen "Egon" Alapatt, the former general manager and A&R rep of the indie label Stones Throw Records, for allegedly stealing 31 of DOOM's notebooks, which include lyrics that he wrote for classic albums like Madvillainy, Operation: Doomsday, and Mm.. Food.
Billboard reports that Thompson filed her lawsuit against Egon on Tuesday in California federal court. Thompson claims that Egon took DOOM's notebooks after DOOM was barred from reentering the US. In 2010, DOOM, who'd been born in the UK but who'd grown up in the US, left for a UK tour, and he was prevented from returning to the US because of an immigration issue. As a result, DOOM spent the last decade of his life in London, essentially living in exile. DOOM left his 31 notebooks behind in his Los Angeles studio. In addition to DOOM's handwritten lyrics for his well-known songs, Thompson claims that the notebooks included unreleased song ideas and "other creative ideations."
According the the lawsuit, Egon "took unlawful possession" of DOOM's notebooks six years after DOOM was prevented from returning to Los Angeles: "Alapatt never consulted with DOOM about his acquisition of the notebooks and took advantage of DOOM's being out the country to obtain them." Thompson claims that DOOM confronted Egon over the notebooks and that Egon first denied having them. Later, DOOM allegedly learned from the studios' landlord that Egon did have the notebooks, and Egon allegedly admitted to having them.
The lawsuit claims that Egon said he got the notebooks because DOOM owed $12,500 in overdue studio rent. According to Thompson, Egon claimed that he paid the back rent on DOOM's behalf and that the landlord would've otherwise seized and destroyed DOOM's property. (Egon had a longstanding relationship with DOOM. Madvillainy came out on Stones Throw, and Egon is also Madlib's former manager and the founder of Now-Again Records.) Egon allegedly claimed that the notebooks then became his property. Thompson also says that she suspects DOOM didn't actually owe any rent and that Egon simply paid the landlord that money to buy the notebooks outright.
The lawsuit claims that DOOM tried to get his notebooks back from Egon in 2020. Egon allegedly offered to send DOOM scans of the notebook pages while keeping the physical books for himself, and DOOM allegedly refused that offer. Just before DOOM's death, Egon allegedly sent DOOM a hard drive with scans of every notebook. Earlier this year, Thompson posted emails between DOOM and Egon on DOOM's social-media accounts, writing, "Egon Give The Notebooks Back."
Thompson's lawsuit claims that Egon is now demanding that the notebooks should be "donated to a university or government archive" or "museum or other institution of [Egon's] choosing." Thompson claims that Egon was in talks to sell DOOM's notebooks to unnamed potential buyers and that he shared the notebook scans with people other than DOOM. The lawsuit also claims that DOOM intended for the notebooks' contents "to be secret and confidential" and that Egon committed copyright infringement by sharing the scans with other parties: "Although Alapatt has professed that he 'does not intend to publish' the unauthorized digital copies he made, he does not have to 'publish' the copies of his infringing copies to be liable."
Along with copyright infringement, the lawsuit accuses Egon of "fraud, conversion, unjust enrichment, constructive trust, and declaratory relief." Jasmine Dumile Thompson is demanding the physical copies of the notebooks, the destruction of the scans, and "significant compensation." She's seeking a jury trial.
In a statement to Billboard, Egon's lawyer Kenneth Freundlich says:
Mr. Alapatt looks forward to his day in court to dismiss these frivolous and untrue allegations. Mr. Alapatt rescued these books from DOOM's unpaid landlord who had taken possession of all of his belongings. With DOOM's blessing, Mr. Alapatt intended to donate the books to either the Smithsonian or the Cornell University Hip Hop Archive, where they could be considered and studied by scholars, in the same way that manuscripts by great poets or sheet music by great composers are. Mr. Alapatt will do everything he can to ensure that these historically significant books are archived and protected.
Earlier this year, Jasmine Dumile Thompson said that DOOM was given shoddy medical treatment in a London hospital, implying that this could've led to his death. Every new thing that we learn about DOOM's passing makes the whole thing feel even sadder and more frustrating.