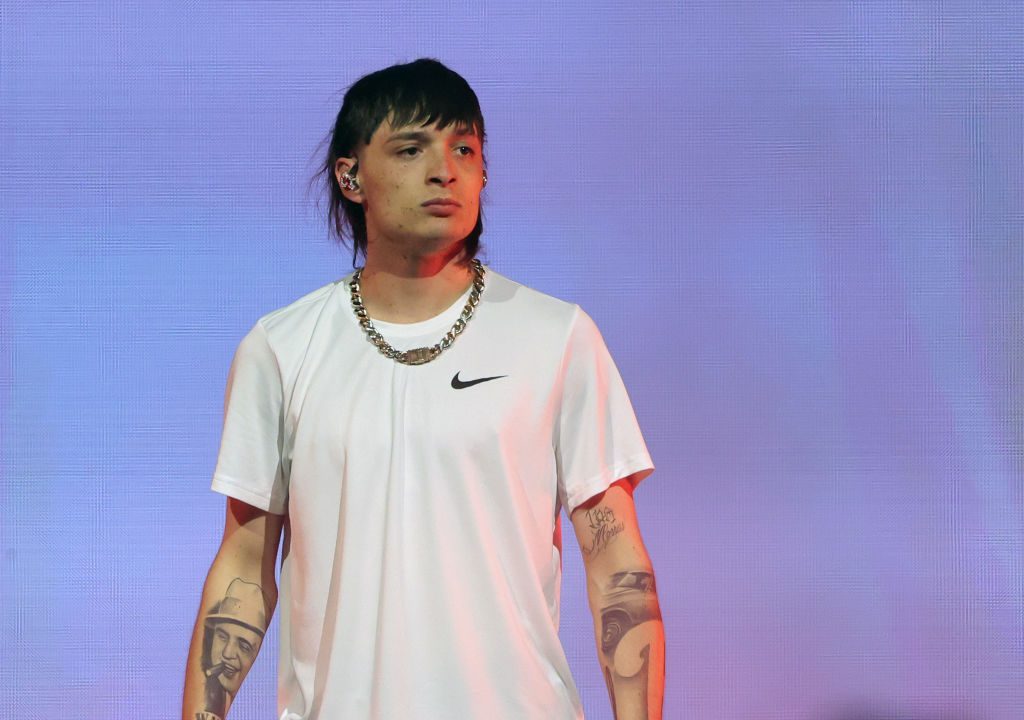 In the past year, the Mexican singer Peso Pluma has become a huge breakout star on the American charts, as the loose grouping of genres known as regional Mexican music has exploded in popularity. But success doesn't always bring security, and now Peso Pluma has been forced to postpone or cancel a number of shows in both Mexico and the US. The reason: Threatening banners, apparently issued by the Cartel Jalisco Nueva Generación, have appeared in Tijuana.
The New York Times reports that the banners, known as narcomantas, were addressed directly to Peso Pluma, who was scheduled to play a stadium show in Tijuana 10/14. In Spanish, one of the banners says, "This is for you, Peso Pluma. Refrain from appearing this October 14. Because it will be your last presentation." It's signed with the initials of the Cartel Jalisco Nueva Generación, or Jalisco New Generation Cartel, a major drug cartel in Mexico. The banners accuse Peso Pluma of being "disrespectful and loose-mouthed."
Peso Pluma comes from Zapopan, just outside Guadalajara, and he specializes in corridos tumbados, a modern streaming-era evolution of the mythic drug-trade songs known as narcocorridos. Specifically, Peso Pluma has appeared on several songs dedicated to the incarcerated drug lord known as El Chapo. The Cartel Jalisco Nueva Generación has recently emerged as a rival of the Sinaloa Cartel. Other corridos tumbados artists, like the Peso Pluma collaborator Nathaniel Cano, have reportedly faced similar threats. Over the years, other Mexican musicians, including Valentin Elizalde and Chalino Sanchez, have been murdered.
One person, found near the banners, has reportedly been detained on drug and terrorism charges. Tijuana mayor Montserrat Caballero, who's currently living in military headquarters after one of her bodyguards was attacked, says that the Mexican authorities are investigating the banners. But in a radio interview last week, Caballero also said that musicians like Peso Pluma are actively stoking the ire of criminal organizations: "Let's be clear: They sing and make an apology of crime, and thus they should know the risk and consequences."
As the Times reports, Peso Pluma has cancelled that planned Tijuana concert. It's the second Tijuana show that Peso Pluma has cancelled this year. He also postponed shows in Milwaukee, Chicago, Indianapolis, and Birmingham.