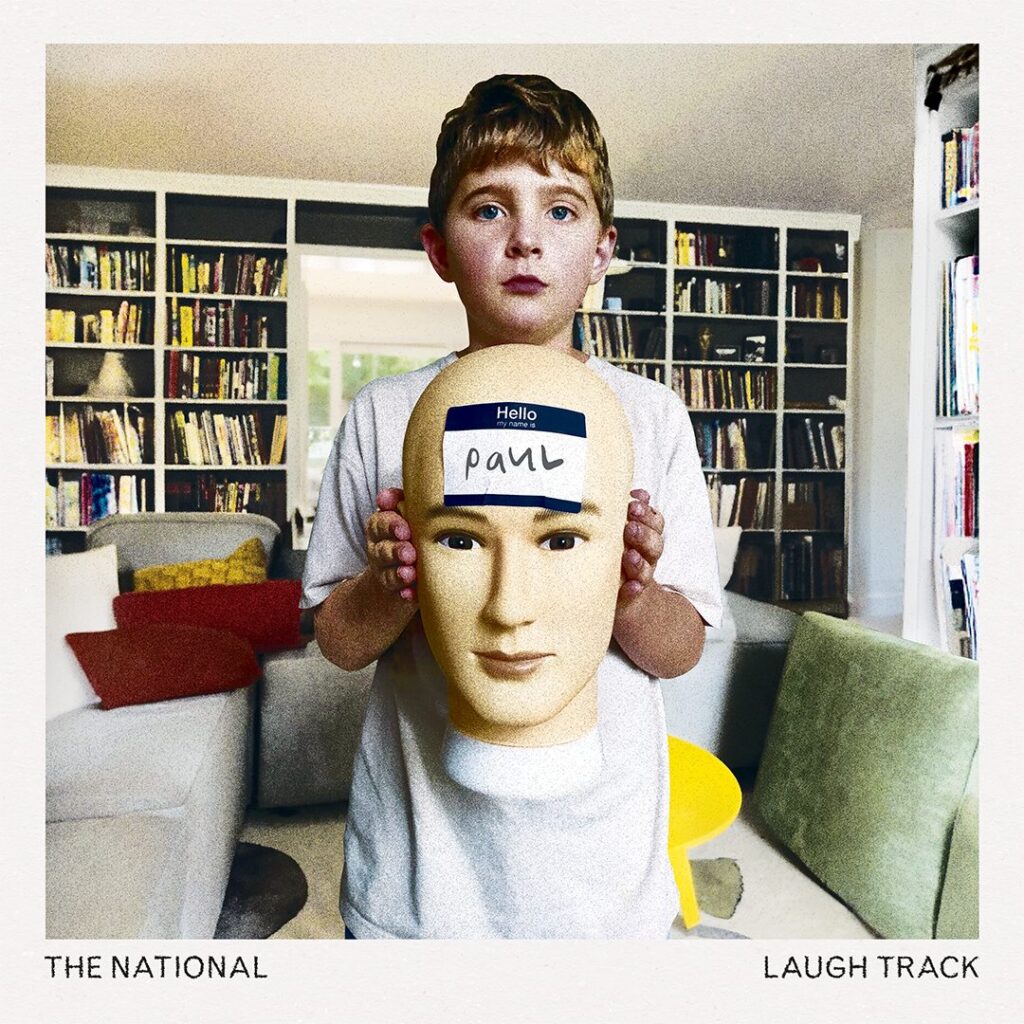 It was already a momentous occasion. Five years after their inaugural Homecoming festival, the National were returning to Cincinnati for a long-awaited second installment amidst their big comeback year. This time around, they had a lineup that illustrated the band's stature and reach: an icon like Patti Smith, revered forebears in Pavement, peers on their own comeback streak with a reunited Walkmen, beloved younger artists like Bartees Strange and Snail Mail. The National headlined both nights, marking anniversaries for both High Violet and Trouble Will Find Me by playing them in full. It was an event in a lineage of events for 2023 — selling out Madison Square Garden, releasing their first album in four years. Then, from the stage, they announced there would be another new National LP dropped into the world on Monday.
The existence of Laugh Track wasn't a complete secret anymore. The band had been debuting new songs onstage and had unveiled "Alphabet City" and "Space Invader" as singles. Then, a month ago, a tracklist leaked online, later followed by cover art. Bryan Devendorf basically admitted everything in an interview last week, and on the first day of Homecoming, fans were able to purchase white label records of Laugh Track.
During the First Two Pages rollout, the band talked about how, really this time, the album had brought them back from the brink of collapse, shook them from a rut, a dormancy. They talked of revitalization. And now they've made good on that word, at least in terms of prolificacy, releasing two albums in the span of five months. In the spring, the National said there had been enough material to consider making First Two Pages a double album, but artists often say things like that. This time, hints that the whole story hadn't been told turned out to be true. Now, suddenly, the second part of it has arrived.
The National had received an especially divided response to First Two Pages Of Frankenstein. Despite the band framing it as an "ultimate" National album, despite songs that were basically platonic ideals of everything the band is known for, the finished product was a quiet, sometimes inert affair. Laugh Track, then, is a funny prospect: a gift to fans likely imagined as a victory lap, but also functioning as something of a do-over. At the same time, Laugh Track is inherently lower stakes. It's the second installment of the big return, and it isn't as weighty as First Two Pages. This is mostly an advantage. Across much of Laugh Track, the National sound looser — more alive — than they did on its predecessor.
With most of the material emerging from the same sessions that begat First Two Pages, Laugh Track is plagued by some of the same problems. It still travels that "ultimate National" path, which may be appealing for fans who didn't embrace the experimental flourishes of Sleep Well Beast and I Am Easy To Find, but finds the National in a comfort zone that sometimes smacks of reversing the evolution seen prior. This is a more predictable National. Meanwhile, something has happened with Aaron Dessner's production. Where Sleep Well Beast and I Am Easy To Find sounded rich and muscular, he has returned to a style that often flattens the band, burying some of the most interesting elements of a song deep in the mix.
Despite those qualms — which feel more minor here than on First Two Pages — Laugh Track does succeed with much of the National's stated intent. These songs were finished in a furious burst, workshopped further on the road, and meant to capture the sound of the band live as they exist today. Things are certainly still more restrained in the studio than onstage, but the renewed emphasis on Bryan's drums helps drive an overall spritelier collection of songs. The band knew First Two Pages was not exactly a breezy listen: In various interviews, Matt Berninger talked about keeping the album short because some of the songs were like "medicine." Thematically, he's still wrestling with the same demons on Laugh Track, but musically the band carries him through an album that is overall more dynamic and vibrant.
Sometimes I think I'm being fooled by the album's closing one-two of the country-tinged "Crumble" and the unspooling snarl of "Smoke Detector," but in many ways the National outing Laugh Track reminds me of most is Sad Songs For Dirty Lovers. There is a ranginess we haven't seen from them in some time, a willingness to present an album that has loose threads but also plays like a grab bag of ideas: "Weird Goodbyes," once a standalone single, clearly fits in with the mood and sheen of First Two Pages, but it sits alongside the horn-laced "Hornets," a sideways drunk ballad that almost sounds like Cherry Tree filtered through "Pink Rabbits." Even the vault-emptying I Am Easy To Find had a pristine shimmer across the board, plus a conceptual conceit given the album's symbiotic relationship with the Mike Mills short film created in tandem. Laugh Track isn't quite as unruly as the band have presented it in press materials, but they do allow things to remain mismatched, just a touch rawer. All of this is to the record's benefit.
As the less burdened second installment, Laugh Track stretches out and enjoys the ride more, which makes it an easy, simple joy for longtime National fans. The album's first half, in particular, keeps things moving, from the classic National autumnal rush in "Deep End (Paul's In Pieces)" and "Turn Off The House" to "Dreaming," a rare moment of true newness across the two albums. Described by Berninger as a "dystopian informercial" about losing sense of yourself via online avatars and projections, the song is like a sinister lullaby. Berninger coos a chorus against little synth layers glimmering in the distance, mimicking those moments where you are caught between sleep and waking.
Not everything is an essential addition to the canon: While "Deep End" feels as if it could be on almost any National album in a good way, "Coat On A Hook" is a non-entity ballad that feels as if it could be on almost any National album in a bad way. Mostly, the band avoids that pitfall, steering clear of any slow jams too leaden or repetitive. There's the aforementioned lope of "Hornets," the gentle earworm of "Tour Manager." The Rosanne Cash duet of "Crumble" rivals "The Alcott" as a surprising pairing that works from deep within the National's wheelhouse while also expanding it. Yet another Phoebe Bridgers collab, the title track moves far more nimbly than Frankenstein's suffocated "This Isn't Helping" and "Your Mind Is Not Your Friend," even while grappling with some of the same ideas. "Turn on the laugh track," they sing in the chorus. "We'll see if it changes the scene."
While you can find little moments of sunrise on either album, most of Laugh Track still depicts the debilitating depression Berninger struggled with before and during the band's attempts to make new music. Once the writer's block broke, the floodgates opened, and this album has the same abundance of bad times, bleak punchlines, and stray memories. Laugh Track opens with an affirmation of new beginnings, a rejection of the past, with a song titled "Alphabet City" and Berninger promising "I don't miss the world, not the way it was." Yet many of his most poignant moments here are little resurrections to remind him how he got here, how he became this person. "Memorize the bathwater, memorize the air," he opens "Weird Goodbyes. "There'll come a time I'll wanna know I was here."
This impulse is at its clearest and most powerful in "Space Invader," the sprawling centerpiece of Laugh Track. "What if I'd never written the letter/ I slipped in the sleeve of the record I gave you/ What if I'd stayed on the C train until Lafayette/ What if we'd never met," Berninger wonders, a different kind of accounting than what happened during the imagined divorce of "Eucalyptus." He returns to how chance leads us to some of the most profound changes and meetings of our lives, and later these possibilities descend on him like the titular space invader. The second half of the song is a heaving instrumental extension of it all, an onrush of memory that can sound sublime — or like a drowning.
In most cases, we're getting new colors to flesh out an arc already established by First Two Pages, where the tender and earnest "Send For Me" signaled a re-centered Berninger fronting a reconnected National after all the other trials along the way. That works for most of Laugh Track: Deleted scenes, rougher but in some ways more evocative. Then there's a final epilogue in "Smoke Detector," the song that spurred the band on to complete the album.
"Smoke Detector" began life as a soundcheck jam, and much of what we hear now is what happened that night — down to Berninger's improvised, free-associative lyrics. Dessner told him he wanted to keep it like that, which was a guiding principle for the song: Let it be messy, let it be a sketch, let it be its moment. For all the band's talk of making some loud rock music, they finally approached it with the tangled, gnarled guitars and simmering tension of "Smoke Detector." It's the band as an organism, all propulsion and few adornments. The song is the biggest left turn this group has taken this year, and it feels like the rebirth they've been selling. It leaves you wanting to know where they could go from here.
Laugh Track, for now, is almost defined by "Smoke Detector" and the spirit it imbued the band with as they completed the album. It is the woolier part two, which ironically speaks to the space the band claimed to be in all along. In the staid rhythms and anodyne polish of First Two Pages, the National had not reclaimed the austere existential crises of Boxer nor the confident grandeur of Trouble Will Find Me, but instead made themselves sound a little detached. Now you can hear a journey, perhaps. It's as if First Two Pages still takes place in the moments when the band was fragmented, when Berninger was struggling, and Laugh Track finishes the sentence. Taken together, the two still sound like the beginning of something rather than a full stop. But by the end, in the wild-eyed ellipsis of "Smoke Detector," you can start to hear the National waking up to a new day.