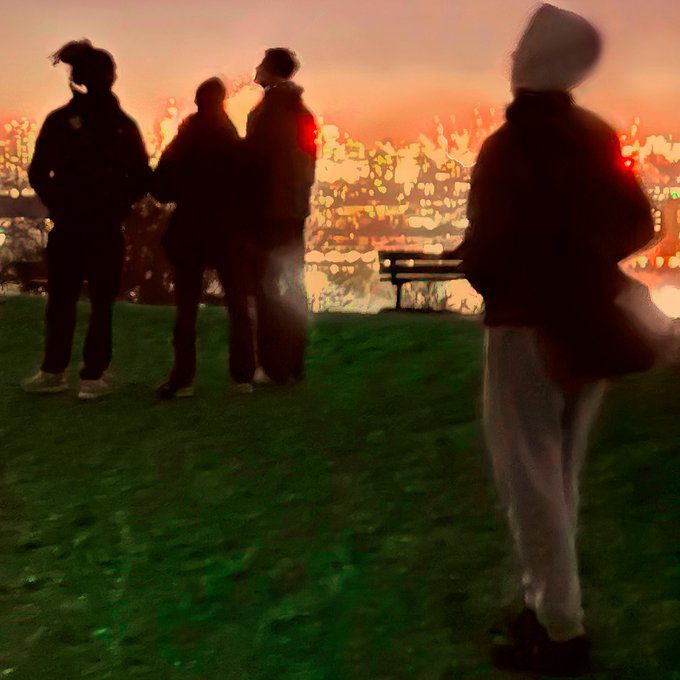 Everything's coming up Fred Again.. The DJ and producer born Frederick Gibson was already establishing himself as a mainstay of UK pop and rap in the 2010s, but in the 2020s he's risen to the level of marquee artist, in part thanks to his own Actual Life album series. This year Fred's been frequently aligned with Skrillex and Four Tet, with whom he headlined Madison Square Garden and closed out Coachella's second weekend as last-minute substitutes for Frank Ocean. And now Fred has released an album in collaboration with none other than Brian Eno, a titan of modern music who has been mentoring him for years.
Secret Life, the ambient new Fred/Eno album, is out today via Four Tet's label Text Records. Four Tet calls it "the most beautiful album of 2023." Leading up to the release, the lot of them have been broadcasting nightly at 10PM UK time from an online radio station conceived especially for this occasion.
Last year, speaking to Apple Music, Eno expressed his deep admiration for Fred:
I have to say, and this is not modesty or false flattery or anything like that, I think of Fred as my mentor as well in that I learned so much about contemporary music from watching him working. When I first worked with Fred, I could see he was brilliant. It's very clear, he's a very, very sensitive and good artist and I was very impressed by that. But I didn't really understand a lot of what he was doing. It took me quite a while to think, "Oh my gosh, this is really a new idea about how you can make music." So I learned a lot from him. So it's a two-way relationship. I mean, I'm very flattered to be called a mentor of someone whose work I like a lot. But actually it worked both ways around. I started listening to music differently when I watched how Fred was making it. He's often recording on his phone, and he's often recording in quite noisy places, and he doesn't clean everything off. So in every piece of recording, there's a context comes with it as well. The sound has a history built into it. He's actually letting it pour through his art and through his spirit.
Stream Secret Life below.
Eno has also shared a three-hour version.
Secret Life is out now on Text Records.