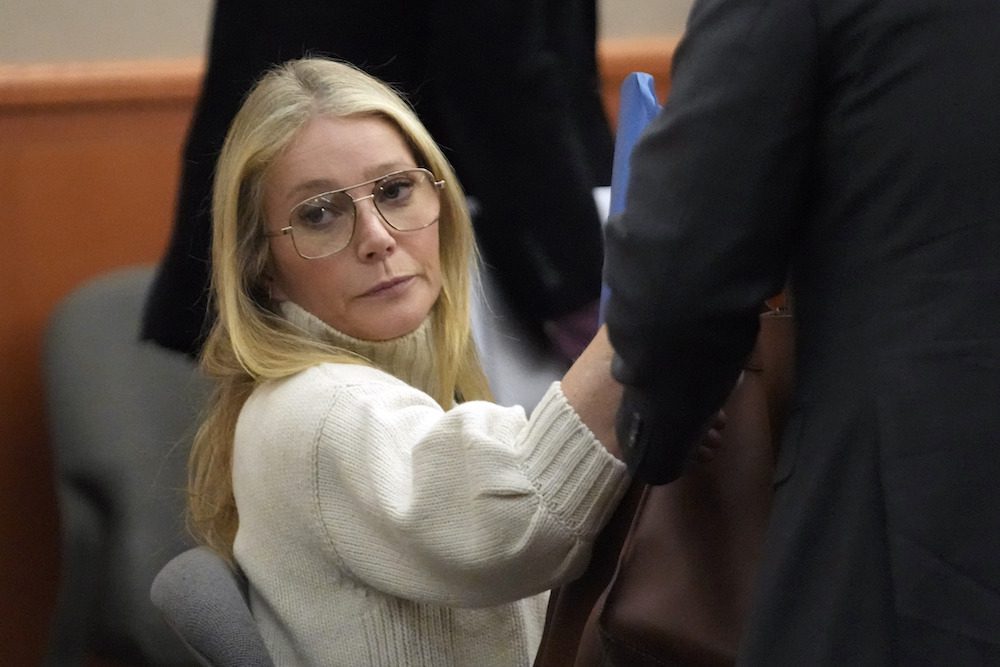 Gwyneth Paltrow is currently undergoing a civil trial in Utah around a 2016 ski accident in which a retired optometrist named Terry Sanderson has accused the Goop founder of crashing into him on the slopes, resulting in "several broken ribs and a brain injury." Paltrow has countersued for a symbolic $1 (plus attorney fees), maintaining that it was Sanderson who ran into her. So you might be asking, what's Taylor Swift got to do with any of this?
Yesterday, Paltrow took the stand and was questioned by Sanderson's lawyer, Kristin VanOrman, who brought up Swift's $1-in-damages 2017 sexual assault trial against radio host David Mueller. VanOrman asked Paltrow if she'd taken inspiration from Swift's $1-in-damages ask and if the two women are friends. Paltrow replied that she and the singer are "friendly" but not actually "good friends" and that she's taken her kids to see Swift in concert before.
VanOrman then brought up a Goop holiday gift sent from Paltrow to Swift, which the judge appeared to deem irrelevant. (VanOrman's line of questioning was taken from a 2021 Goop ad where Paltrow is seen arranging gift bags for some of her "friends," some of whom get vagina-scented candles, while others, like Swift, get a vibrator. We don't actually see Paltrow shipping those gifts, though — just sayin'. It's possible Swift never actually received her Christmas vibrator.) Either way, I'm assuming that Swift would very much like to be excluded from this narrative, and frankly I wouldn't blame her.