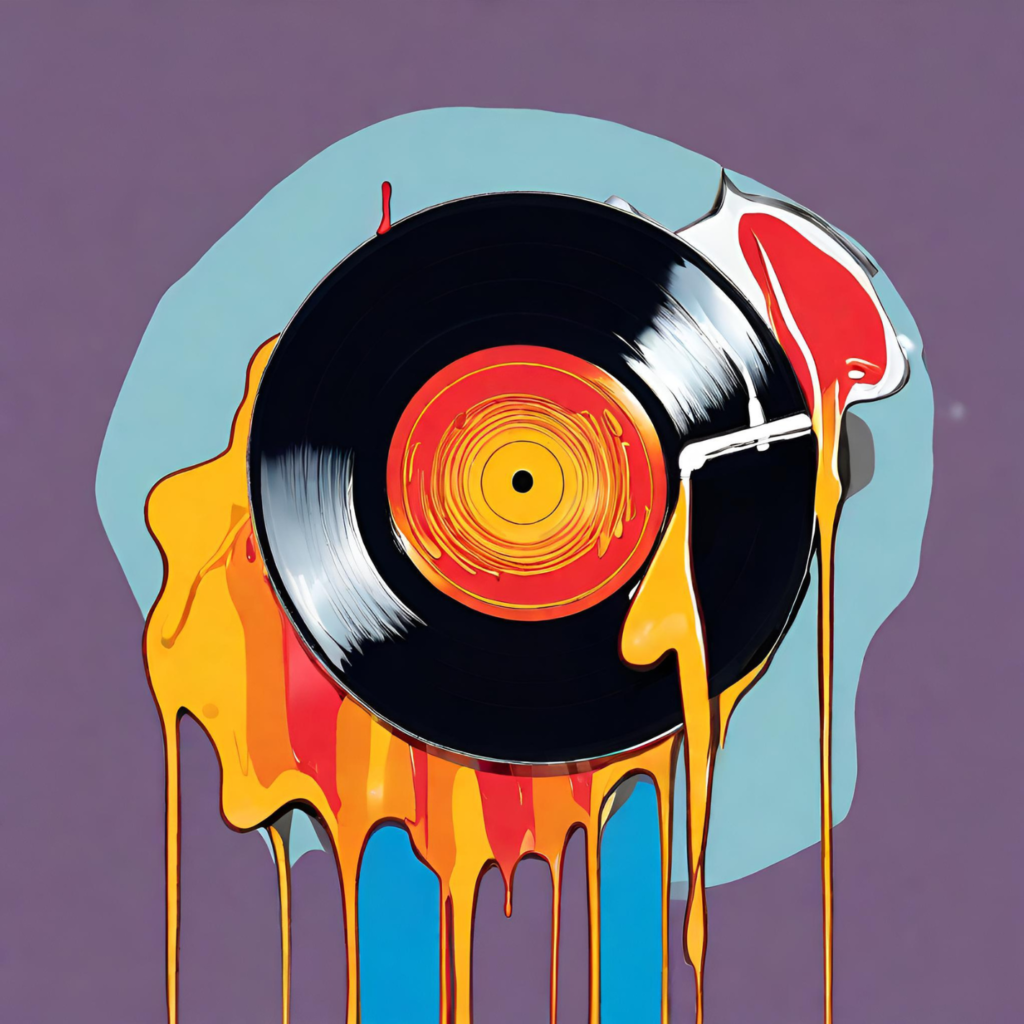 On May 19, Paul Terzulli, a retired DJ with an enviably rare vinyl collection, made a surprising announcement: He planned to stop selling his records on Discogs. For more than a decade, Terzulli relied on the online marketplace to supplement his income. But it no longer felt worth it.
The tipping point came in late April, when the company informed sellers that it was increasing its selling fee (the cut Discogs takes from each sale) from 8 to 9% and encouraged sellers to raise their prices accordingly. Though it seemed like a small increase on paper, the hike would substantially impact record dealers' already thin profit margins. Moreover, Discogs would also be applying the fee to shipping costs, something it hadn't done previously.
"That didn't really sit right with me, because they don't have any involvement in that," says the UK-based Terzulli, an expert in jungle and drum 'n' bass records who's sold around 2,000 records on the site since 2007. "Just around the world, shipping was more expensive. We had Brexit here, which made it harder to sell to Europe. It gets to a point where it's more hassle than it's worth." Terzulli knew he could pass the inflated price onto his customers, but he didn't want to. Just calculating the fluctuating costs felt onerous. "It's becoming more of a thing where, if you're not doing it as your full-time income, you end up losing money."
In the last two decades, Discogs has become a central hub to vinyl collectors, thanks to its inventory of more than 62 million items and a vast, user-generated database of information on vinyl records. In 2021 alone, the company claims it sold 17.8 million pieces of music. "I would tell friends of mine who were looking for rare records, go there first," says Damien Facobbre, a Chicago-based collector. "If it exists, it's gonna be there."
Yet Terzulli's frustrations reflect a growing discontent among many small-time Discogs sellers, who say that the fee hike, along with the new shipping fee, has jeopardized their ability to turn a profit without gouging their customers.
"I would wager I actually lose money on most shipments when my costs for mailers and tape are factored into the total I charge for shipping records," says Steve Visteen, another Chicago-area collector who's been trying to sell records to which he no longer feels emotionally attached. When Visteen, who ships two or three records a month, received an email from Discogs in May encouraging sellers to entice customers by offering free shipping, he found it insulting. "I cannot absorb shipping fees based on Discogs' belief that free shipping is a sales booster. If I were to follow Discogs' advice, I would be obligated to eat shipping costs that have been increasing with every passing month." (Such complaints seem real to me, because — full disclosure — I've been an occasional Discogs buyer and seller since 2018. Over the years, I've sold approximately 27 records and CDs on the site.)
The pain has been especially acute for international sellers who've long made a business of shipping records to foreign countries. Max Stei, a.k.a. "Maxwelll," a seller based in Bonn, Germany, gripes that the European Union has made it mandatory to purchase packaging licenses (essentially, fees that pay for the collection, sorting, and recycling of the packaging), which has eliminated his sales to most EU countries. The new Discogs fee only adds to his woes. For much of his lower-priced inventory, the cost of shipping far exceeds the value of the item itself — for instance, a Giorgio 7″ will run American buyers €4.00, plus €9.50 shipping. Such a cost may not seem prohibitive, but it adds up, particularly for sellers who make Discogs a major component of their income.
"The fact that fees are also charged on shipping ultimately results in horrendous price increases for the end customer. My forecast is that the sales will continue to decline as a result of the fee increases, so that all parties will have disadvantages," Stei tells me in an email. "Customers buy less, sellers lose sales, the marketplace collects fewer brokerage fees."
In response to Discogs' moves, some indie labels are shifting their business models. In Amsterdam, Sietse van Erve, the founder and owner of the small experimental label Moving Furniture Records, recently decided to pull his label's inventory down from Discogs. He plans to continue using Discogs to sell records from his private collection, but when it comes to Moving Furniture, he'll stick to Bandcamp, though the company's recent sale and the layoffs that followed have made him nervous about the future. Leaving Discogs is a significant decision for a small business, and van Erve expects to lose some sales in the short term. If Bandcamp further degrades, he says he may start his own shop on his website.
"It's a shame," says van Erve, who is also a musician. "I noticed that if I was selling the music [on Discogs] for the same price as on my Bandcamp page, I was actually making a loss considering production costs. Some CDs and some vinyls, I would only have about three or four Euros after all the fees. I can't run a business like this."
"It used to be really OK," van Erve adds. "It used to be like 7 or 8% and that was it. There was no PayPal fee, there was nothing special. Now, I don't know what they're doing, but it's gone up like crazy."
Such sentiments have lit up the Discogs marketplace forum, which first erupted when news of the fee hike reached community members in early May. Some sellers speculated that Discogs would eventually begin charging to list items. Others tentatively defended the changes ("If this fee increase keeps Discogs afloat then I am happy with it"). Most were wary of how the marketplace might be changed.
"This will really kill small orders," wrote one Sweden-based seller. "Will Discogs be informing the buyers that the days of ordering a single cheap CD or LP are over?" A haze of disappointment lingered over the thread. As one Glasgow-based seller put it: "I thought Discogs was better than this."
***
Long before it was treasured by music obsessives as a nerdier, collector-driven alternative to Amazon, Discogs was a record database launched in 2000 by Kevin Lewandowski, a young programmer and music fanatic who wanted to chronicle his collection of electronic records. (As legend has it, he initially ran Discogs out of a server in a closet.) Lewandowski, the site's sole owner and CEO, didn't set out to build an online retailer. But when he noticed his users were informally buying and selling records through private messages, he acted accordingly.
"When we launched the marketplace in late 2005, it was pretty clear within the first year that it was going to be big, and that that was where I should focus revenue-wise," he later told VICE.
The prophecy came true. By 2015, nearly $100 million in records were being sold on Discogs annually. That year, Lewandowski told the New York Times that the company was comfortably profitable thanks to its 8% fee on sales.
Today, independent record stores routinely use Discogs — both to determine pricing and to supplement their in-person sales with online orders — and the site periodically makes headlines when an ultra-rare record sells for thousands. Its marketplace remains a mecca for collectors seeking rare items hard to find at a local shop, whether it be a first-pressing Judee Sill LP or an early Nirvana 7″.
The site's user-generated database is what makes Discogs essential, but it's also central to understanding a certain resentment among its longtime sellers, which has been exacerbated by the new fee: They built the company's knowledge base with their uncompensated time and expertise, and now they feel stiffed. "This is a site that relies on its userbase to populate it," says Jim Goodwin, a seller based in Virginia, who suggested on Twitter recently that Discogs sellers could go on strike. "This is populated and run by essentially the people who use it."
Tension can bubble up between the demands of the database and the demands of the marketplace, and executives sometimes seem to regard those community members with confusion or contempt. Sources say Lewandowski, the longtime CEO, is a knowledgeable music fanatic who shies away from the spotlight and takes a hands-off approach to running the company he started. "The long and short of it is that the CEO of the company has been mostly nonexistent," says a former Discogs employee, who spoke to Stereogum on the condition of anonymity. "There were six or seven people in charge of the company. The CEO-in-absentee let a bunch of senior executives who were just there to line their pockets come in."
Though its marketplace boasts sellers around the world, Discogs remains a US-based company that caters disproportionately to English-speaking collectors. That's been a weakness, some say, as the Discogs marketplace remains surprisingly small in some foreign countries (France, for instance) with ample record stores. Efforts to expand internationally have been haphazard and questionably executed. Around 2018, senior leadership recommended that Discogs move into certain foreign markets, including Mexico and South America.
"What the senior leadership decided was that Discogs should not personally hire out a team of employees to do that work but should contract with a third party," the former employee says. "It just so happens that the third party was created after that decision was made, and the owners of the third-party company were two Discogs executives."
Discogs declined to comment on this anecdote or any of the other allegations of mismanagement outlined above.
***
In recent years, as vinyl sales have surged and the format has gained surprising popularity among Gen Z pop fans, one might assume Discogs would be flourishing economically. But recent decisions at the company, including the unpopular fee increase, suggest otherwise. In late 2022, sources say the company laid off around a dozen staff members, some of whom were longtime, trusted employees. Then, in January, the company shut down VinylHub, a mobile database of record stores that was treasured by Discogs users but which never brought in much money for the company.
One theory behind the site's woes is that, in recent years, Discogs has struggled to ride the wave of the poptimist vinyl boom. Young Taylor Swift fans are happy to drop $44.99 for a re-recording of an album they already own, but they're buying them from retailers like Target, not Discogs, which caters to an older, perhaps snobbier clientele. (Mass-market retailers like Target and Walmart reportedly saw their vinyl sales increase by 361% between 2019 and 2022.) Meanwhile, the Zoomer enthusiasm drives up the price of newly released LPs, which may frustrate more seasoned vinyl enthusiasts and dissuade them from buying albums.
"There's been, over the last two to three years, a completely new generation of people buying vinyl records, and those people are not on Discogs," says the former Discogs employee. "I think that's part of the pain that Discogs is feeling."
The issue has been compounded by issues with Discogs' customer service, which lags well behind competitors like eBay. That makes the site more vulnerable to scammers, who've flooded the marketplace in recent months with fake listings and account hackings. Lengthy Reddit threads have cropped up advising buyers on how to spot a scam.
In April, Discogs announced that it was taking steps to deal with the increase in scammers, such as requiring new sellers to undergo a waiting period. But the disheartening customer service has hurt the company's goodwill with longtime users. Facobbre says he once bought an exclusive 12″ Madness single that was falsely described as near mint.
"I contacted the seller in England," Facobbre recalls. "He was very kind in his reply, said, 'I'm gonna send you another one.' He never did it and refused to acknowledge any further messages. When I contacted Discogs, they completely ignored me. As a seller there, I have never had bad luck with anybody. But when it comes to buying, there's so much fraud and dishonesty and Discogs completely shoves it to the side."
Insiders say the company has been understaffed in customer service and routinely failed to make it a priority. Instead, monetary resources were drained by technical problems, such as an inflexible code base and a user experience that has scarcely been updated in years.
"Discogs used to be a trusted community. And one fringe benefit was that it was cheaper," says the former Discogs staffer. "Now, not only is it not cheaper, but it's worse by a lot. And the customer service has degraded to the point that it's almost nonexistent. Honestly, that's no fault of the staff there. The actual customer service people, they were fucking killing themselves to do a good job."
According to this source, Discogs was long plagued by a culture clash between passionate music experts and the under-qualified executives calling the shots.
"When people would complain, usually there was a round of very strategic layoffs," adds the former employee. "There had essentially become a rift between people who really believed in Discogs as a mission, and who were fans of music and cared about the database and the marketplace and serving the community. Then there were the people who knew nothing about records, who just wanted to line their pockets. There was a bit of a cold war between those two parties. Whenever they let people go, it would usually be the people who were complaining the loudest."
A second former employee — who also requested anonymity — confirms that Discogs had "a concerning pattern of letting go of both managers and employees who didn't align with the leadership team's vision."
The person adds, "The decision to fire some of the most dedicated individuals who embodied the values and essence of the community we were meant to serve was truly disheartening."
***
Rumors of Discogs' implosion erupted on Twitter on July 17, when musician and label founder Mike Simonetti, a member of the techno duo Pale Blue, posted a lengthy thread about the company's woes and the drama surrounding the fee increase, which he claimed had caused sales to come to a halt for many sellers. "Discogs adding fees to shipping was a terrible idea," he wrote. "They basicially [sic] leveled the playing field with Ebay." He also described the pervasive scams and the mass layoffs.
The thread contained some exaggerations and half-truths. Simonetti claimed that Discogs had a new CEO poached from Vinyl, Me Please (in fact, Lewandowski is still CEO; VMP's former president was installed as Discogs' COO) and speculated that the company would soon be sold (Lewandowski has said he has no interest in selling it). Simonetti later deleted the entire thread; he declined to be interviewed for this article.
But the tweets tapped into a sense of uncertainty and unease among Discogs users, and they went viral in the music community. Most ominously, Simonetti argued that the fee increase would have a ripple effect in the record industry, since many stores rely on Discogs to set their own pricing.
"I think anybody who collects records is very frustrated with how expensive records are getting," says Goodwin, the seller based in Virginia. "Any new record now — a new release — you're lucky if it's under $30. And this just continues to drive it up."
Can that ripple effect be stopped? And can Discogs regain the trust of its sellers? Answers vary.
Visteen, the Chicago-area seller, says he'll continue to use Discogs, but isn't sure the site can earn back people's trust. "The company seems poised at an inflection point. Sadly, I fear Discogs will continue to alienate their users by monetizing every facet of the Discogs experience," Visteen says.
Damien Facobbre says he's done with Discogs. "When I heard they were taking a fee on shipping, I was like, alright, this is it. I'm gonna go to eBay because the venue's bigger, the sales are better, and the customer service is better, give or take," he says. (While eBay charges a higher fee on sales than Discogs, it also offers a larger base of customers.)
As for Sietse van Erve, that guy in Amsterdam? He'll stick to Bandcamp for his label's inventory. Regarding customers, he says, "I hope they know how to find me there."