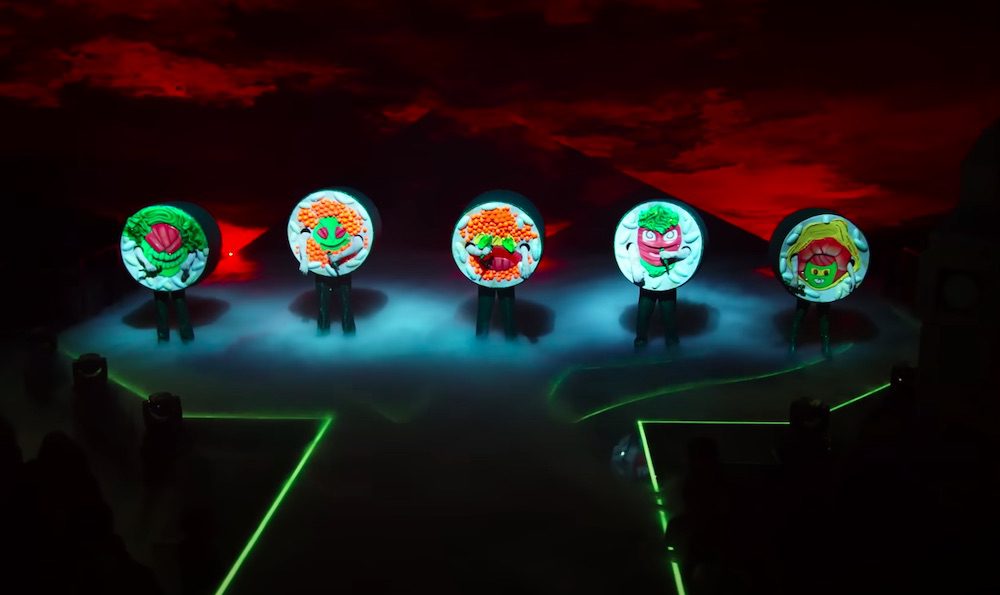 Perhaps it's time for us, as a culture, to let go of our attachment to Radiohead's hit 1993 single "Creep." Radiohead walked away from that song decades ago, but the song has never gone away, and now it's entering Leonard Cohen "Hallelujah" territory. "Creep" apparently gets prominent placement on the soundtrack to the new Guardians Of The Galaxy movie, and now it's also showing up on The Masked Singer, our most banally dystopian singing show.
We're nearing the end of the ninth Masked Singer season, and it has already featured a baffling array of unmasked celebrities. I guess this is a spoiler, but the show's masked singers this season have already included Dick Van Dyke, Howie Mandel, Debbie Gibson, Grandmaster Flash, Michael Bolton, George Wendt, Dee Snider, Melissa Joan Hart, and Lou Diamond Phillips. Weird shit! This season has also included California Roll, a five-piece singing group who dress up in extremely ugly sushi costumes. Last week, they sang a showy, Broadway-ish rendition of "Creep." Here it is:
This week, California Roll were unmasked. Another spoiler here: They were Pentatonix, the massively popular a cappella group who got famous thanks to a run on a different reality show. I'm not sure I'd recognize Pentatonix without masks, but they're a big enough deal to be Masked Singer heavyweights. After their elimination from the show last night, Pentatonix talked to Billboard, and they also released a studio version of their "Creep" cover.
Radiohead have to approve this kind of thing, right? Should we just assume that they're entirely cool with it? (Pentatonix, incidentally, have also covered Leonard Cohen's "Hallelujah" — on a Christmas album, no less. It's their biggest hit.)