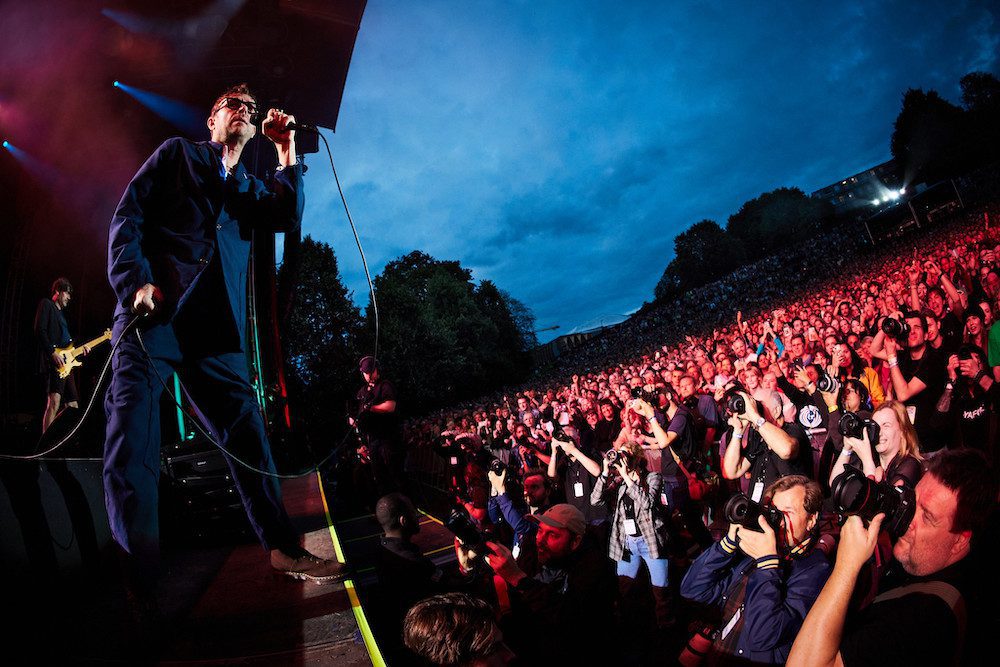 Øya — around since 1999 (save for two peak pandemic years in 2020 and 2021) — has evolved to be like Oslo's own version of Coachella, attracting a who's who of local Norwegian acts and international A-listers spanning a wide range of genres. Even better, much like Norway itself, Øya has gone out of its way to create a completely green, environmentally friendly experience, with sustainable food options, fossil-free transportation (instead of cars, rows of parked bikes are lined up near the fest's entrance), and most of the fest's signage and decor is intended to be reused every year, and most attendees walk around holding reusable beverage cups, which festival goers return at the end of the night.
Across four days and six stages, Øya welcomed a huge swath of artists, each of whom seemed legitimately delighted to be there (with the exception of Irish art-pop performer Róisín Murphy, who canceled her Wednesday set due to illness). "This is a beautiful country. Really makes America look like shit," cracked Snail Mail's Lindsey Jordan, who performed a handful of tracks ("Pristine," "Heat Wave," "Glory," "Valentine") from 2018's Lush and 2021's Valentine on the Vindfruen stage.
🐌✉️ pic.twitter.com/ywhFbWBxSx

— Rachel Brodsky (@RachelBrods) August 11, 2023
Jordan couldn't have been more right — though Tøyen Park was a bit overtaken by thick mud on Day 1, which saw on-and-off rain showers, the location is a sizable but not overwhelming space that's brimming over with greenery and plenty of trees to provide shade when the sun peeks out. Even long picnic tables came dotted with clusters of herb planters. "Did you catch Blur last night?" Jordan asked halfway through her set, which started out a little disjointed ("pedal malfunctions," she explained) but solidified and grew stronger with each song.
Wednesday's highlight was easily Lorde, who returned to the stage for the second time this summer since wrapping her Solar Power tour in April. This new run of shows marked Lorde's self-described "Night Vision edition" of the Solar Power tour, and indeed, there appeared to be a concerted effort on the singer's part to dim the (at times polarizing) lightness around her 2021 album, where it seemed her only job was beach. To that end, an icy-blonde Lorde had a 16-song set, opening with "Royals" and closing with "Green Light." All the while, she danced with abandon around the stage, which held no visible backing band — another divisive choice that I personally didn't mind, as it made the whole set feel that much more intimate.
After an opening day of intermittent rain, the sun came out on Thursday, which featured indie and major acts like UK hardcore punks (and Band To Watch) High Vis and New Orleans dance punks Special Interest on the Hagen stage, Australian pub-rockers Amyl And The Sniffers on Vindfruen, hometown heroes Susanne Sundfør (who drew an enormous crowd at the Amfiet stage) and Sløtface, Pusha T in full hype-man mode, and Brit-rock icons Blur, who helped close out the night with a career-spanning set that included cheeky asides from Damon Albarn.
Another selling point to Øya is "Øyanatt," which basically just means that a whole mess of other bands and DJs play around Oslo's venues and nightclubs. This year featured appearances from the Tubs, the Alchemist, Water From Your Eyes, Caroline Rose, and Lindstrøm, among many (many) other local acts. Then there was LA singer-songwriter Christian Lee Hutson, who brought up Phoebe Bridgers (in town to headline with boygenius) at Krøsset. As we reported earlier in the week, the two longtime collaborators teamed up for a spontaneous duet of Hutson's 2020 single "Lose This Number" and Bridgers' own Better Oblivion Community Center track "Chesapeake."
Speaking of boygenius, Bridgers, Julien Baker, and Lucy Dacus' Friday night set drew a packed crowd at the Vindfruen stage, and as soon as they launched into songs from The Record like the harmonized "Without You Without Them," "$20," "Satanist," and "Emily I'm Sorry," the audience shrieking got so loud, it was like watching, well, a boy band.
Closing out Øya, Saturday's lineup featured a slightly scaled-back group, with standouts like UK post-punk revivalists Dry Cleaning at the Sirkus stage, Tristate area indie standard-bearers Yo La Tengo, and Swedish rock greats the Soundtrack Of Our Lives, who played their third of a few reunion shows – the first was Spain's Azkena Rock Festival in June, followed by Sweden's Way Out West fest. As someone who couldn't stop spinning "Sister Surround" in college, this writer is holding out hope for a new album and some North American dates. (SOOL broke up in 2012, with their last release being the same year's Throw It To The Universe.)
I got to thinking about something Friday performer Caroline Polachek said while undulating around the Amfiet stage. In between airtight renditions of "Bunny Is A Rider," "Welcome To My Island," "Sunset," and other selections from Desire, I Want To Turn Into You, Polachek, who thanked the crowd with an effortless "Takk," greeted those of us seated on an uphill slope. "How's everyone on the grass?," she asked, adding, "I came to Øya and I touched grass. So true."
For anyone traveling to Øya from North America, Australia, the UK, or — let's face it — most other countries and continents, Oslo's premier music festival was an opportunity to do exactly that: touch grass. Literally, sure. Also, in every other sense of the phrase. Want to unplug for a bit and float off on a sea of fresh food and of-the-moment music? You can do that. Want to reassess your life choices and consider becoming an expat? Here's a glimpse of how the Scandinavians live. Want to take what you've seen at Øya and lobby to help make US festivals less chaotic and more affordable? Another laugh-to-keep-from-crying anecdote: At one point, my new Nordic friends said they hoped to see Blink-182 when they came to Oslo, but the tickets – at $200 – might be too expensive. I almost spat my drink out. Not because of the price tag, but because of how relatively cheap that amount sounded to me, an American utterly broken down by Ticketmaster inflationary brouhaha.
There is a better way to experience summer music festivals, and Øya proves it. I'm not a live-music organizer or a government employee, so I can't pretend to know how exactly Øya is so successful at pulling off this near-utopian, seamless setting year after year. But the fact that it exists means that it's possible. Not everyone can easily travel to Norway — the fact that I did was due to professional privilege. So, I implore other fests, particularly the American ones: touch some fucking grass.