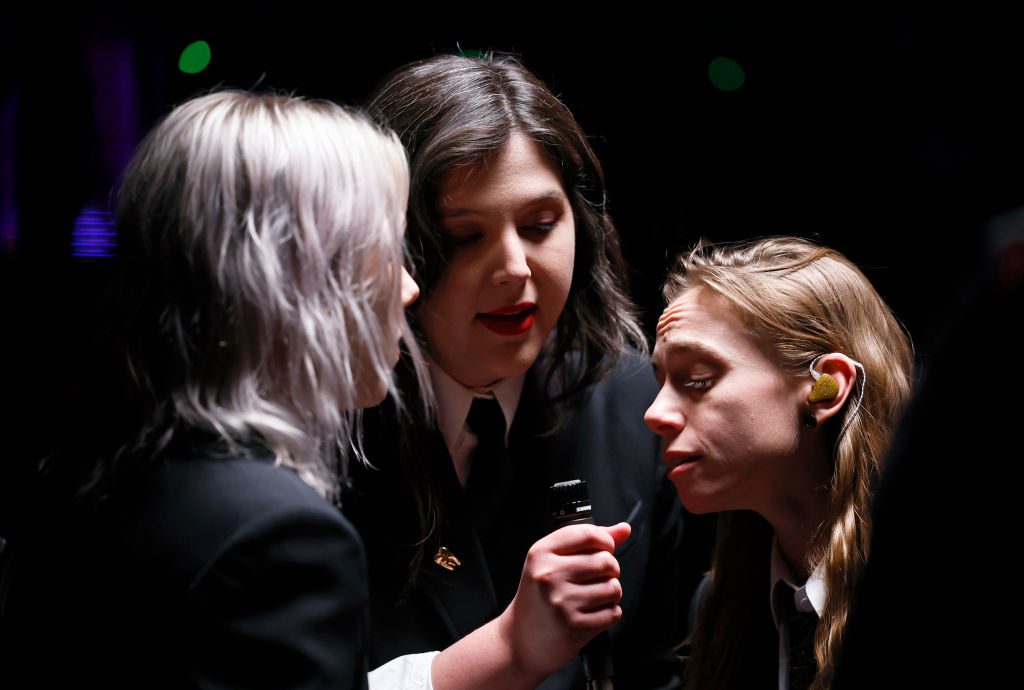 It's been a big year for boygenius. In March, the indie-superstar trio of Julien Baker, Lucy Dacus, and Phoebe Bridgers released the record, their full-length debut and the first thing that any of the group's members had ever released on a major label. They've played a whole lot of huge shows since then, and they're not done yet. Next month, the group will follow the record with a new four-song EP called the rest. On Sunday night, the band announced that EP during a show at Boston's MGM Music Hall, and they debuted "Black Hole," that EP's opener. Last night, boygenius played another Boston show at the same venue, and they played another new song for the first time.
The latest boygenius song is called "Afraid Of Heights," and the group's cryptic tracklist-reveal tells us that it'll be the second song on the new EP. Lucy Dacus sings lead on this one, which makes sense. It's always the tallest among us who are most afraid of heights. (Don't be around me when I'm driving over a bridge.) It's a song about constant anxiety and about envying those who don't have that in them.
At this point, a pattern seems to be emerging. Over the next week, boygenius will play another few shows, and you have to imagine that they'll debut the other two tracks from the rest at their next two gigs, which are tomorrow night at New Haven's Westville Music Hall and Friday at Philadelphia's TD Pavilion. The group will also play this weekend's All Things Go Festival before headlining Madison Square Garden and the Hollywood Bowl. Below, watch a fan-made video of them playing "Afraid Of Heights."
the rest is out 10/13. Pre-order it here. Shout out to Lucy Dacus for being enough of a team player to ride the roller coasters in the "Not Strong Enough" video; you would not get me up on one of those bad boys.